First Cook Islands coastwatcher plaque unveiled in New Zealand
In an important milestone for the legacy of the Second World War coastwatchers, a plaque for radio operator Pu Banaba has been unveiled at O'Neill's Point Cemetery on Auckland's North Shore.

18 September, 2023
It is the first Cook Islands coastwatchers plaque to be unveiled in New Zealand, after the Government last year announced steps to formally acknowledge the group's valuable service.
Mr Banaba was part of a network of civilians and military personnel who kept watch 24/7 for enemy aircraft and ships, from stations in New Zealand and other Pacific Islands.
With Japanese advances into the Pacific, these stations became very dangerous places; as shown by the execution of 17 New Zealand coastwatchers and five other Allied prisoners by Japanese personnel on Tarawa, in 1942.
But for decades, civilian Cook Islands coastwatchers did not receive the same recognition as their New Zealand counterparts.
Last year, the Government announced families could now receive a certificate of service signed by the Governor-General, have Service plaques attached to coastwatchers' headstones like other Service personnel, and that an online historical record of their service would be published.
The New Zealand Defence Force (NZDF) produced that historical record and has been contacting families to ensure they receive the certificates and plaques.
While Mr Banaba is buried in Rarotonga next to his mother, his plaque was placed on the Bayswater grave of his father Sergeant Beni Banaba, who served in the Rarotonga Company of the Maori Contingent during the First World War.
Speaking to those gathered at the cemetery on Saturday, Commander Marty Broederlow from the Royal New Zealand Navy said both Beni and Pu Banaba proudly served New Zealand.
"Cruelly, Beni Banaba never made it home to the Cook Islands, dying here in Auckland 106 years ago, shortly after returning from overseas service," Commander Broederlow said.
"This unveiling ceremony today is an opportunity for us all to think about how the two most terrible conflicts in human history, the First and Second World Wars, impacted on the lives of people all over the world, including the Cook Islands.
"Both Beni and Pu Banaba made a decision to stand up for what they thought was right and volunteered to serve New Zealand. Today all of us here remember and pay tribute to that service."
Theresa Tarani Greig, Pu Banaba's grand-niece, travelled from Australia for the ceremony and said the unveiling was a great honour for their family.
"It was the proudest moment ever. We really appreciated the attendance of the NZDF, Royal New Zealand Navy representatives and veterans of the Forces," she said.
Willie Cuthers, whose grandfather was a coastwatcher, has been a driving force in achieving recognition for the group.
His grandfather's plaque was recently unveiled in Rarotonga - the first coastwatchers plaque to be installed in the Cook Islands.
Speaking at Saturday's ceremony, he said it had been a long road to get to this point and it was uplifting for families to see their loved ones honoured.
"Formal recognition by the NZDF validates all the tireless work that was undertaken throughout this journey, and is a significant event that brings justice to these men and their families.
"I feel proud knowing my grandad and the men he knew and served with have finally received acknowledgment for their service."
Family members, dignitaries from the Cook Islands Government and representatives of the NZDF took part in Saturday's unveiling ceremony.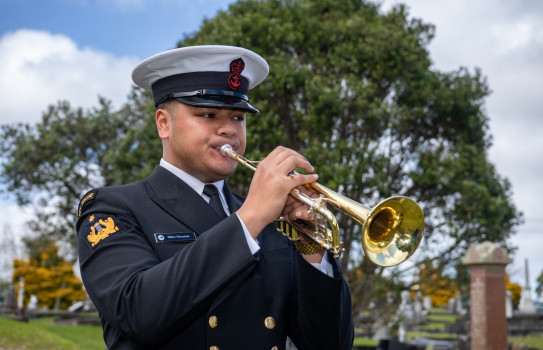 Read more about Beni & Pu.
Beni Banaba

Sergeant Beni Banaba was born in 1890 in the Cook Islands.

In 1915, at the age of 25, he was sent to Rarotonga by his father Reverend Banaba Apolo to study as a missionary at the Takamoa Theological College, but on 1 July 1916 he joined the New Zealand Expeditionary Force (NZEF).

After training at Narrow Neck Military Camp in Auckland, he headed overseas on 16 November 1916 with the 11th Maori Reinforcements, serving with the Rarotongan Company.

Originally bound for France, the Rarotongan Company ended up attached to the NZEF in Egypt. This unit established a fine record and was especially noted for its expert handling of surf boats delivering supplies to British forces on the Sinai coast.

While serving in Palestine, Sergeant Banaba became ill and was returned to Cairo and then on to New Zealand in July 1917. He was admitted to Auckland Hospital, where he died on 16 September 1917, aged 27.

He was posthumously awarded the British War Medal and the Victory Medal.

Pu Banaba

Pu Banaba was just over a year old when his father died. He grew up in Rarotonga, and served as a coastwatcher in the Cook Islands during the Second World War.

Conditions in the isolated islands were, at times, hard to endure. During a violent hurricane, Pu Banaba and other coastwatchers on the island of Suwarrow had to tie themselves to trees so they wouldn't be blown away by the powerful storm and a tidal wave which swept over the island.

After the Second World War, Pu Banaba spent the rest of his life in Rarotonga, where his family had a plantation in Marairenga village.
Note - The traditional spelling of 'Maori Contingent' has been used here, with no macron on the word 'Maori', as this reflects the spelling of the time and references of the contingent in historic material.