Army engineers fashion pulley system to help resupply town
Among the sealifts, convoys and helicopters, it's the small wins that count as much.
19 February, 2023
Click here
for the latest live updates on our response to Cyclone Gabrielle.
New Zealand Army engineers have fashioned a pulley system to ensure a Hawke's Bay community can receive supplies after losing their only connecting bridge to floods.
The small community of Rissington, approximately 10km north-west of Napier, was cut off after floodwaters destroyed the bridge south of the locality at the Mangaone River.
Personnel from 2nd Engineer Regiment (2ER) established a pulley system capable of carrying 80kg loads across the gap, ensuring the community could receive supplies.
Second Lieutenant Brad Taniora-Brockelsby said his team received assistance from a local jet boat owner to move combat engineers between the banks. The engineers cleared out a number of hazardous trees and set up anchor points for the reinforced pulley system.
The community had been using the jet boat for supplies, but this pulley system would serve as an established means that everyone could use. "It means they can consistently bring in supplies without risk," he said.
Captain Ben Kimber, 2ER, said it was hard to comprehend the scale of damage they'd seen on the way in.
"It's surreal. Seeing a whole bridge parked up on the side of a bank, five metres above the waterline, is quite eye-opening. We've seen silt pretty much all the way up to the roofs of houses, and houses completely moved off their foundations and moved downstream."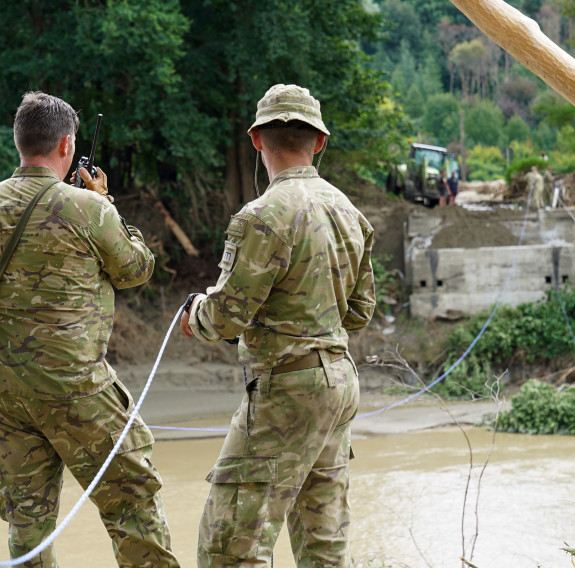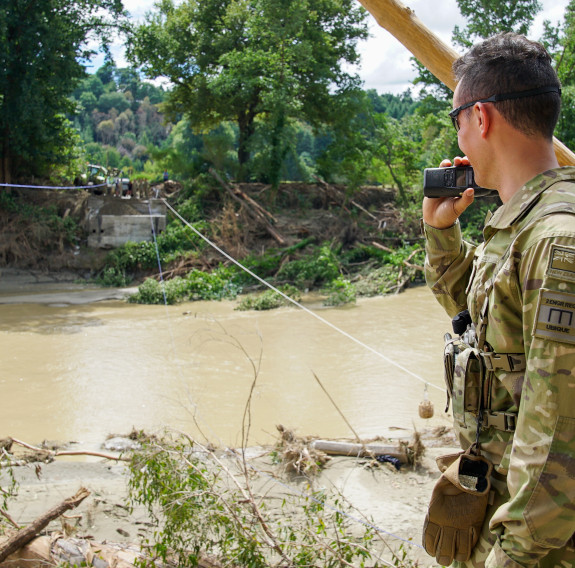 It was a successful operation, made easier with the community's help. "The engineers have done awesome work in creating a pulley system, allowing 80kg at a time to replenish an isolated community."
Resident Bruce Franklin, on the 'right' side of the river, said the community has had flooding before but nothing like this. "The scale of the damage is incredible. I've lived here 14 years but I've talked to some locals who have been here longer and they think 1963 was the last big event. The volume of water than came down, I still can't fathom it."
He said the community has rallied with chainsaws, diggers and support for each other. "The locals have come out and done a lot of work. We've fared pretty well. The support here is absolutely fantastic, it's humbling. But that community across the river, they haven't got any other way out, really. They're stuck there."