Dutch village honours Kiwi airmen killed in Second World War
A small village in the Netherlands has honoured five airmen of the Second World War, including two New Zealanders who lost their lives when their bomber was attacked on only its second operational flight.
16 November, 2023
Local researcher Bas Bruls has spent years piecing together the last mission of Vickers Wellington bomber BJ767, No. 75 (New Zealand) Squadron Royal Air Force.
It was attacked by a German night fighter aircraft on 12 August 1942, and went down not far from the village of Vaals, which lies near the border with Germany.
The pilot, Acting Flight Lieutenant Laurence St George Dobbin from Taranaki, and Petone man Air Gunner Sergeant Jack Jury, were killed in an explosion as Acting Flight Lieutenant Dobbin tried to crash-land the plane. The other three crew members had bailed out on the pilot's orders and were captured by the Germans.
More than 60 years later, on 9 November 2023, the date of Acting Flight Lieutenant Dobbin's birthday, village schoolchildren unveiled a plaque bearing the names of the five crew, mounted on a substantial stone near the crash site.
Mr Bruls said the ceremony drew a large crowd from the village, who observed a minute's silence, and a small brass band played the national anthems of the Netherlands and New Zealand.
"I told the crowd about the crash and what had happened. We had a flag from Taranaki flying, received from the Dobbin family, and it will be donated to the primary school here in Vaals," he said.
"Children from the primary school read letters from the Dobbin family, including a letter from Lorraine Dobbin, who was named after Laurence."
Mr Bruls diligently uncovered the full story of the bomber crew and the crash, using eyewitness testimony, accounts from the surviving aircrew, archives, documents, newspaper clippings, letters, history books and on-the-ground research.
Wellington BJ767, flying from RAF Feltwell with a crew of five, was on a mission to Mainz, Germany, when an enemy night fighter aircraft attacked, setting the plane on fire.
Acting Flight Lieutenant Dobbin told the crew to jettison the bomb load but they were unable to do so. He ordered the crew to bail out, but Sergeant Jury had a parachute malfunction and didn't jump.
The last crew member to bail out, Sergeant Albert Elson, said Acting Flight Lieutenant Dobbin told him he would not jump while Sergeant Jury was on board, and he would instead try and crash-land the plane.
But the aircraft's bomb load exploded, sending debris raining down on a Vaals meadow. The explosion was so large it tore the roof off a nearby farmhouse.
Acting Flight Lieutenant Dobbin and Sergeant Jury's bodies were later recovered and they were buried locally.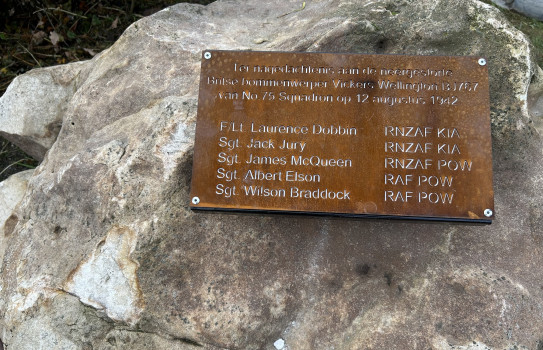 Before the war, Acting Flight Lieutenant Dobbin had trained as a teacher and represented Taranaki in rugby. Eight days before he departed for England, he married fellow teacher Majorie Stainland. He wrote to her every week, with his last letter arriving on 7 August 1942.
Mr Bruhls said as they were both teachers, it was special that the village primary school took part in the plaque unveiling.
"The young students are told the story of Laurence Dobbin and his brave decision to keep the plane in the air to save the others," Mr Bruhls said.
Front gunner and bomb aimer Sergeant Jury was only 20 when he was killed. It was his fourth operational flight, having served with No. 75 (New Zealand) Squadron for one month.
According to Mr Brul's research, Sergeant Jury wanted to enlist before he was old enough to do so.
"He begged and begged his father to sign the papers to allow him to go off, until eventually he relented and signed.
"Jack had deep auburn hair, which was very curly, and was known as 'Red' among his aircrew," he said.
Margaret Dobbin, who is married to Acting Flight Lieutenant Dobbin's nephew Keith, is one of several family members who assisted Mr Bruls in his research.
"It's incredible after all these years, how they want to keep this story alive for the school children," Mrs Dobbin said.
"It's amazing to see the photos, knowing the crash site was about 500 metres away. Bas sent us an aerial photo and that was so meaningful to the family.
"There must be hundreds of stories like this, but it's so nice they are doing it and teaching the children about it."
Murray Dobbin, Acting Flight Lieutenant Dobbin's nephew, organised the delivery of a Taranaki rugby flag to be flown at the unveiling.
Although relatives couldn't be there, he said many family members have visited both graves in the past and would likely travel to see the plaque one day.
"We have thanked Bas profusely for what he's done. A plaque on a great big boulder, it just makes sure what happened will be remembered," Mr Dobbin said.
"We are very appreciative to the Vaals area for this, and to the people who have tended the graves for the last 80-odd years."