Double breast cancer survivor
At just the age of 27 NZ Army Nursing Officer Major (MAJ) Buffy Little discovered a lump which resulted in a diagnosis of breast cancer. MAJ Little will co-captain the 22-strong New Zealand Invictus Games team heading to Düsseldorf, Germany in September.
27 June, 2023
Following a biopsy and lumpectomy she required a mastectomy and reconstruction.
"I had my mastectomy and reconstruction and I didn't need any follow up treatment. I had minimal amount of time off work, and continued life as though it was not a big deal.
"In 2016 I deployed to Iraq, while deployed I found another lump on the same side, but I initially put it down to a knot in a strained muscle. But it didn't go away, so due to my history on return to New Zealand I got it check out and was referred back to my surgeon."
Another biopsy showed the cancer was back, after more surgery and lumpectomy she was referred to oncology and underwent radiotherapy.
"My surgeon believes that my second diagnosis is related to my first and that it was likely some cancer cells that got left behind after my mastectomy.
"Again, I told minimal people and just carried on with life as normal as possible," she said.
When her wife, also in the military, was diagnosed with breast cancer a few years later, she realised that she hadn't really dealt with her cancer journey and needed to do a lot of work both mentally and physically to "get back to being me".
My wife and I have very different ways we dealt with our cancer. I told minimal people and carried on with life as though nothing really happened, my wife however was the opposite and told everyone and blogged her whole journey.
After both of them having people reach out to talk about their cancer diagnoses found that there was a need for a cancer support group, which they set up in Linton in 2021.
"We discussed the need for a cancer support group in Linton as there was an increasing number of personnel getting diagnosed, or being directly affected by a diagnosis.
"We also identified that there are a lot of military people who just wouldn't feel comfortable going to civilian support groups, but a military based one might be easier for them to attend, and feel they belonged," she said.
The group still runs today with MAJ Little's wife at the helm and continues to provide support to those who are have or are affected by loved ones with cancer.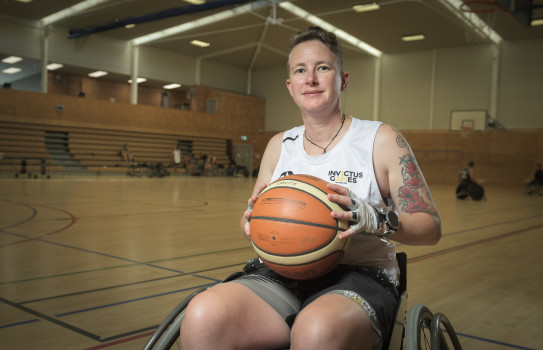 MAJ Little said both times she was diagnosed was "pretty unbelievable" especially being so young but the support from her family has been great.
"I really could not have gone through it without them. They have been there for appointments and taken me to hospital visits. They never felt sorry for me, and they allowed me to take the path I wanted to take with my journey, even if it wasn't the best way I chose to deal with it for a long time.
"It is also extremely special for me that I get to share this part of my journey with my wife and mum who have been such strong support to be during this whole process, from diagnosis to now.
Without them I wold not be where I am today and so being able to bring them along on this journey is a way of saying a massive thank you to them.
MAJ Little will compete in cycling and wheelchair basketball events at the games and said that sport has always been a massive part of her life, and she has found it very therapeutic in the past.
"It's helped me get stronger both mentally and physically.
"I think sport is an easy tool to help with recovery for people that have always enjoyed sport, and it allows you to feel that you can still do things physically even when you think you can't anymore due to illness or injury."
Her goal for Germany is to personal best in the cycling events and to be able to walk away knowing that she gave it everything.
She said the benefits of the Invictus Games for the injured, wounded or ill community are immense.
Physical activity is a massive part of being in the military and it connects likeminded individuals who are on their own different journey, but able to support each other and grow in a safe supported environment.
About The Invictus Games
The sixth Invictus Games will take place in Düsseldorf from 9-16 September under the motto "A HOME FOR RESPECT" and together with the German Armed Forces, will welcome around 500 competitors from more than 20 nations, as well as around 1,000 family members and friends, to compete in ten sporting disciplines.
Click here to follow our journey to The Invictus Games.
Buffy speaks on 'Kiwi Yarns' with Brodie Kane
Hear Buffy's story as she chats with Brodie Kane. They dive into everything from Buffy's life in service and her deployments, her battling breast cancer twice, Septembers' Invictus Games Düsseldorf 2023 and more.
Chuck those headphones on, or turn your speakers up. Inspiring content incoming.