Defence Adviser in Fiji
Commander Sarah Bamfield received the warmest of welcomes as New Zealand's first female Defence Adviser to Fiji. But her experiences have been tinged by the realities of COVID-19, with an outbreak of the Delta variant two months after she arrived.
01 April, 2022
Commander Sarah Bamfield received the warmest of welcomes as New Zealand's first female Defence Adviser to Fiji. But tinged with that has been the realities of COVID-19, with an outbreak of the Delta variant two months after she arrived.
In 2019 she had been eyeing up a Pacific role and had thought the Fiji posting had closed. So it was with surprise and delight when she was confirmed for the three-year role.
"The world looked very different back then," she says. Her husband's two children are seniors in high school in New Zealand, and they had planned to see them every school holidays.
They were also expecting an endless stream of family and friends visiting them in Fiji.
But none of that has been possible.
"Yet," she says. "That has been the toughest part of the job from a personal perspective, as we haven't been able to see them for so long due to COVID-related travel and MIQ restrictions."
CDR Bamfield is part of a team of four. "There's three Technical Advisors (Warrant Officers) – Navy, Army, and Air Force. The latter is in a Leadership & Mentoring role and is responsible for delivering the Veiliutaki Framework, which is a leadership model based on the NZDF Leadership Development Programme but designed to be fit-for-purpose for a Fijian context."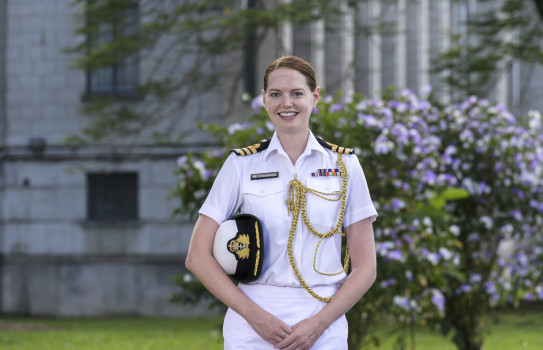 As Defence Adviser, she is the main conduit for everything defence-related between New Zealand and Fiji.
"Most of my time is spent liaising between the Republic of Fiji Military Forces (RFMF) and the Ministry of Defence, National Security and Policing; and HQ NZDF and the New Zealand Ministry of Defence on bilateral and some multilateral defence engagement initiatives. I also act as an advisor to the New Zealand High Commissioner and the wider NZ Inc staff based here in Suva on defence-related matters and protocols."
She was surprised by the extent of official international engagement and representational duties. "Fiji is a real hub of the Pacific, and a huge number of countries and international organisations have their embassies, high commissions and regional offices based in Suva. So although Suva isn't considered a 'major Post' like Washington DC or London, it resembles a similar tempo."
Her Fijian colleagues are wonderful to work with. "Anyone who has Fijian friends or has worked with the RFMF before know that Fijians are an amazing bunch of eternally happy people, always laughing and singing! I think one of the more significant points of difference between our two defence forces, is the strict adherence to long-standing military tradition and protocol. Both are paramount in Fiji, and while we in the NZDF do observe certain traditions and protocols in a ceremonial setting, we're a little more relaxed when it comes to general engagement day-to-day."
She says she has enjoyed learning about Fijian culture and society.
Fiji is both fascinating and complex, by way of its layers of history, demographics and traditions. I don't think I will ever truly understand the inner workings of Fiji's society, but it's certainly interesting trying to figure it all out!
The impact of COVID on Fiji has been tragic and her biggest challenge professionally.
"A couple of months after I arrived, there was an outbreak of the COVID Delta variant in Fiji with a high number of COVID-related deaths and an already fragile health system under an unprecedented amount of pressure. The health and welfare of our NZDF staff and families was my absolute priority, and I don't think I truly realised just how much that responsibility weighed on my shoulders until the six-month lockdown eased and we started to come out the other side."
It also meant finding new ways to engage. "We've created a social media presence and the team has been really adaptive in the ways in which they've helped to raise the profile of the NZDF despite the challenges. Nonetheless, we're all looking forward to resuming a more steady-state of defence engagement and mutual exchange between NZ and Fiji in the near future."
She is also the Defence Adviser for Kiribati and Tuvalu. Travel hasn't been possible yet, but she wants to make sure her introductions are conducted in person, in respect of their cultures.
Despite COVID, it's pretty good living on a tropical island. "What's not to like about that? Now that domestic COVID restrictions have eased, we're really lucky to be able to explore the other islands and the local resorts. I've only been across to Vanua Levu (second largest island) so far, but I'm hoping to explore further afield in due course."