Criminal Barrister joins Naval Reserve
Auckland criminal barrister James Olsen loves his work and can't imagine practising any other kind of law. But he can imagine himself as a legal officer in the New Zealand Defence Force.
30 January, 2023
Midshipman (MID) Olsen is part-way through the Naval Reserve Common Training course for 2022/2023, a new course designed to ensure reservists are trained to the same standard as their Regular Force counterparts, but in a way that works around their civilian employment. MID Olsen started his training in January 2022, with an intake of 14 officers and eight ratings. He attends weekly training at reserve unit HMNZS Ngapona in Auckland, undergoes remote learning and there is one weekend training a month. There are also three 10-day residential blocks throughout the course. He will graduate as a naval officer in April.
"I've always had an interest in the Services and serving my country," he says. "In university, I had applied to the Naval Reserves but unfortunately the intake was cancelled."
He considered becoming a full-time legal officer in the Defence Force, but other opportunities for his legal career came up and he moved onto criminal law. He's been a practising criminal barrister for over five years.
"Then a mate sent me a link to the Naval Reserve intake, and I discovered they were recruiting reserve legal officers."
He says he thoroughly enjoys being a criminal defence lawyer, but couldn't contemplate 50 years doing the same thing without some variety thrown in. "I'd already achieved a lot in my short career and wanted something different, a challenge. The reserve legal officer role presented just that: it allowed me to keep my day job but undertake something in the weekends that challenged me and would provide other opportunities throughout my career. I ended up applying that night and haven't looked back since."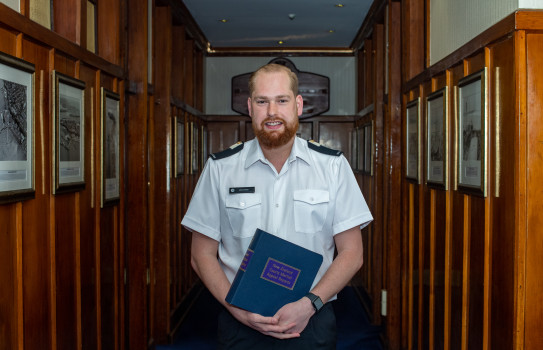 The training to become an officer in the Navy, from sea survival to handling and using weapons, has been really enjoyable. "Ultimately, though, it is the people who have made this course what it is – not only the other trainees but also the staff. We are usually based all around New Zealand but come together to train at different bases and camps. We're lucky on this course to have a number of trainees that have commissioned from the ranks, who collectively have years of experience in the Navy and sea time. This has meant for the ab initio trainees – like myself – we've been able to pull from this knowledge as well as that of our instructors."
The most challenging aspect has been the physical side. "I'm not someone who is particularly sporty and found this challenging at times, but it's this challenge that is part of the reason why I joined up in the first place."
When he attested and started training, his employer was very supportive and gave him time off for training periods. Today, MID Olsen is self-employed and simply blocks out time in his calendar for training.
"Being a full-time lawyer and reserve officer under training, is full on and takes up a lot of my time. While this does require very good diary management, it ultimately comes down to passion."
"I'm passionate about serving our community through representing those who are marginalised, without a voice and find themselves before the courts. But I'm equally passionate about serving our country through being a reserve legal officer."
After graduating he will post to Defence Legal Services. "As a reserve legal officer, I will work on the same matters as my regular force counterparts. This will include opportunities to deploy on operations. I will also contribute my skills and knowledge from civilian practice to augment the experience of regular force legal officers who don't always have extensive experience in civilian areas."
His advice to others is that it's a great opportunity to do something different, but be realistic about the commitment needed when managing full-time work and Navy training.