Coaster takes ambition to Royal Pageant
Perrie Smith is a great believer in putting yourself outside your comfort zone and marching down London's The Mall in front of tens of thousands of people, and Queen Elizabeth II, is throwing yourself in the deep end.
14 June, 2022
Corporal Perrie Smith, a Royal New Zealand Air Force (RNZAF) aircraft engineer based at RNZAF Base Whenuapai, admits he doesn't get much chance to travel, but when the opportunity to take part in the Queen's Platinum Jubilee Pageant came up he grabbed it.
He was part of the New Zealand Defence Force's 40-strong marching contingent that marched alongside up to 2000 military personnel in London on Sunday as the United Kingdom celebrated the Queen's 70 years on the throne.
"Marching in the jubilee was an incredibly humbling experience. Listening to the crowds cheering when they saw the Māori warriors followed by all three services was extremely empowering knowing this culture is something completely unique to New Zealand.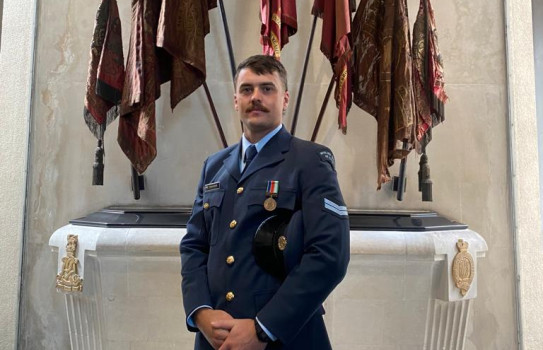 "When the warriors broke rank and the crowds erupted shivers shot down my spine. I had to muster all my discipline to keep looking at the back of the hat on the man in front of me and continue marching.
"It was fantastic to be a part of the celebrations, front row seats to an occasion which is likely never to be repeated."
Corporal Smith has been in the RNZAF for nine years. He was not often in a position to be offered overseas travel because he usually works on helicopters in a hangar on Base Auckland.
"I'm a strong believer in encouraging others to take a gamble and do something out of their comfort zone, not only for the experience but for personal growth and resilience.
"This was a pretty big occasion and being a part of it, representing New Zealand and the RNZAF on the international stage."
The former John Paul II High School student will now continue towards his goal of becoming a pilot.
"Currently I'm studying for officer selection, sacrificing quality time with family and friends just to relearn forgotten math and increasing my general intelligence in all subjects associated with aviation.
"This has probably been the most difficult thing I've done in a while, however I've learnt that consistency and hard work always pay off, and I just tell myself 'I know it'll take time and effort, but nothing is impossible'."