Christchurch man honours the Queen with new Army family
Gautam Bajaj was born and grew up in Punjab, India, but has now marched as a New Zealander in the New Zealand Army in London to mark Queen Elizabeth II's 70 years on the throne.
10 June, 2022
Private Bajaj, who is based at Burnham Military Camp outside Christchurch, was one of 40 New Zealand Defence Force personnel marching amongst the Commonwealth military representatives for the Queen's Platinum Jubilee Pageant on Sunday.
The contingent, led by a six-strong taua, or warrior party, was one of the more diverse marching parties on display as they marched 3.2km in front of tens of thousands of onlookers.
"It was very emotional and a little overwhelming for me being part of this historical parade. Representing New Zealand was such an honour," Private Bajaj said.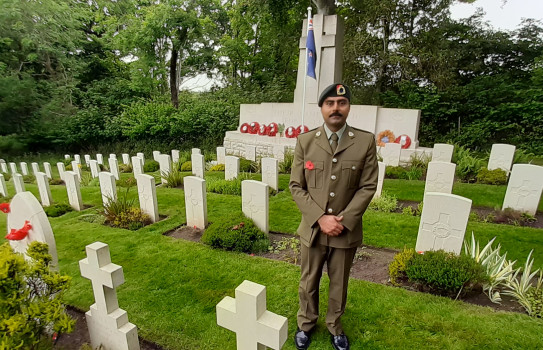 He also felt very privileged to be presented a Jubilee coin by Chief of Defence Force, Air Marshal Kevin Short.
"It's like a dream come true."
Private Bajaj, who worked as a chef for many years, has lived in New Zealand for more than a decade before deciding to join the NZ Army in 2020.
"I did so because I am passionate about serving the country and people. I also wanted to add diversity to the Army and wanted to be a role model of ethnic communities."
He admitted he was surprised but honoured to be chosen to march in London.
"I was advised that I'd been chosen based on my good behaviour and consistency of my performance. I have worked hard and done my best at my job and every training since I joined the Army.
"I am proud of being in the NZ Army. They have welcomed me to their whānau although I am not from here.
I am one of the first Indian soldiers in the NZ Army. I think that there are people who are interested but are hesitant to apply for the Army because they are from different cultures or because English is not their first language. I would like them to know that the Army welcomes anyone regardless of their cultural or religious background.
Private Bajaj said he thought the Commonwealth was lucky to be led by the Queen for 70 years.
"She is an amazing monarch, serves us all well and appreciates the service of the Commonwealth military forces."