Celebrating Tonga Language Week: Leading Aircraftman Tevita Lavemai
To celebrate Tonga Language Week, Leading Aircraftman (LAC) Tevita Lavemai shares with us his experiences in service, his thought on his culture and more.
06 September, 2022
I joined the Royal New Zealand Air Force (RNZAF) in 2017. The reason I joined was to meet some new people and to do something that my parents would be super proud of me for, which has been the case. I also did not see myself going to university at the time, but since joining up I am looking at getting some study done as the Defence Force is fully supportive of their personnel doing study.
I am currently posted to No. 6 Squadron flight store, and an average day for me is managing the stock that the technicians use to fix the Seasprite helicopters. I also manage a pack-up, which involves organising various items to go away for the ship so the technicians can fix the aircraft while away at sea. These pack-ups are used for when the aircraft is on ship whether it may be HMNZ Ships Te Mana, Wellington or whatever Navy ship. The purpose of these pack-ups is to ensure the technicians that go on the ship have all their parts required if they were to do maintenance on the aircraft while out at sea.
I have not yet deployed but have managed to go back to my homeland of Tonga twice and dropped off freight for when the volcano eruptions happened. I have also been on a redeploy to Japan to bring back the pack-up for No. 5 Squadron when they were on exercise in 2021.
In my previous postings within Air Movements, I managed to go to Solomon Islands, Papua New Guinea, Fiji, and Kiribati and managed to be on a mission support team when Prime Minister Jacinda Ardern was in Australia.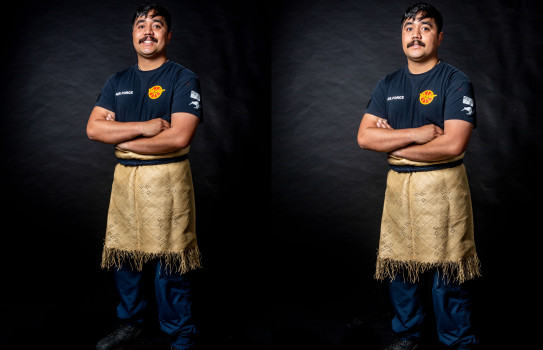 I am heavily connected to my Tongan background and identify fully as a Tongan.
My parents migrated from Tonga and met each other in the early 1990s, I grew up in Mangere East, South Auckland and my mom and dad and my siblings still live in our family home in Mangere East. I went to Kingsford Primary then Kedgley Intermediate and then Aorere College for High School.
I am proud to be Tongan and as seen in the recent Rugby League game when Tonga and the Kiwis played, the Tongan people are so proud and that's how much pride I take in being Tongan. I am so lucky that the Tongan language was taught to me since I was a little kid, and I am so proud that I can say that I speak fluent Tongan and fluent English.
My parents have made sure that I know all about the Tongan culture and I ensure that I am always reconnecting with my culture.
My special saying for me personally would be 'NGAUE FAKATAHA'. This translates to 'Working Together' and I love this saying because in the New Zealand Defence Force (NZDF) we have to work together to ensure all our outputs are met. This saying also applies beyond the NZDF as in all our Tongan communities and churches everything is done together and not by one's individual efforts.