Bravery and compassion from Australian Bushfire Assist deployment commended
The compassion, bravery and knowledge of New Zealand Defence Force (NZDF) personnel who deployed in support of bushfire relief efforts has been commended by the Australian Defence Force.
17 November, 2021
In January 2020, more than 170 NZDF personnel travelled to four states in Australia to assist during the intense bushfire season known as the 'Black Summer'.
The deployment included skilled NZDF firefighters, combat engineers, Air Dispatchers, Enviro Health Teams, a Primary Health Care Team and a chaplain, along with assets including a C-130H(NZ) Hercules and crew, and three NH90 helicopters and crew.
In the group citation, Chief of the Australian Defence Force General Angus Campbell commended NZDF's devotion to duty and the contingent's superior achievements.
"Your professionalism, compassion, knowledge and bravery ensured both state and local authorities could provide effective and timely support to fire affected communities within Australia, significantly reducing the loss of life, devastation to critical infrastructure while simultaneously supporting local communities and early reconstruction," he said.
"Your dedication and contribution to the operation under the most challenging of conditions has been exemplary and in the finest Anzac tradition."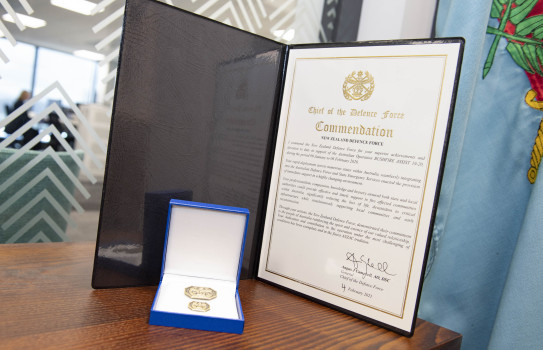 Chief of the New Zealand Defence Force Air Marshal Kevin Short personally received the group commendation from Australian representatives, High Commissioner Patricia Forsythe and Defence Adviser Colonel Neil Peake, today at Defence House in Wellington.
"The New Zealand Defence Force can be incredibly proud of the way they displayed their commitment to Australian communities that they assisted during a devastating and highly volatile time. Their actions have reinforced the value of our close relationship with Australia," said Air Marshal Short.
During the deployment, NZDF personnel worked on a wide range of tasks including transporting fuel and water, and supplies such as hay for livestock.
New Zealand Army engineers helped clear routes and remove trees blocking roads, and created fire breaks. Personnel were also able to assist with the wildlife efforts by assisting with the removal of animal remains who perished in the fire, while offering crucial support to wildlife that survived by constructing feeding stations and providing gum leaves and water to koalas.
NZDF personnel involved in Operation Bushfire Assist 19-20 will be individually recognised through the awarding of a gold badge and a copy of the original commendation. These will be presented by Australian Defence officials at a number of ceremonies around New Zealand in the coming months.