Bonded to heritage
In recognition of Tuvalu Language Week, we would like to introduce you to Corporal Nini Nanjan. Of Indian and Tuvaluan descent, Corporal Nanjan was raised in Fiji and has served in the Air Force since 2008.
28 September, 2021
Tālofa, I am Corporal Nini Nanjan. You could say that I followed in my father's footsteps. He served in the Fijian Army and has now joined the Air Force. I'm Logistics by trade and I'm currently working as a Supply Chain Repair Manager for Propulsion. My average day is spent monitoring repairs for engines across all fleet.

There are many reasons to be proud of my culture and language. For me, it is mainly the values and traditions that have been passed down from our ancestors, with faith, family and unity still at the core of my, and our identity.
I like the Tuvaluan proverb 'Ko tau malosi ko tau maumea' which translates in English to 'your strength is your wealth'.
In 1947 the first immigrant from Tuvalu settled on an island called Kioa. Lying majestically at the entrance of Buca (pronounce as BU THE) bay in northern Fiji, you could mistake Kioa for part of the main land.
Thirty-seven Tuvaluans set sail on an incredible journey from Tuvalu to Kioa in search of greener pastures. They travelled over 10,000km and had with them only enough provisions to last the journey.
When they arrived on Kioa Island it was nearly night fall and the island was dead silent and dark. The people felt afraid and missed home. They had brought with them only their culture, traditions and lifestyle which till this day is practiced. What an amazing journey that would have been to witness.
Here's more insight to the people I come from: In the 1980s the people of Kioa were recognised and accepted by the Tui Cakau, the sovereign high chief of Cakaudrove, Ratu Tuikilakila Golea, who made us part of his own clan.
There are many reasons to be proud of my culture and language. For me, it is mainly the values & traditions that have been passed down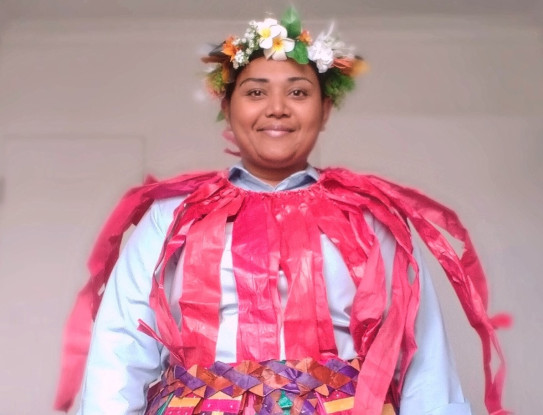 As you approach Kioa you will see a white sandy beach with a deep anchorage up to the shore and a fringe of coconut trees along a horseshoe bay. The island itself is covered in thick green trees untouched and fertile soils.
The village is nestled along the foot of a hill just by the beach and you can see houses snuggled in amongst trees with raised wooden or bamboo floors.
The people of Kioa earn money by selling copra which is dried coconut flesh that is used to make oil. Within a year the island produces over 12 tonnes of copra. The people survived and thrived with only their skills of farming and fishing and the strength of community.
The women still weave mats and baskets and the men still fish and farm and live off the land.
Our people are grateful for the tough journey those 37 brave men and women made in 1947. We now have access to better education, water and supplies, our children have better opportunities to find jobs easily and progress in the world. My ancestors were one of the 37 early settlers of Kioa. My mother is the first descendant from her family to settle in New Zealand and my children are the first generation of New Zealand born Tuvaluans from our bloodline.
The people of Tuvalu although scattered all over the world have never forgotten their beginnings. The culture and traditions are still celebrated and the stories of our forefathers live on. As I journey through my life, my story is being added to that of my people.
This is an incredible story that I am proud to be part of. My roots play a significant part in my identity and therefore I am forever bonded to my roots.