Bay of Plenty woman follows grandfather's Royal Pageant path
Nearly 70 years after her grandfather David rode in the New Zealand military contingent that attended Queen Elizabeth II's coronation in London, Kyong-ja 'KJ' Allan has marched a similar route to mark the same queen's 70 years on the throne.
10 June, 2022
The Royal New Zealand Air Force's (RNZAF) Aircraftman Allan was part of the 40-strong New Zealand Defence Force contingent marching among Commonwealth militaries for the Platinum Jubilee Pageant on Sunday morning.
In her first deployment outside of New Zealand, Aircraftman Allan, just like her grandfather, represented New Zealand in front of tens of thousands of spectators, and Queen Elizabeth herself.
"The march was awesome. As we marched we could see Big Ben and Buckingham Palace and that's when it really hit us where we were.
"Unfortunately we couldn't look around so you're just trying to have a quick peek and not smile. I've never seen so many people in my life.
"The crowd especially loved our warriors so there was a lot of cheering and even wolf-whistling."
Aircraftman Allan said she wasn't aware her grandfather attended the 1953 Coronation until she told her father she had been chosen to go to London.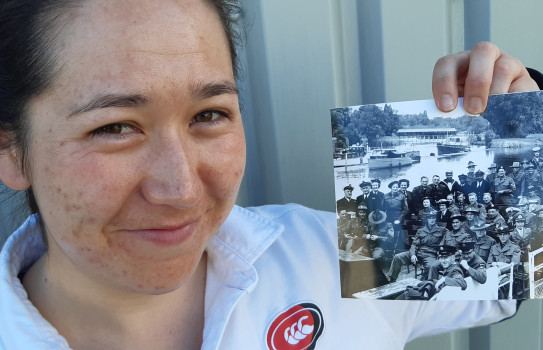 David Allan died in 1981 but told the family the reason he went with the contingent to the Coronation was because he grew up on a farm and could ride a horse.
The family has one public photo of the 1953 contingent gathered on a barge on the Thames. It was a much lengthier deployment back then.
They had gathered at Trentham, shipped out first to Perth where they did a march by downtown, next stop Colombo, Sri Lanka, then Aden, through the Suez Canal, stopped off at Tobruk, then Malta, past Gibraltar and on to England. Return was via Halifax, Washington DC, the Panama Canal and Pearl Harbour.
"This is a really nice connection," Aircraftman Allan said. "It makes me wonder what else we would have in common."
Aircraftman Allan grew up in Te Puke and went to Te Puke High School. After studying agriculture, she switched from a career in dairy farming to the RNZAF in 2020 and is now in the Security Forces based at Base Ohakea.
"I volunteer for as many tasks as I can and we were asked last year if in the event of a death in the royal family we would be willing to travel to the United Kingdom or Wellington for parade.
"I said 'yes' because I like getting out and doing tasks and exercises. I was genuinely stoked when I found out it was the London Jubilee.
"The Queen's service is pretty incredible. I just think about how much commitment is required for her role and to do it with such dedication."