Back-to-back maintainer
Leading Marine Technician (Electrical) Shotaro Hashimoto is a very busy sailor on board a very busy vessel.
22 February, 2022
Almost back-to-back, Wellington has completed a fisheries patrol, a deployment to the Solomon Islands during the civil unrest and a humanitarian mission to Tonga following the volcanic eruption and tsunami.
As the ship's Electrical Maintainer, Shotaro's day-to-day work at sea is usually around fault-finding and carrying out rectifications, although the downside is that at sea resources are limited.
The experiences so far in his career have been great. "Although, the Solomon Islands was one of the few places the Royal New Zealand Navy and my ancestors fought [in World War 2] so it felt weird thinking about it."
The Navy is very supportive if you're wanting to learn more.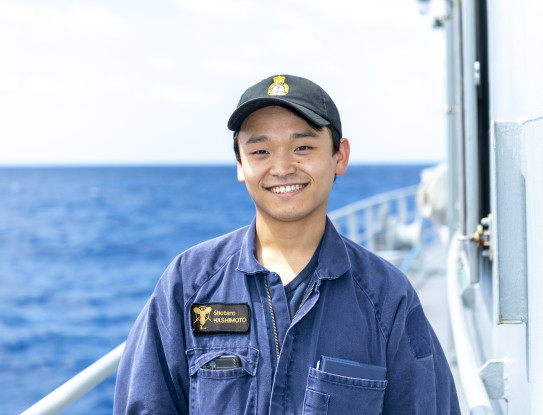 One of his highlights in his career was being on board the Japanese destroyer JS Takanami during the International Naval Review in Auckland in 2016, helping the Warrant Officer of the Navy with a gift exchange translation. Shotaro came to New Zealand from Japan in 2003 and joined the Navy 10 years later. Being on board a Japanese ship was like going back to Japan, he says.
Downtime on Wellington often involved playing horror video games against his crewmates courtesy of a Playstation brought aboard by a colleague. Back on land a particular hobby of his is First Person View (FPV) drone flying, where participants control drones equipped with cameras while wearing head-mounted displays showing the live stream camera feed from the drones. "It's a lot more nimble compared to smart drones. It's getting popular as a new way of filming action shots."
Coming up is a distance learning course and a short block course in Hamilton. "The Navy is very supportive if you're wanting to learn more."
His advice to someone contemplating an engineering career is to consider the NZDF. "It is a good place to start your engineering career especially if you are not sure what type of engineering field you would want to go for."
Find out more about Electrical Maintainer, Shotaro's role here.