Army Reserve Force provide a challenge and boost for Masterton woman
Nursing training has helped Zara Reid in her soldiering and in turn, her soldiering career has given her a connection with her great-grandfather's service with the 28 (Maori) Battalion and also her confidence in dealing with what life throws at her.
28 September, 2022
The 19-year-old from Masterton found her Universal College of Learning study put her in good stead to face the challenges of Army Reserve Force training.
"There's a lot of pressure in the hospitals during placement to manage your time effectively and to deal with a variety of emotions, so this definitely helped get me through Army training," she said.
Joining an infantry battalion is physically challenging, and the slight-statured Private Reid admitted she was worried about letting her all-male platoon down.
However, she soon worked out that everyone has strengths that can be utilized.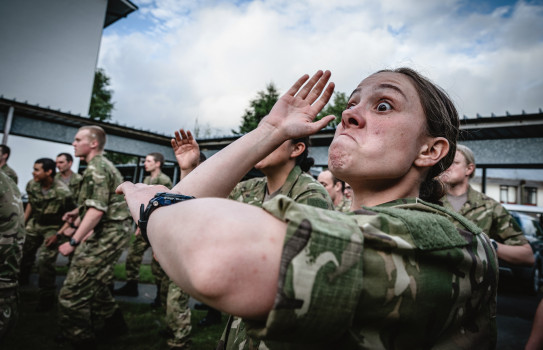 Private Reid's medical training was an advantage in the field as she could assist fellow soldiers with their minor injuries.
"They knew they could lean on me if they had any medical cares. We all had our own strengths and weaknesses and we had to learn how to manage these in the best possible way to achieve success," she said.
While in the field, soldiers carry a weapon and pack with up to five days' worth of 24-hour ration packs, along with ammunition, and section stores, weighing in at 40-plus kilograms.
It's demanding and there's a requirement to move as a team. Each member needs to have a certain level of physical and mental toughness.
Encouragement from section members, self-confidence, motivation and determination all help soldiers overcome many of the challenges faced in the field. Facing adversity together and ensuring no one is left behind are key to a strong section.
You might be small but give it your 100 per cent, push yourself mentally, often it's your mental state that will get you through.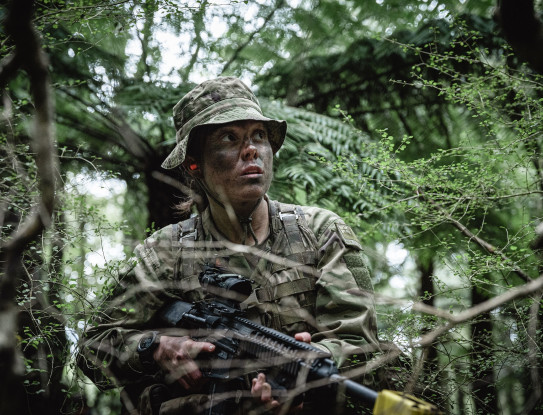 Life as part of the Reserve Force has also given Private Reid a broader outlook on life.
"I have far less mental barriers, and I am often shocked at what I can achieve in a short time now."
Private Reid is from Ngāti Porou descent which is affiliated with the 28 (Maori) Battalion - the battalion her great-grandfather served in during World War II.
All soldiers spend time at the New Zealand Army National Marae, Rongomaraeroa o ngā hau e whā, where they pass through on their journey to becoming a member of Ngāti Tūmatauenga, or the NZ Army.
"When we visited the Marae on corps training, Staff Sergeant Pita spoke a lot about the 28th (Maori) Battalion. I found this very personal that he was talking about my family, and how my history has led to my now. Having this personal link to Ngāti Tūmatauenga has given me a real sense of cultural identity within both iwi," she said.
Now based at 5/7 Battalion, Royal New Zealand Infantry Regiment at Trentham Military Camp, Private Reid enjoys attending training and finds the environment really supportive.
Each Reserve Force company has its own training programme in line with its battalion's training focus. Company-level training typically occurs one weekend a month with platoon-level training occurring once a week.
More information on New Zealand Army Reserve Force can be found at www.defencewcareers.mil.nz or phone 0800 1 FORCE.