Army electrical fitters – the 'jack of all trades'
Known as the 'jack of all trades' amongst electrical workers, electrical fitters maintain and repair the vast array of electrical equipment used by the Army.
16 January, 2023
Corporal (CPL) Braeden Botica, from 3rd Workshop Company, 3rd Combat Service Support Battalion based at Burnham Military Camp says he knew that post-secondary school he wanted a job that used his hands.
"I enjoyed working with electronics and completed an electrical pre-trade course. I enjoyed completing work experience throughout my pre-trade course, and this solidified my trade selection in the Army."
Enlisting in 2014, CPL Botica wasn't sure if the military was the right choice for him, but eight years later he continues to enjoy it.
Electrical fitters are tasked with fixing anything, anywhere, in particular looking after power generation and reticulation as well as refrigeration systems. Safety is top priority, with fitters completing safety inspections for all operational Army equipment.
As the electrical fitter team leader in Burnham, CPL Botica says an average day is spent motivating and mentoring a team of ten to repair and maintain the Army's low-voltage electrical equipment.
"As a team leader in the electrical space, my favourite thing is seeing young apprentices evolve into capable electricians that thrive into well-rounded individuals.
"The challenge of modelling my team into their better selves has shaped me into the person I am today," he says.
Training for an apprentice Electrical Fitter in the Army will last approximately four years, working towards an NZQA New Zealand Certificate in Electrical Engineering Theory and Practice (Trade) Level 4, and then onto full registration with the Electrical Workers Registration Board, eventually working towards a New Zealand Certificate in Electrical Engineering.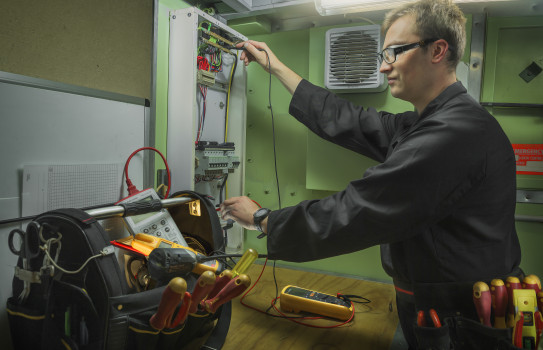 CPL Botica says anyone wanting to join as an electrical fitter in the Army should expect variety day-to-day, a well-paid trade, and the opportunity to grow as a person.
"Team members get to complete four months' work experience stints in a variety of electrical fields, enrol at Universal College of Learning (UCOL), and undergo trade-training within and outside the workplace.
"In addition there will be various leadership courses, as well as being involved in activities that contribute to the welfare of New Zealand," he says.
Electrical fitters will provide support to units in field exercises including the provision of maintenance support, including any other times when the Army is needed to support our local communities.
"The 2016 Kaikōura earthquake was my introduction to the role that Army plays in a natural disaster.
"A team of three - myself, an engineer and a medic walked 10km daily visiting residents, checking on welfare and the structural integrity of buildings.
"This task was humbling and has made a lasting impression on the importance of the Army during times of crisis," CPL Botica says.
He will soon deploying overseas as an Electrical Team leader where he will be responsible for the repair and maintenance of electrical equipment at the Multi-National Force and Observers Sinai, Egypt.
For more information about joining as an Electrical Fitter in the NZ Army visit: www.defencecareers.mil.nz