A modern-day signaller
The Royal New Zealand Signals Corp has been operating for over 100 years. One of our current operators, Corporal Roger Schroder, describes his role as a signaller during the 2020 Australian bushfires.
15 March, 2023
Dirt, dust and devastation. The 2020 bushfires in Australia are something Corporal Schroder won't forget in a hurry.
He was part of the Kiwi team which crossed the Tasman to offer much-needed help as fire whipped through forests, bush and towns, destroying trees and animals and endangering lives. When he wasn't ensuring communication systems were as good as they could be in the inhospitable environment, he was, as soldiers do, lending a hand wherever it was needed.
I was enjoying the last of my summer break in Palmerston North when I received a message from my 2 Signal Squadron troop commander, alerting me that Joint Command and Reconnaissance Team was being stood up on notice to move and that we would be assisting with the Australian bushfires.
CPL Schroder had to think of everyone's communication needs on the ground. "It was a unique situation due to the prevalent use of civilian communication by civil defence and the firefighters. They were using unclassified means such as publicly accessible Geographic Information System mapping websites, WhatsApp and mobile phone calls. Satellite phones were also part of the PACE (Primary Alternative Contingency Emergency) plan.
"The military radio equipment was cut away and only an HSS130 Satellite unit, a 4G router and a BGAN (Broadband Local Area Network) were identified as needed along with unclassified and restricted clients for use by the NZ contingent headquarters."
The airfield was "booming" with aircraft, vehicles and personnel when they arrived, he said. "The vast field had been cut right down to the dirt. It was a complete dustbowl, with sand and grit billowing around. You could see fire-ravaged bush around the perimeter. Surrounding highway junctions were closed off with cones and 'ROAD CLOSED' barriers, preventing the public from venturing west into the hot zone. The firefighters had a large camp setup just inside the gate – rows upon rows of tents and mobile amenities surrounded by temporary fencing and dust cloth.
"As we drove deeper into camp we found the Australian Defence Force area, a few 11x11 tents housing various command posts and stored equipment and nearby leaguer of Australian Light Armoured Vehicles, Bushmasters, UniMogs, 40M trucks and plant such as graders, bulldozers and JCB," says CPL Schroder.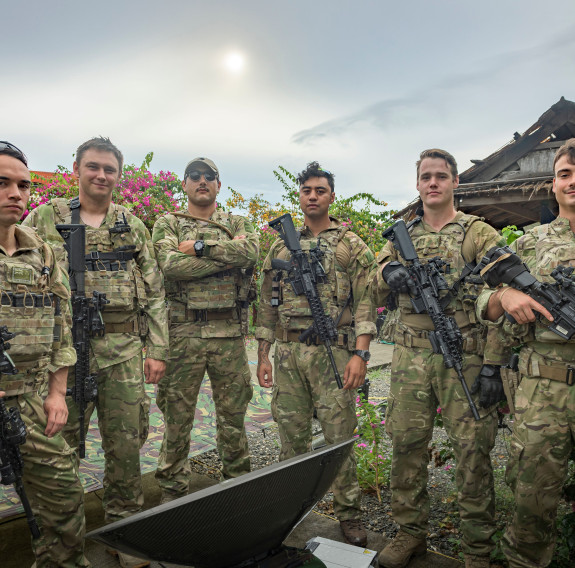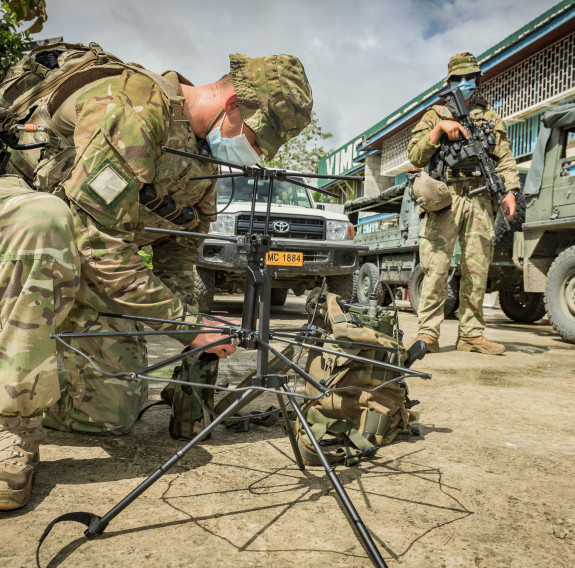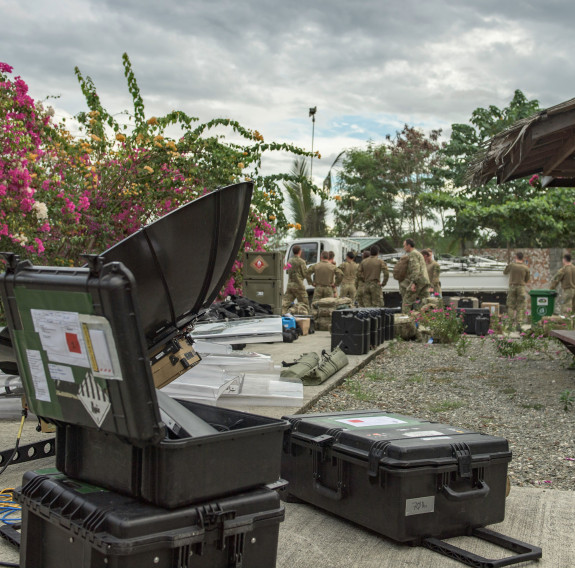 The plan was to keep pushing west and clear debris and fallen trees from main routes – opening them up for civilian services and support teams. Further to this was to fell any hazardous trees, bury carcasses, generally clean-up and remain available for further tasking.
"The Australian Signallers were having difficulty achieving communications due to the shorter range of VHF, the terrain and the fact that civilian services did not have access to military communications. Radios were being used but this was only for voice, and most communication was happening via WhatsApp groups and data. This was a major health and safety concern and was preventing Emergency Support Teams from entering areas that were still burning or contained active hot spots."
CPL Schroder was able to provide data to mobile phones using WiFi and connection to the internet via satellite.
Less than 24 hours in country and NZDF was able to provide equipment that enabled access for Emergency Support Teams across the area.
The signaller took part in fire reconnaissance and animal rescues. "Due to the danger we were forced to drive in convoys. We would come across the occasional roadside blaze and report it in. Further along the way we found multiple koalas sitting on the roadside with varying degrees of burns. One friendly fur bundle seemed very happy to see us, and calmly walked over to an Australian soldier and attempted to climb his leg. Another we found hadn't faired so well, having been singed and blinded by the fire, this one was understandably irate and put up quite a struggle when we wrapped a blanket around it and placed it in the vehicle."