A day in the life of an Air Force firefighter
Meet LAC Alexandra Earl, RNZAF Base Ohakea.
15 May, 2023
LAC Alexandra Earl says she really "comes into her own" when it's an emergency.
"This is a job I love," she says.
Air Force firefighters maintain operations at RNZAF base Fire Flights, which are staffed 24 hours a day, 365 days of the year. They provide immediate incident response capability to a Defence area, but also get involved in emergencies in their immediate community.
Like Fire and Emergency New Zealand firefighters, it's a challenging job, mentally and physically, with a high level of fitness required.
LAC Earl joined the Air Force in 2019, completing her basic training and moving into three months of trade training in Linton.
"The Air Force seemed like a place that had a bit of diversity. The draw of travel and deployment opportunities while still being able to compete at sports tournaments was a huge incentive. I always thought I would be in police or firefighting, and I thought: I could do this in Defence. It's a dynamic role, and provides a meaningful opportunity to help people on their worst days."
She had grown up with family friends who had been pilots, so she had a good understanding of Defence.
The training course based out of Linton Camp provides basic competency as a firefighter, she says. You then get posted to a Fire Flight to hone your skills, before undertaking more courses to develop your competencies.
"We cover the airfield and surrounding base, the local air weapons range and also provide support for major fires around the Manawatū," she says. "We also respond to motor vehicle accidents, hazardous substance spills and medical emergencies."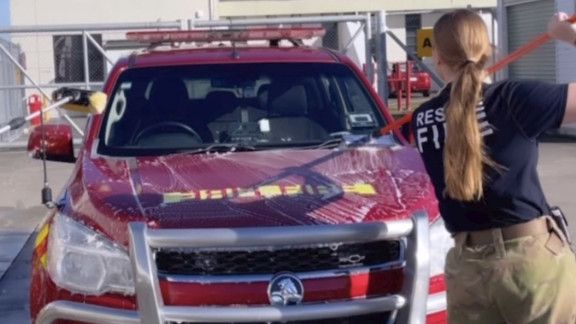 Day in the life: Air Force Firefighter
Fire Flights work a six-day operational shift set: a day shift, a 24-hour shift and a night shift followed by three rostered days off. During the 24-hour shift, firefighters are on call but are able to sleep once aircraft have ceased flying.
A highlight was being deployed to Antarctica twice to fill gaps in firefighting capability at the American McMurdo Base.
LAC Earl has been cleared for promotion and is set to complete a Command and Control course in the coming months. "This is when you learn how to be the officer in charge at a scene. You're leading the incident, making the calls, deciding the tactics."
She says it's the people that make the job special. "Definitely, 100 per cent, that's right up there. You make your own little family here at work."