Warrant Officer Toni Tate
The Warrant Officer of the Air Force (WOAF) is the most senior enlisted airman that reports directly to the Chief of Air Force (CAF). WOAF is an advisor to CAF on matters related to morale, health and well-being for the women and men of the Royal New Zealand Air Force.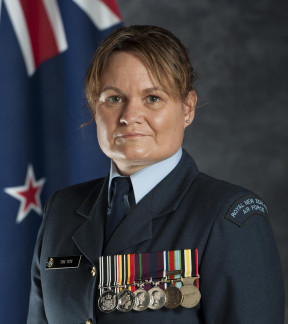 Warrant Officer (W/O) Toni Tate enlisted in the Air Force in 1986 as an Accounts Clerk.
Following organisational change in 1998, she transferred to the Administration Trade.
W/O Tate has served at Air Force Bases; Te Rapa, Woodbourne, Air Staff and Ohakea and she also served on Number. 2 Squadron, Nowra Australia with the A4 Skyhawk detachment.
During this posting she completed various squadron exercises throughout Australia.
W/O Tate has deployed with Number. 40 Squadron to Joint Readiness Training Centre in Little Rock, Arkansas and to East Timor in 2007 as the S1/S9 on Task Group Gyro, Operation Koru.
W/O Tate has completed the Singapore Warrant Officer Joint Advanced Leadership Programme and the Joint Warrant Officer Advanced Course. W/O Tate has also completed the Institute of Leadership Development, Lead Organisation course and is an alumni of the Asia-Pacific Center for Security Studies and the New Zealand Defence Force Command and Staff College.
W/O Tate has been awarded the New Zealand Meritorious Service Medal for services and leadership during organisational change.
W/O Tate has a Diploma in Frontline Management and a New Zealand Diploma in Business.
In 2007, W/O Tate was promoted to Warrant Officer and appointed the W/O of the Administration Flight Ohakea.
W/O Tate was then posted to the Directorate of Career Management in HQNZDF(Air) as the Career Manager for the Air Force non-technical trades in 2010.
Following this posting, W/O Tate was posted to Base Warrant Officer at Ohakea and in 2012 she was appointed the Command Warrant Officer at 488 Wing in Ohakea.
She then continued as the Ohakea Command Warrant Officer to the newly appointed Base Commander in 2015.
W/O Tate was appointed Warrant Officer Joint Forces New Zealand in December 2015 at the NZDF operational headquarters in Trentham.