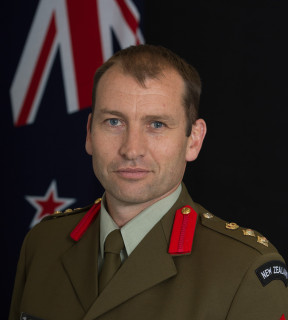 Colonel Duncan George Roy
Land Component Commander
Land Component Commander (LCC) advises Commander Joint Forces New Zealand on the use of land forces and commands the land forces. This includes sending soldiers to overseas operations.
A military career in the skies
Colonel Roy was born in Southland in July 1973. He joined the New Zealand Army in January 1992 and trained at the Officer Cadet School Waiouru. In December 1992, he graduated and was posted to 2nd/1st Battalion RNZIR Burnham Camp. He went on a mission as a Platoon Commander with the United Nations Protection Force, Bosnia, from January to September 1995.
In December 2000, Roy began the Special Air Service Cycle Training. He completed the training in September 2001 and was posted to 1 NZSAS Regiment. He held various appointments as an officer of the Regiment and completed four tours to Afghanistan, the last as Senior National Officer.
Strategic thinking naturally leads to leadership
In December 2011, Roy was posted as the Deputy Director Special Operations, Headquarters New Zealand Defence Force, Wellington. He then became the Military Attaché in Washington DC from June 2012 to July 2015. When he returned to New Zealand he became the Commanding Officer of 1 NZSAS Regt.
In 2017, Roy was promoted and posted to Wellington as Assistant Chief of Army (Strategy). In December 2019, he was posted as the Deputy Chief of Army followed by a role as the Special Operations Component Commander. In October 2022, he began his current posting as the Land Component Commander.
Education and Achievements
Roy has a Masters of Strategic Studies from Victoria University. He was awarded the Member of the New Zealand Order of Merit in the New Years Honours list 2014.