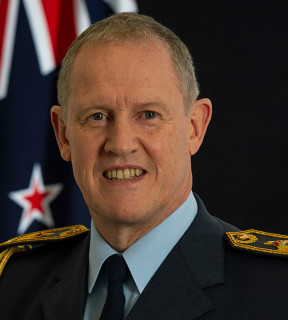 Air Marshal Kevin Short
Chief of Defence Force
The Chief of Defence Force (CDF) is the professional head of the NZDF and serves as the principal military advisor to the government.
Committed to The Force
Air Marshal Kevin Short joined the Royal New Zealand Air Force in January 1976. His first role was as a General Duties Navigator. He's been serving as Chief of Defence Force since 1 July 2018.
Early on in his career, he worked on No 5 Squadron as a Navigator Leader, Tactical Coordinator, and Aircraft Captain. He clocked over 5,000 flying hours on the Orion alone.
Never one to rest on his laurels, Short dedicated many of his Defence Force years to education. In 1987, he attended the General Duties Aero Systems Course at the Royal Air Force at Cranwell. In 1991, he completed the No 32 Staff Course at the RNZAF Command and Staff College. And finally, in 1999, he attended the USAF Air War College in Alabama, USA.
A varied and experienced career
Since joining the Royal New Zealand Air Force in 1976, Short has held many high ranking positions, such as:
2000 - 2003: Assistant Chief of Air Staff Development

2003 - 2006: Officer Commanding 485 Wing RNZAF Base Auckland

2006 - 2007: Commander of the Provincial Reconstruction Team in Afghanistan

2007: Assistant Chief Development

2009: Assistant Chief Strategic Commitments and Intelligence.
At a senior level, he's held many senior roles at NZDF, including:
2011 - 2013 Deputy Chief of Air Force

2013: Commander Joint Forces NZ

2014 - 2018: Vice Chief of Defence Force

2018 - present: Chief of Defence Force.
On 6 July 2022, Short became an Honorary Officer of the Order of Australia. He received the medal for his work building a strong military relationship between NZ and AU.