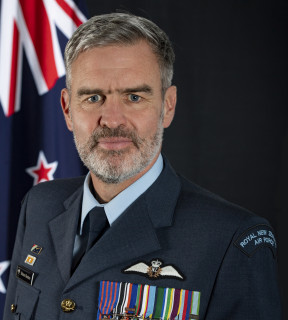 Air Commodore Shaun Sexton
Air Component Commander
he Air Component Commander (ACC) has a crucial role in the Air Force, reporting directly to the Chief of Air Force. Their main responsibilities include commanding, training, and overseeing the Air Force Elements.
Operational tours and Accomplishments

Air Commodore Sexton joined the Royal New Zealand Air Force (RNZAF) in 1994. He began his career by completing initial officer training and then received specialised training as a pilot on various aircraft like CT4B Air trainer, Macchi 339C, and Sioux. Later, he underwent operational conversion training specifically for the UH1H Iroquois helicopter.
During his time with the No. 3 Squadron RNZAF, AIRCDRE Sexton participated in numerous operational tours, both within New Zealand and abroad.

He flew the Iroquois helicopter in various locations, including Antarctica, Bougainville, East Timor, and the Solomon Islands. For his outstanding service in this role, he received a Chief of Air Force Commendation. He also received the NZ Bravery Medal for leading a risky nighttime rescue mission to save an Australian sailor in the Solomon Islands.
Career Progression and Achievements
Sexton's career progressed, and he gained expertise as a helicopter instructor, teaching new pilots on various aircraft, including the Air Trainer, Sioux, and Iroquois. He served as the Director of RNZAF Recruiting in 2005. In 2007, he completed the NZDF Staff Course with a distinguished pass and served as a member of the directing staff at the NZDF Command and Staff College.

In 2008, he became the Project Officer for the NH90 Introduction into Service and later the Commanding Officer of the Helicopter Transition Unit. After attending the USAF Air War College, he took on roles such as Director of Air Force Plans within Air Staff and J7, Head of Training and Commitments Branch at Headquarters Joint Forces New Zealand. He also served as the Commander of the New Zealand Defence College. In December 2017, he was appointed as the Base Commander of RNZAF Base Ohakea. Furthermore, he deployed to the Combined Air Operations Centre in Al Udeid, Qatar in 2018.

Sexton's academic qualifications include:
a Bachelor's Degree in Aviation Management from Massey University

a Masters of Strategic Studies in Defence from Victoria University of Wellington

a Masters in Strategic Studies from the United States Air Force, Air University.