Air Commodore Shaun Sexton
The Air Component Commander (ACC) is responsible to the Chief of Air Force for the command, training and generation of Air Force Elements. This includes all flying training, formations and activities that enable Air Surveillance and Response, Naval Air, Strategic Air, Theatre Air and Tactical Air capabilities.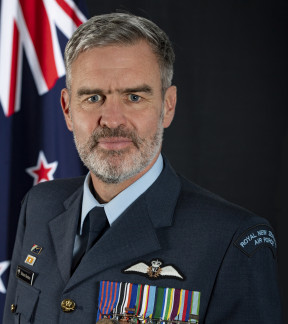 Air Commodore (AIRCDRE) Shaun Sexton enlisted in the RNZAF in 1994 and following initial officer training completed ab initio flying training on the CT4B Air trainer, Macchi 339C and Sioux.
He then completed operational conversion on to the UH1H Iroquois.
As a member of No. 3 Squadron RNZAF he completed numerous New Zealand and overseas operational tours flying the Iroquois including in Antarctica, Bougainville, East Timor and the Solomon Islands.
This included a period as the 3 Squadron Detachment Commander on Operation RATA in support of the Regional Assistance Mission Solomon Islands.
While on Operation RATA, he was awarded a Chief of Air Force Commendation for his service as Detachment Commander and was later awarded the NZ Bravery Medal for his actions as the captain of an Iroquois which conducted the dangerous night rescue of an Australian sailor in the Solomon Islands.
AIRCDRE Sexton is a Qualified Helicopter Instructor and has taught ab initio and operational conversion course students on the Air Trainer, Sioux and Iroquois.
AIRCDRE Sexton was posted to RNZAF Air Staff as the Director of RNZAF Recruiting in 2005.
In 2007 AIRCDRE Sexton successfully completed the NZDF Staff Course, obtaining a distinguished pass. He remained at the NZDF Command and Staff College for a three month tour of duty as a member of the directing staff before being posted back to Ohakea in 2008.
In May 2008, AIRCDRE Sexton became the Project Officer for the NH90 Introduction into Service. In October 2010, he was appointed as the Commanding Officer of the Helicopter Transition Unit, the entity charged with the introduction into service of the A109LUH (NZ) and NH90 (TNZA) helicopters.
He remained in this position until posting to the USAF Air War College in May 2013. On return from the Air War College in July 2014, AIRCDRE Sexton became the Director of Air Force Plans within Air Staff.
In May 2015, AIRCDRE Sexton was posted to Headquarters Joint Forces New Zealand as the J7, Head of Training and Commitments Branch.
In June 2016 he took up the position as Commander of the New Zealand Defence College, a post he held until October 2017.
In December 2017 AIRCDRE Sexton was appointed to Base Commander RNZAF Base Ohakea.
In 2018 AIRCDRE Sexton deployed to the Combined Air Operations Centre, Al Udeid Qatar for a six month tour of duty, returning to his Base Commander duties in January 2019.
In December 2020, AIRCDRE Sexton was appointed to his current role as the Air Component Commander, Headquarters Joint Forces New Zealand.
AIRCDRE Sexton holds a Bachelor's Degree in Aviation Management from Massey University, a Masters of Strategic Studies in Defence from Victoria University of Wellington and a Masters in Strategic Studies from the United States Air Force, Air University.