Zone out with axe throwing
An on-target sailor has made her way into the big leagues in the sporting world of axe throwing.
10 December, 2021
Chief Petty Officer Electronics Technician Lana Gascoigne, currently in Esquimalt, Canada with the crew of HMNZS TE MANA, fell in love with the sport after a corporate fun day out with fellow instructors in 2019.
Her dedication to the sport has earned her a place in the 'pro-league', something she's achieved when she found a local club in Esquimalt.
Affiliated to the Sweet Axe Throwing Co. Ltd in Auckland, CPOET Gascoigne throws a hatchet (hers is engraved with a trident and stars) at a wooden bullseye target from a distance of 12 feet. Like archery, the closer to the bullseye the better.
"For me, it's very relaxing. You just go in there, zone out for an hour, and do your thing." In Auckland she participated in four leagues a year, each league running for eight weeks, and she would put in four games a week. "Your scores go into a world axe throwing league database, and you can see how you compare with places like Australia, the United States and Canada."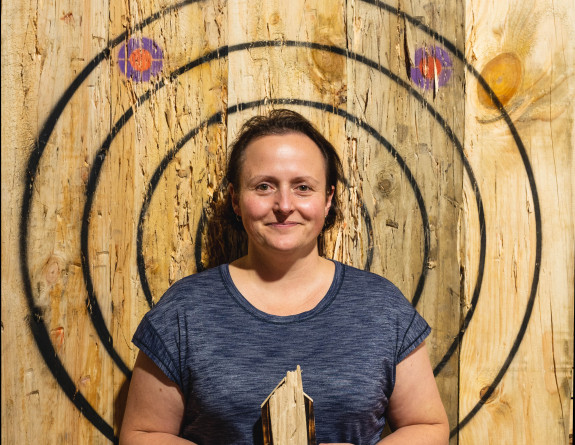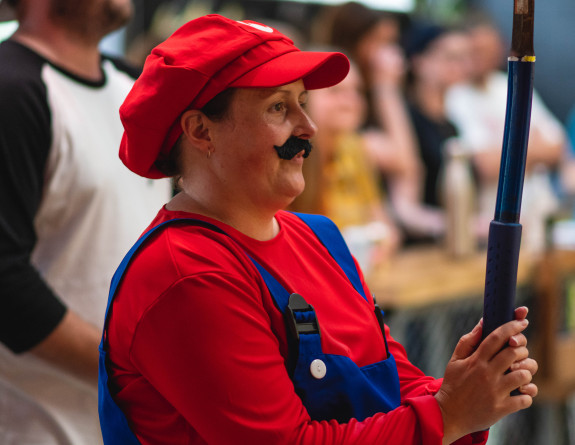 During a posting to Esquimalt for a course last year, she found a local venue. "I said I'd be back in a year and they said, make sure you come in."
She's found the success in Canada she couldn't quite break in New Zealand. "They do it fairly hard out here, but the first league I joined, I came second. Then the following league, I was first female to win an overall league at the local club. In New Zealand, the most I ever came was fourth."
She trains every weekend, and participates in league events on Wednesday nights. "A game is where you throw 10 times, and ideally get the bullseye eight times and two kill shots, which are the smaller targets at the top left-hand corner. The kill shots are worth more (eight points), but it's an all-or-nothing throw." Her favoured technique is unusual; an over-the-head two-handed throw, rather than the conventional one-handed throw.
She applied to qualify for the World Axe Throwing professional league based on her points, "just to see where I would stack up", and she got in. "I'm very chuffed about that. There's not many females in it." The placing requires commitments she might not realistically be able to meet, including attendance at televised events and a pro-league championship in Texas at the end of the year.
The hardest part is finding the time for it, she says. She's the Chief of Action, Information and Navigation Aids for a refurbished ship that is getting close to going to sea for trials. "If I wasn't here working, I'd be axe-throwing every single day."