Who pays for what?
Pay at the pump or at the counter? When it comes to a Replenishment at Sea involving thousands of litres of fuel, the process of payment can be complex. Bruce Wooller, Principal Advisor Logistics Engagement at Defence Logistics Command, explains.
25 March, 2022
Over the last year, HMNZS Aotearoa has been dispensing fuel to other nations – a lot of fuel. It is usually done via a Replenishment At Sea (RAS), where a ship steams alongside Aotearoa and a fueling hose from Aotearoa is passed across the gap, all done while on the move. It was particularly the case during the Tongan crisis in February, for British, American and Tongan vessels, but also last year for Australia, Singapore and America during Exercise Bersama Gold in South East Asia.
It might look like in the short term that we're dispensing millions of litres of fuel across the South Pacific to any ship that pulls up abeam. But it's not a one-way street, and not just about fuel – or even money. The New Zealand Defence Force benefits from the advantages and capabilities enjoyed by larger nations, and indeed, would not be able to grow its own capabilities or sustain many of its operational deployments without international logistics agreements and arrangements that supplement our own logistics capacity.
So countries - particularly countries that are used to working together – work it out beforehand. The most common concept is a Mutual Logistics Support Arrangement, where two nations agree basic terms, conditions and procedures whereby each nation provides support to the other. It's not specific to an activity, and doesn't cover weapons or transfer of equipment that could fall foul of international laws and regulations. As well as planned-for situations, it can cover unforeseen circumstances.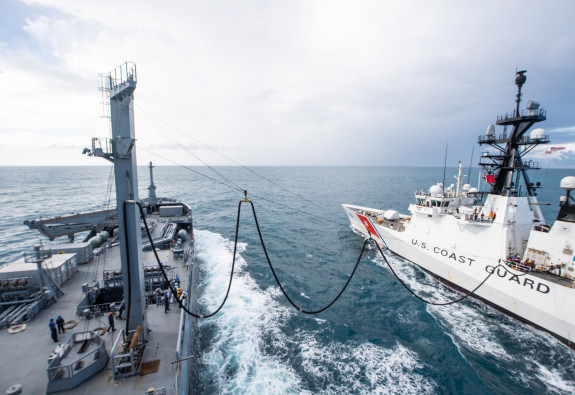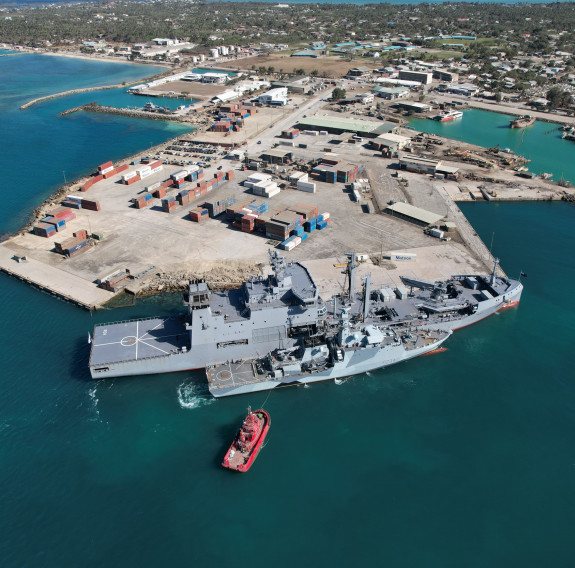 Mr Wooller says the Single Service and Joint Force planners sit down to standardize the arrangements under the MLSA's, once or twice a year. They look at who they have relationships with, and who they don't. If there's an exercise coming up, the countries are contacted and letters of arrangement or implementation arrangements (IA's) established to set up a payment methodology.
These Implementation Arrangements (IA), allow two nations to carry out an activity they have agreed to tackle together. They outline who does what, and who provides what services. These are useful for combined operations, such as Afghanistan or Timor Leste.
'Payments' can be an Exchange in Kind (replacing the logistics supplies or services with something very similar) or Exchange of Equal Value (providing something different but of very similar value).
There are occasions when we don't charge. "A good example is the Kaikoura earthquake in 2016. There were three international warships with helicopters who went down to provide humanitarian aid. We refuelled the ships and helicopters and didn't charge them."
But in other instances, it does come down to money, a reimbursable transaction in cash or credit card or funds transfer in the currency of the nation providing the support or in another currency decided by the supporting nation.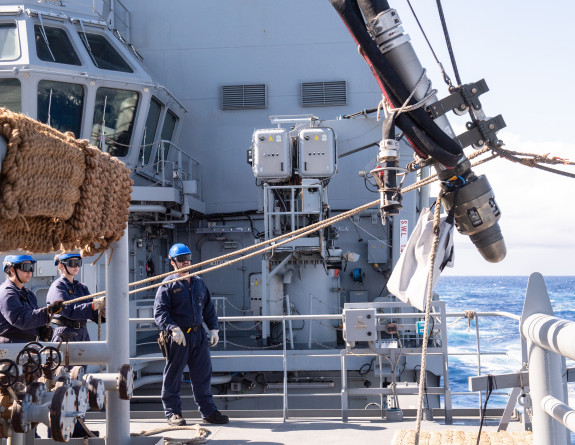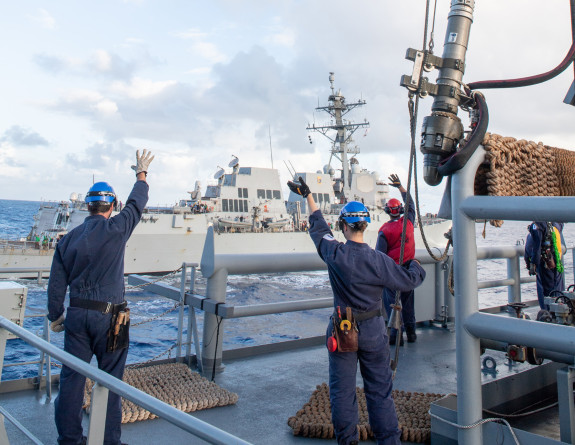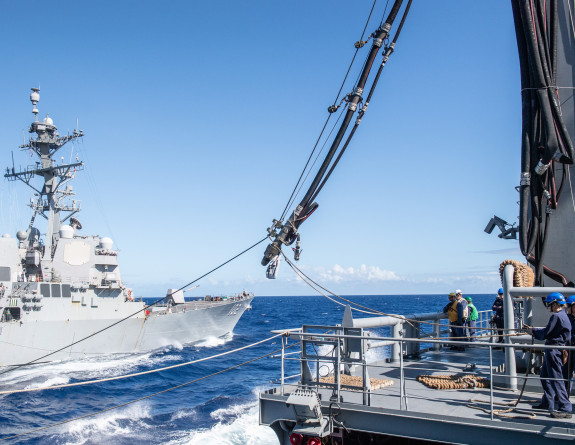 Squadron Leader Michelle Goulden, Adviser Logistics Engagement, says if a country lacks a formal arrangement, they could come to a multi-national exercise prepared to pay in cash. "Some nations have shown up with literally bags of cash."
At sea, if a Navy ship from a country without prior arrangements turned up alongside Aotearoa wanting fuel, the Navy will ask for options to charge that nation, says Mr Wooller.
"Sometimes a requesting nation will ask to bill it through a country that has a relationship with them and us, and then that mutual country pays us or gives us credits."
The 'bag of cash' scenario occurred during a refuelling at sea between HMNZS Endeavour and a foreign destroyer north of New Zealand, prior to the International Naval Review in Auckland in 2016.
Commander Martin Doolan, then Commanding Officer of Endeavour, recalls the ship wanted to pay by cash - $US 250,000.
"We met up with ships from three countries off North Cape, where we refuelled all three ships prior to escorting them to Devonport Naval Base to participate in the 75th Anniversary of the RNZN," he says.
"Just prior to conducting the RAS with one ship, they asked if they could transfer the payment via a jackstay during the refuelling." A jackstay is a line stretched between two moving ships, with a pulley and hoist attached, to transfer parcels and – in the past – people. During a RAS, it is common for ships to pass small gifts across.
CDR Doolan took a short moment to visualise a quarter of a million dollars dangling on a line between two fast-moving ships.
"As you might imagine, my concern was over when exactly the cash became ours? If it passed the halfway mark and then, for whatever reason, fell into the sea, was it our money or theirs? Needless to say, we chose not to 'cross that bridge' and while we did fuel them, we deterred them from conducting the payment."
Mr Wooller points out that the Captain of a ship has a lot of discretion. "Captains have asked me, what are the rules? What do you recommend? We give them the solutions, the options, if they are going to refuel a ship. But we don't tell them how to do their job."
Defence Logistics Command keep an eye on prices – especially fuel – and look for the best options. The NZDF has an arrangement with Singapore, to buy fuel from the United Kingdom facilities there at a better price and quality, and NZDF does this with other nations as well. It could be in future that Aotearoa makes a regular run to Singapore and other allied nations.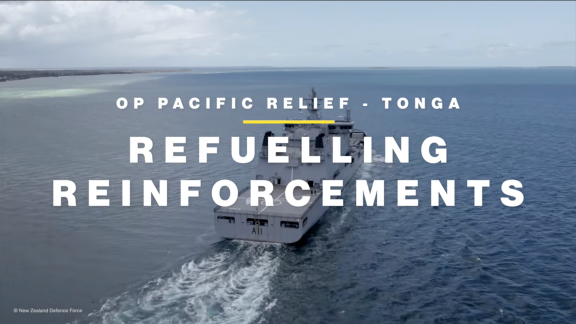 HMNZS Aotearoa completes a replenishment at sea with U.S. Navy's USS Sampson