Royal New Zealand Air Force: 12 moments from 2021
This year, while continuing to deliver important operations in our normal swim lane of military aviation, training, & preparing for new fleets & other major developments, we met the call to help in managing the pandemic with extra effort and commitments.
28 December, 2021
People from all units across the Air Force were deployed to staff Op Protect facilities and the Op Highroad Auckland border checkpoints - most months over 100 people at a time were away from their units and homes on these high-priority commitments.
Here's a snapshot of some of our activities in 2021.
Flying relief supplies to Fiji
In February, a C-130H(NZ) Hercules transported emergency relief supplies over two flights to Fiji following Tropical Cyclone Ana.
Tropical Cyclone Ana made landfall at the end of January in Fiji after several days of heavy rains and led to widespread flooding. Its impact came less than two months after large parts of Fiji were devastated by Tropical Cyclone Yasa and at a time when the country was also managing the impact of the COVID-19 pandemic.
New Zealand provided $1 million of assistance, which included essential relief items to assist affected families, including hygiene kits, mother and infant kits, water containers, water pumps, purification tablets and tarpaulins.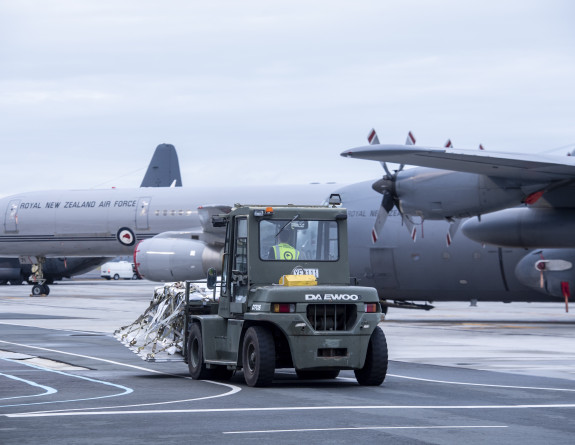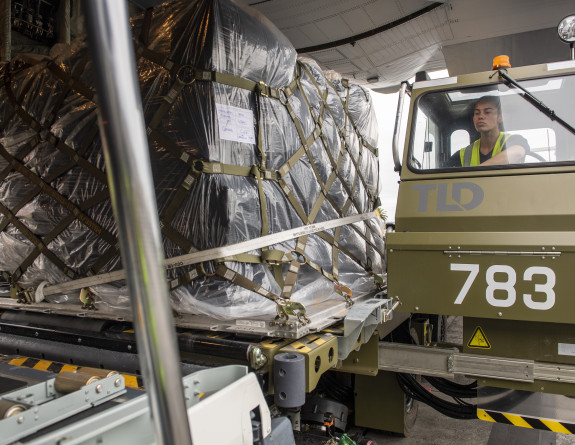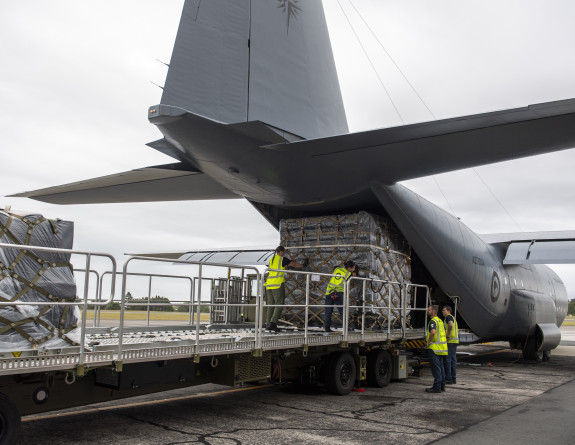 PPE to island nations
Our aircraft delivered nearly 10 tonnes of personal protective equipment (PPE) to Papua New Guinea (PNG) and Timor Leste as cases of COVID-19 surge in the two nations.
The first flight saw crew on the Boeing aircraft carry out a contactless delivery of PPE to Port Moresby to help Papua New Guinea deal with hundreds of new cases.
The country had implemented a nationwide isolation policy in order to stem the burgeoning community transmission cases that are putting a strain on its health system.
The Ministry of Foreign Affairs arranged for 4400kg of PPE for PNG, which was enough for clinical teams to treat 1000 COVID-19 cases.
The day after the flight to PNG, a C-130H(NZ) Hercules aircraft and crew delivered 5500kg of PPE to Dili, in Timor Leste, which is also experiencing a sharp increase in cases.
The supplies will enable clinical teams to care for patients with the disease. The PPE includes hand sanitiser, goggles, biohazard bags, sterilising tablets, shoe covers, thermometers, gloves, gowns, surgical face masks and face shields.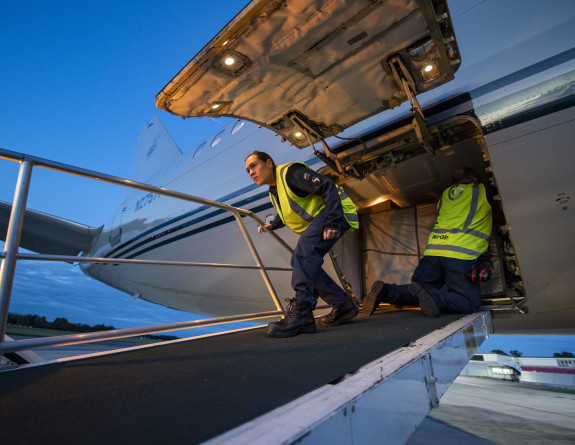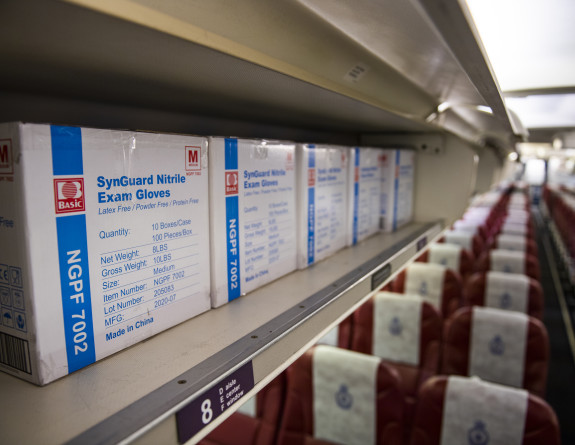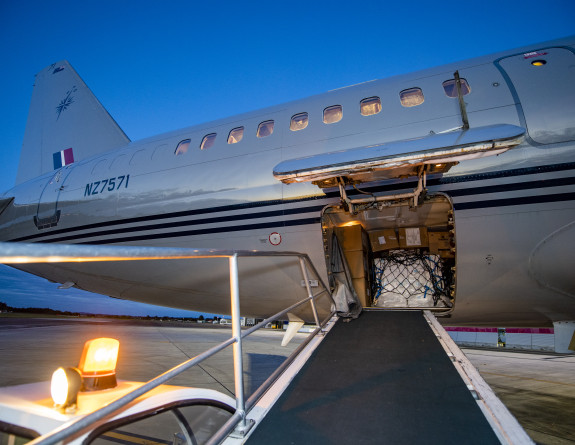 Confidence comes with vaccination
Exactly one year to the day since COVID-19 was announced as a global pandemic, vaccinations for the virus were being injected into the arms of New Zealand Defence Force personnel. Working in Managed Isolation Quarantine Facilities and at the borders meant these frontline staff needed early protection in order to continue to safely deploy.
Base Auckland's gym was home to Whenuapai's vaccination operation. The tri-service and civilian medical team set up a streamlined system where personnel would be given a series of information briefs so they could make an informed decision about whether to be given the Pfizer vaccine.
The vaccines arrived at the base in packets of five. Each vial contains six doses and the medical team had to calculate the measurements precisely.
They were kept in a chiller at between 2C and 18C and the ambient temperature in the gym was required to stay below 30C.
Once the vaccines were removed from the "super freezer", they had to be used within five days.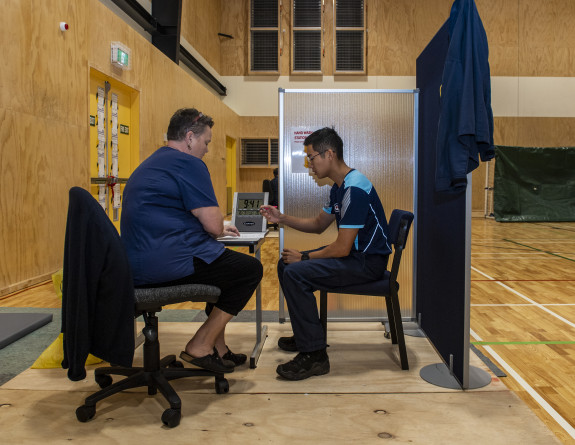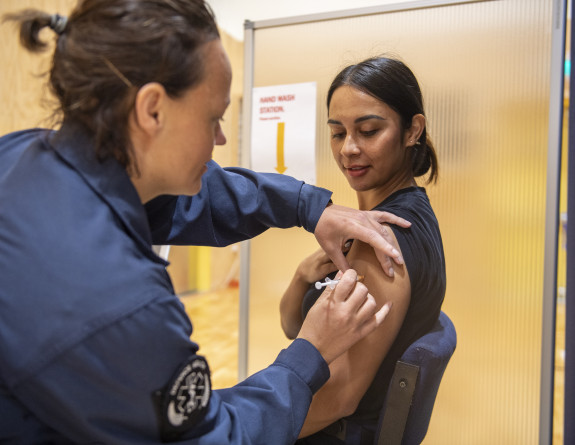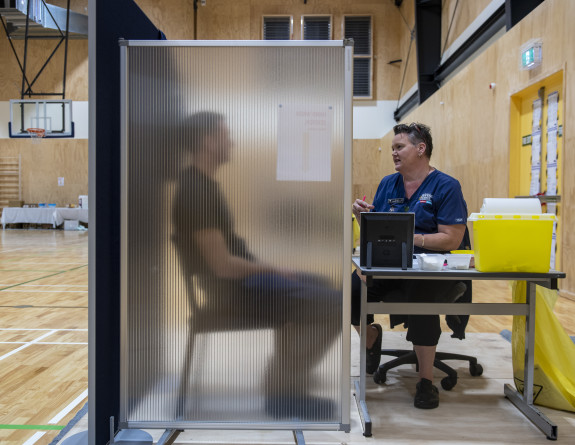 Emergency dash to Niue
A middle of the night emergency call about a seriously ill Niuean resulted in an urgent nine-hour round trip by a C-130H(NZ) Hercules across the Pacific to bring the patient back to New Zealand for treatment.
The C-130H(NZ) Hercules left Base Auckland at 5am, carrying a medical officer, a civilian intensive care specialist and a nurse. The flight carried oxygen and medical equipment, including a defibrillator and a ventilator.
The unconscious patient was flown back to Base Auckland where a St John ambulance was waiting to take the patient to Auckland Hospital.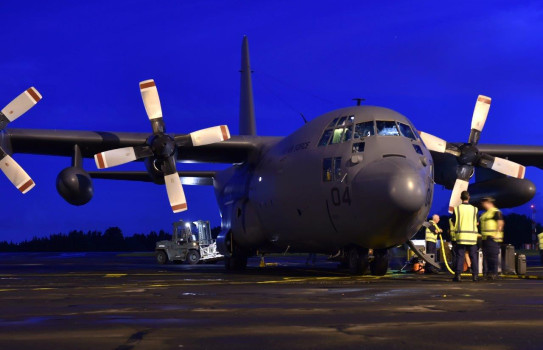 Celebrating 20 years protecting Pacific waters
The Air Force has been helping to protect more than six million square kilometres of Pacific waters from illegal fishing by taking part in Pacific Islands Forum Fisheries Agency-led (FFA) Operation Tui Moana, for the past two decades.
The regional fisheries surveillance operation covers the Exclusive Economic Zones of Cook Islands, Fiji, Niue, Samoa, Tokelau, Tonga and Tuvalu as well as associated high seas.
Despite the continuing COVID-19 crisis, five Pacific patrol vessels participated in Operation Tui Moana recently, alongside a P-3K2 Orion.
FFA conducts four operations every year and has been providing surveillance support to the Pacific region for 42 years.
Traditionally Pacific QUAD partners, Australia, New Zealand, France and the United States, provide support through aerial and surface surveillance, alongside the FFA Aerial Surveillance Programme aircraft and Pacific Islands country patrol boats.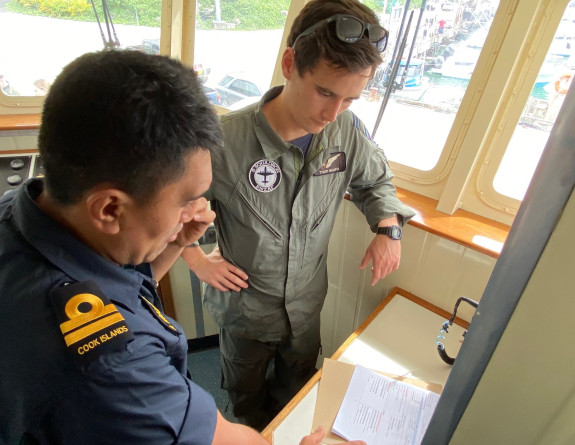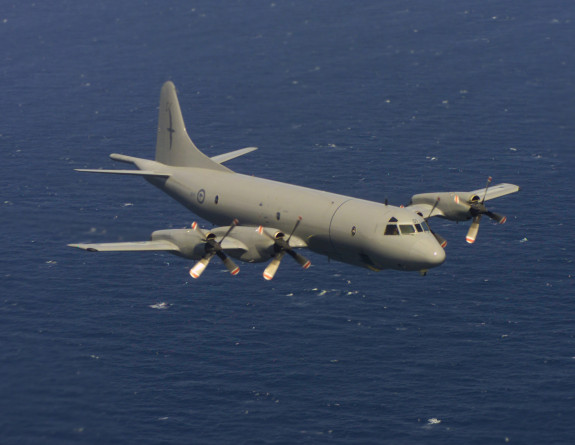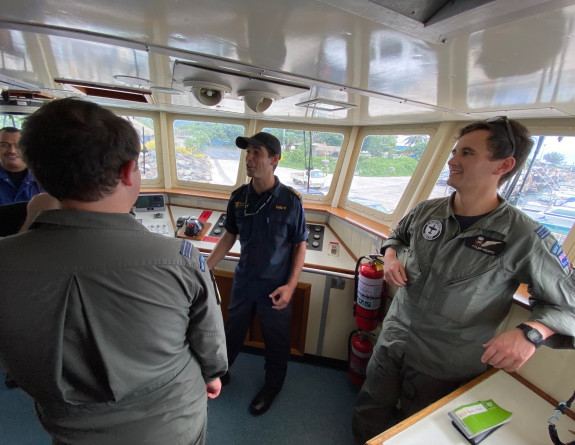 Flying into the flood zone
In June, a deluge of rain emptied from the skies onto Canterbury, transforming paddocks into lakes, streams into rivers and rivers into raging floodwaters that destroyed stopbanks and shattered bridges.
Communities were stranded and some residents were lucky to survive being swept along raging waters. Air Force personnel risked their lives rescuing stricken locals and flew in critical supplies to homes cut off from nearby towns.
The extreme weather event caught many locals out as stopbanks burst after creeks distorted into raging rivers. Roads that were dry and safe were quickly swallowed by the torrent of water that flowed across the region.
Flooding across the region was immense and its residents were in dire need of help fast. The Defence Force was called in and quickly sent in soldiers, trucks and an ambulance from the New Zealand Army's 3rd Combat Service Support Battalion based at nearby Burnham Military Camp.
Two NH90 helicopters and crew were flown down and there were also personnel in headquarters command and control roles, and liaison officers in Ashburton, Timaru, Waimakariri and Selwyn emergency operations centres.
The lightning-pace change of conditions caught three motorists and put their lives in immediate danger, resulting in an NH90 rescue mission that saved their lives.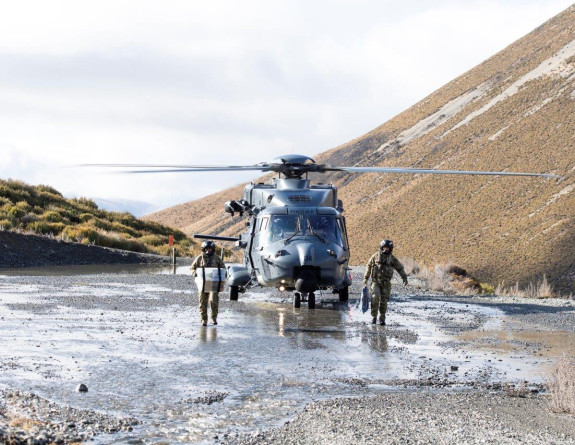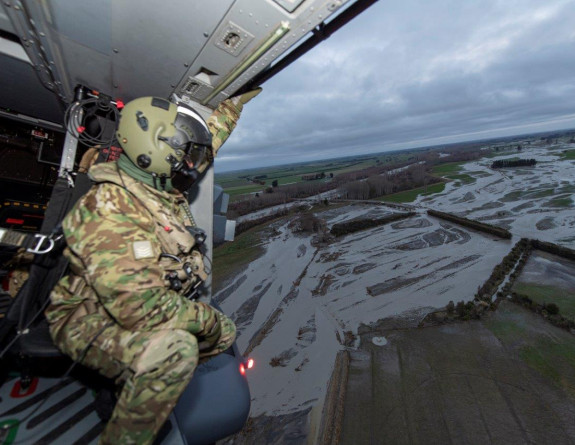 High-risk Antarctic medevac
During Antarctica's long, dark winter a C-130H(NZ) Hercules crew landed the aircraft on ice, using night vision googles and with limited depth perception to evacuate a patient from the United States' base, McMurdo Station.
The aircraft, with 13 crew on board including two Defence Force medical personnel, left from Christchurch for Antarctica on the nearly 16-hour round trip.
It was the first time night vision technology had been used to land on the ice runway on the Phoenix airfield and the winter flight itself is only undertaken about once every five or ten years.
The patient, who is a member of the United States Antarctic Program, was not suffering from life-threatening injuries, but needed further medical treatment on arrival into New Zealand.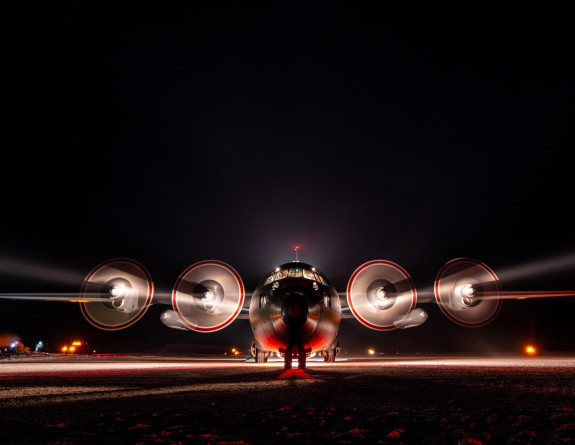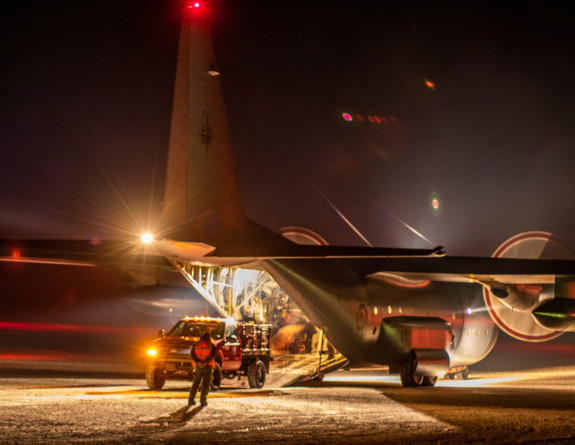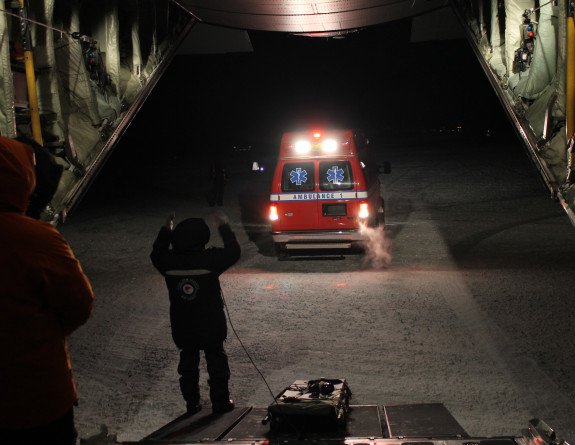 From Afghanistan to Aotearoa
When Kabul fell to the Taliban a C-130H(NZ) Hercules crew completed three rescue flights into Afghanistan's conflict-ridden capital, flying out hundreds of evacuees from Hamid Karzi International Airport.
Their final flight left for the United Arab Emirates just hours before a terrorist attack at Kabul's airport, killing scores of civilians and more than two dozen members of the United States military.
Over the course of the mission, the Hercules successfully brought out evacuees destined for both New Zealand and Australia.
About 80 Defence Force personnel were involved in the mission.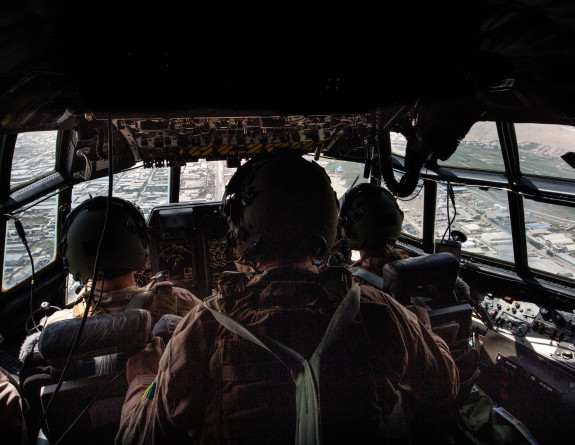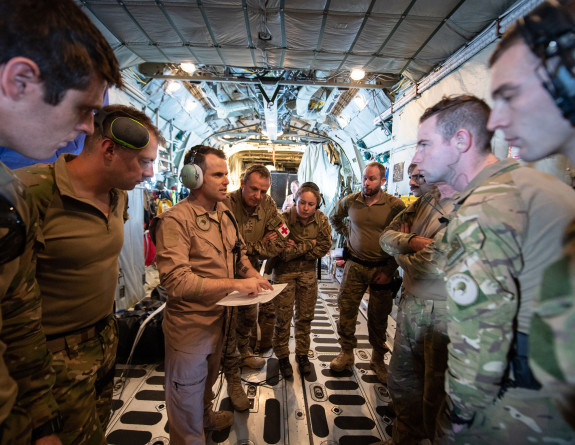 Orion crew find missing Kiribati sailors
In October, aircrew on a P-3K2 Orion found two people who had been reported overdue from a fishing trip to Maiana Island in Kiribati, after scouring more than 7000 square nautical miles of ocean.
The two people had last been seen on board a 5.8m fibreglass boat departing Tarawa, Kiribati, on the afternoon of 30 September. They had planned to go to Maiana Island, an atoll about 2-3 hours away from Tarawa.
The Rescue Coordination Centre Fiji sought assistance from New Zealand through the Rescue Coordination Centre NZ, who requested an Orion assist with the search.
Aircrew on the Orion covered a search area of approximately 7300 square nautical miles on the first day of searching.
The aircrew overnighted in Nauru before resuming the search and were successful in locating the boat with two people the following morning, 230 nautical miles from Nauru.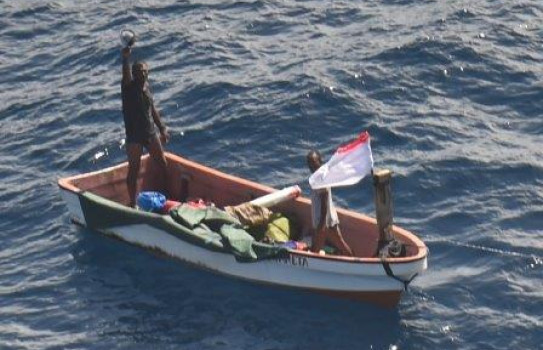 Urgent flight to the islands
In October, aircrew on a C-130H(NZ) Hercules completed a quick trip to Solomon Islands and Kiribati, moving both people and equipment.
Kiribati nationals had been experiencing significant power outages due to the deteriorating condition of electrical generators on the island. The country's government asked for Ministry of Foreign Affairs and the New Zealand Defence Force's help in getting a 5100kg electrical generator stator from Tarawa to New Zealand for repair.
On the way, the Hercules was able to take a small group of Solomon Islands Recognised Seasonal Employer (RSE) workers and New Zealand Police personnel, who had been experiencing difficulty finding commercial options, to Honiara.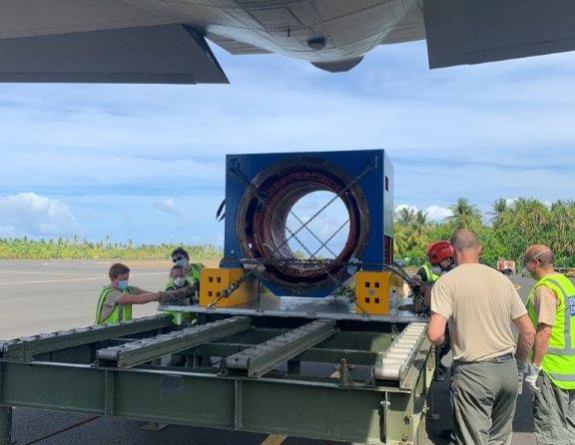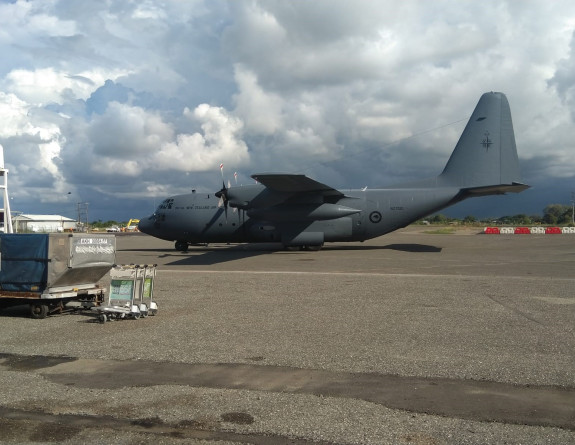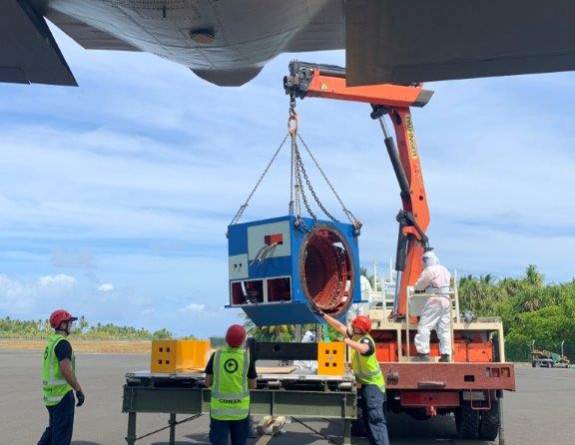 Enforcing UN sanctions
A P-3K2 Orion and crew returned from its deployment in support of United Nations Security Council (UNSC) sanctions on North Korea.
It was the final P-3K2 to be deployed on this type of mission before the P-8A Poseidons join the Air Force fleet and takes over the maritime surveillance missions.
The North Korea sanction resolutions, adopted unanimously by the UNSC between 2006 and 2017, aim to persuade North Korea to denuclearise and abandon its ballistic missile capabilities.
"Our deployments are part of ongoing international efforts to fully implement United Nations Security Council resolutions. They support the goal of the complete, verifiable, and irreversible denuclearisation of North Korea," Foreign Affairs Minister Nanaia Mahuta said.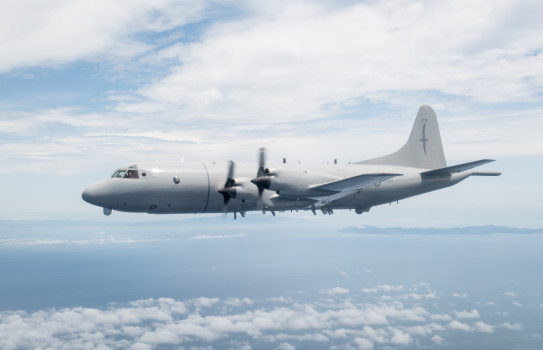 Rescue in the ranges
In November, an NH90 helicopter and crew rescued a tramper who became too unwell to walk out of the Tararua Ranges by herself.
The woman had called for help after falling ill overnight while staying in the Dracophyllum Hut. A Palmerston North rescue helicopter was tasked to fly in two LandSAR members to her to assess her.
However, low cloud and high wind gusts prevented the civil helicopter from getting to the ridgeline, so they dropped the LandSAR team about 3km west of the location for them to make their way to the tramper.
NH90 pilot Flight Lieutenant (FLTLT) Tom McDowell said by late afternoon the weather had improved slightly with the ridgeline in and out of cloud cover, he said.
"We were airborne just after 6pm – we thought if conditions were right when we arrived, there was a good chance we could help out. Sure enough, the whole ridgeline was in cloud, but there was a small opening near the hut and we were able to pop in there and pick them all up."