NZDF tracks down relatives to return WWI medallion
In 1944, Boer War and World War I veteran Sergeant William George Cooper placed a lost and found classified ad in Wellington's Evening Post.
29 April, 2022
He'd lost his silver Returned Services medallion and hoped the finder would "kindly return" it to his home in Petone. He was 72 years old, and he died 16 years later, his ad unanswered.

But earlier this year, when an Upper Hutt family chanced upon the medallion in the back of an old writing desk of a deceased uncle, they wondered if there was a descendant that would welcome its return.
The small silver medallion, with Birmingham hallmarks, appeared to be an unofficial soldier's keepsake, a memento of service, detailing "SGT WG Cooper 628456, 47th Hardlot, 1918".
The Upper Hutt family had no connection to the soldier, and turned to the New Zealand Defence Force's Public Affairs arm for help. NZDF historian Matthew Buck made the breakthrough by searching in the National Library's 'Papers Past' newspaper archive, using the name W G Cooper and the number 628456, and getting an instant hit on the poignant 1944 advert.
From there, two things needed to be solved. Who was W G Cooper and did he have any descendants? An internet search using forces.co.uk revealed a Sergeant William George Cooper 628456, originally from London, had emigrated to Canada and joined the Canadian Expeditionary Forces in 1915 to fight in France with the 47th Battalion. His attestation forms and military record were available from Library and Archives Canada. The 'Hardlot' reference is unknown, but may have been an unofficial moniker coined for the battalion.
At the same time, findagrave.com located a Sergeant W G Cooper (Middlesex Regiment) 5567 at Taita Lawn Cemetery, but the date of birth between the 'Canada' Cooper and the 'Taita' Cooper didn't appear to match.
But next of kin did. The 'Canada' Sergeant Cooper detailed his next of kin as younger sister Mrs Emily Tibbitts in London. Her address on Sergeant Cooper's Canadian attestation form matched London census addresses obtained using Ancestry.com, which also identified another sister – Fanny.
The death certificate for 'Taita' Sergeant Cooper matched his Petone address in the lost and found ad and revealed his parents – the same parents as Emily and Fanny, according to Ancestry. It also listed the funeral home that buried him, which still exists today. A call was made to obtain his file, and it detailed his two service numbers – 5567 and 628456 - and that he had been living with his sister Fanny Knight and her husband Edward Knight, as well as being the "dearly-loved" brother to Emily.
The birth discrepancy is likely because Sergeant Cooper, clearly a patriot and brave man, had been around 41 or 42 when he volunteered for the Canadian Expeditionary Force. He had made himself younger - around 35 - on his form. It was not uncommon to do so.
The death certificate also revealed he hadn't married and had no children. Fanny and Edward were also childless. So the English family line of Mrs Emily Tibbitts seemed the only likely option.
We'd like to bring the medallion with us, to let Sergeant Cooper know it has been found, and to reunite them in a sense.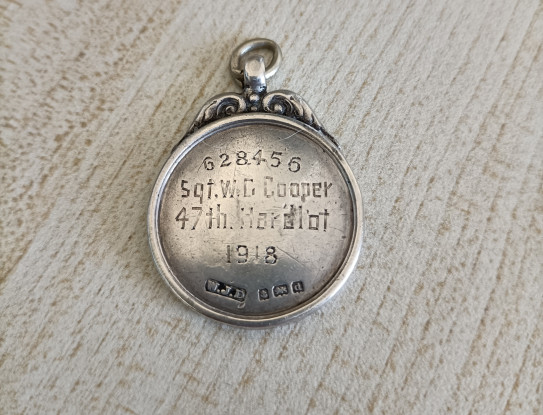 Defence Public Affairs had relied considerably on a particularly thorough Tibbitts family tree in Ancestry.com that detailed the Tibbitts line, but Ancestry records generally only show dead relatives – the living are usually displayed as anonymous.
A social media appeal followed, with a summary of research and a request for help from the public. In a matter of days, the administrator of the Tibbitts family tree made contact, and as it turned out, they lived in New Zealand.
Karen Tibbitts-Williams says her husband is the great-grandson of Emily Tibbitts. She and her husband immigrated to New Zealand from Cambridgeshire in 2008. She was amazed to discover that ancestors of hers had lived in New Zealand.
"It's incredibly emotional to see such a wonderful piece of family history and we very much appreciate you making contact – thank you so much!"
Defence Public Affairs has put the medallion finders in contact with Mrs Tibbitts-Williams, for a handover this month.
The find has spurred Karen to fine-tune her family tree, refreshed with research from Defence Public Affairs. She has discovered that Sergeant Cooper was badly wounded in the thigh during World War I, involving repeated surgery. He came to New Zealand around 1930, while the Knights had been in New Zealand from at least 1911, with Edward surviving WWI and influenza. A member of the public has written to Defence Public Affairs, describing how she grew up near the Knights and Mr Cooper, describing them as a "tight-knit three", always friendly but self-contained.
Karen says it is precious to have those memories – now added to her tree – from people that really knew them.
"I like to think that Fanny was looking after both men, and it's lovely they all had each other."
She and her husband will travel to Wellington to visit Sergeant Cooper's grave in Taita.
"We'd like to bring the medallion with us, to let Sergeant Cooper know it has been found, and to reunite them in a sense."
Thanks to:
Ancestry.com
Findagrave.com
NZ Electoral Rolls
Canada Library and Archives
National Archives
National Library
Gee and Hickton Funerals
Ministry of Internal Affairs / Births Death and Marriages