Military Police Commanding Officer brings world of experience
The new Commanding Officer of the Joint Military Police Unit has had a wealth of experiences working in two air forces a globe apart.
30 June, 2022
Wing Commander (WGCDR) Derek Peel took on the role at the Change of Command ceremony at Trentham last month. But his journey to head the unit started more than 30 years ago in the small seaside town of Morecambe in the northwest English county of Lancashire.
"Originally I was going to apply for the Lancashire Constabulary to be a policeman. But then I met a lad who had just joined the Royal Air Force (RAF) and told me about the lifestyle and all the places they go to."
After discovering the RAF had a strong policing unit, which offered a career filled with travel, the 23-year-old decided to enlist.
"It seemed like a good option at that stage, but I always had the intention of joining Lancashire Constabulary once I'd got that experience under my belt. But once I got the travel bug and started doing different things, here we are 31 years later in a different air force on the other side of the world."
His RAF career spanned 16 years over six different air bases around England, Germany and Northern Ireland and two deployments to the former Republic of Yugoslavia.
"I helped to police both small and large RAF bases, the largest being RAF Laarbruch in Germany where there were about 2,500 uniformed personnel and their families, all of whom were subject to Armed Forces law," WGCDR Peel said.
"I also specialised as an RAF Police Air Transport Security specialist conducting short term deployments to mainland Europe, North and South America, Africa and the Middle East, protecting RAF personnel and assets."
The seed to travel to New Zealand and join the Royal New Zealand Air Force (RNZAF) was sown 10 years before he actually made the move to pack up and travel across the globe with his wife and three children.
"I worked with the Kiwis in Bosnia in 1995, just at the end of the UN mission. The Kiwis had the best bar in the barracks. We were invited to it because it was a good way of keeping an eye on the British soldiers who were using it as well."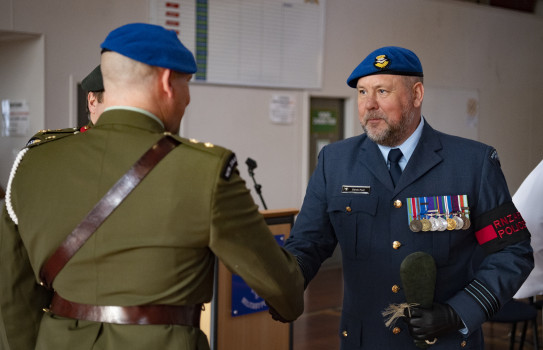 After chatting with a New Zealand Army Warrant Officer, who suggested WGCDR Peel think about applying to the New Zealand Defence Force as it was always on the look-out for good people, he wrote a letter to his wife and asked her how she fancied moving to New Zealand.
"We had a bit of a laugh about it, but when I got home I forgot about it. And then in 2005, I was in Northern Ireland working in the Air Transport Security Section in Aldergrove and I met an RNZAF Flight Sergeant from Air Security.
"I asked him if they were still recruiting people from overseas and he gave me the name of a Warrant Officer in Wellington who said they were currently actively recruiting people from the UK."
After a discussion with his wife and children, the family decided to give it a shot and start the process of applying for a position in the RNZAF.
"It all worked out very well. Two years later I left the RAF to join the RNZAF as an Air Security (Police) NCO, arriving as a Corporal posted to Base Ohakea. I was promoted to Sergeant in December 2008 and commissioned in July 2009."
WGCDR Peel's New Zealand career has seen a number of significant roles including Officer in Charge of a number of high profile serious investigations, the RNZAF security lead for the visits of the Duke and Duchess of Cambridge in 2014, and the Prince of Wales and Duchess of Cornwall in 2015 and, Security Director for the 2017 Military Air Tattoo held at RNZAF Base Ohakea.
In his latest role, WGCDR Peel said he was focussed on what he could do to enable and support his staff.
"It's about what I can do to ensure that they are protected while they are out doing what can be a dangerous role. There's always the chance of physical harm when they are out dealing with the unknown, or with somebody who is feeling particularly low at that moment, or has drunk too much or has taken some sort of substance because they are not in a good space – you just don't know how they are going to react."

Wing Commander (WGCDR) Derek Peel
"I want my people to be as safe as possible and my job is to do everything I can to make sure they are fully empowered and protected when they are doing the job."