Canterbury volunteer shows care for Op Protect personnel at Christmas
Volunteer Dellwyn Moylan from Ashburton is doing her bit to support Canterbury-based service personnel who will be working in a Managed Isolation Facility (MIF) over the Christmas period.
25 December, 2021
On Christmas Day, every NZDF employee working in a MIF will receive a care package packaged up and distributed by Headquarters Joint Forces New Zealand (HQJFNZ). In addition to these care packages, service personnel working in a MIF in Christchurch will also receive a handmade Christmas card, a felt military bear magnet and Christmas decorations made by Dellwyn, plus decorations made by children from Burnham Preschool and School.
Dellwyn has seen first-hand the positive impact that the Army has had on her community. In May, soldiers from 3rd Combat Service Support Battalion (3CSSB) assisted with the evacuation and clean-up resulting from the floods that affected the Ashburton region.
"I know it's tough for our soldiers being in MIFs, especially at special times like Christmas. These little extras will remind them that the work they do is valued, and they are not forgotten. It's just a small way in which people can show that they care," ~ Dellwyn Moylan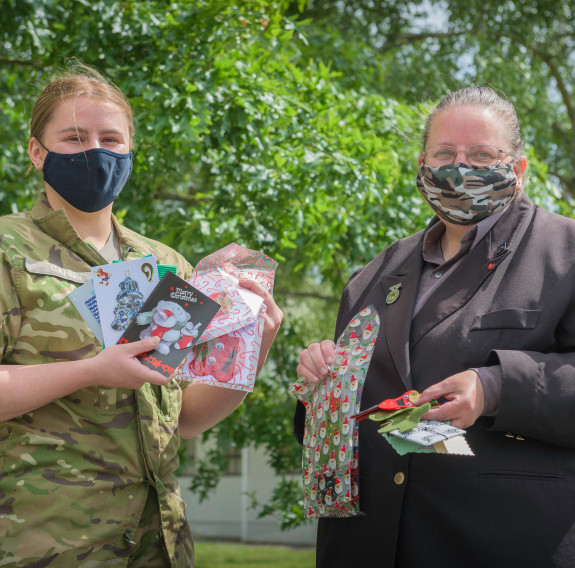 This isn't the first time the Civil Defence volunteer has helped out to support those working in the MIFs. In April, Dellwyn made up seventy-two bags of truffles, lolly cake and Anzac biscuits for personnel who worked Christchurch MIFs on Anzac Day.
Her motivation for supporting the soldiers is a personal one. Earlier this year, Dellwyn read for the first time, some of the letters her father sent to her grandmother during his time in the NZ Army in World War 2. In reading them she discovered that her mum spent years knitting scarves, hats and gloves to send to the troops overseas. With a good friend currently serving in the Army, Dellwyn was inspired to do something for the soldiers who are working on Op Protect.
Dellwyn handed over her care package to Private Caitlin Candy, from 3rd Catering and Supply Company, 3rd Combat Service Support Battalion (3CSSB). She is one of the 195 service personnel nation-wide who will be working over the Christmas and New Year period, it will be PTE Candy's fourth rotation in a MIF.
"While I don't mind working in a MIF over Christmas, it's really nice that people in the community, like Dellwyn, are thinking about us. I know everyone will really appreciate these little gifts," she said.