Busy Times For Warfare Officer
For a warfare officer, life can be pretty intense. That's when Lieutenant Tayla Cox steps back and takes a moment to appreciate how cool her job is.
08 April, 2022
LT Cox grew up in Thames and six months from finishing high school, she had no idea what she wanted to do. "I didn't want to go to university, I didn't want an office job.
I was quite an outgoing kid. I wanted to travel, do something different each day, and I wanted a challenge." A friend had joined the Royal New Zealand Navy the previous year and recommended it. "So I joined at 17 as a warfare officer."
Her work has certainly ticked the travel box. In 2017 she posted to tanker HMNZS Endeavour, travelling around Australia and South East Asia – coincidentally with her friend who recommended the Navy to her.
"That was a highlight, being age 19 and navigating the ship by myself somewhere in the middle of the South China Sea."
More recently she has been posted to HMNZS Wellington as a watchkeeper for a Western Pacific fisheries patrol and would have deployed with Wellington to the Solomon Islands during the civil unrest, but for coursework.
I was really excited because this kind of operation was the reason I joined the Navy, to go and help and make a difference.
As a bridge watchkeeper, the most challenging aspect is dealing and controlling multiple factors, both internally and externally to the ship.
"That could be taking charge of other ships, manoeuvring around them and then we may have to launch the sea boat or aircraft while keeping the ship navigationally safe from land or other shipping. Another challenging aspect is the lack of sleep. We generally work 16-hour days and only get 5-6hr sleep and this routine can be for weeks, so I get pretty exhausted."
The people are a big highlight of being in the Navy.
"I've met some of my best friends in the Navy. Also, because you have to live and work with people while on board ship, you form tight relationships."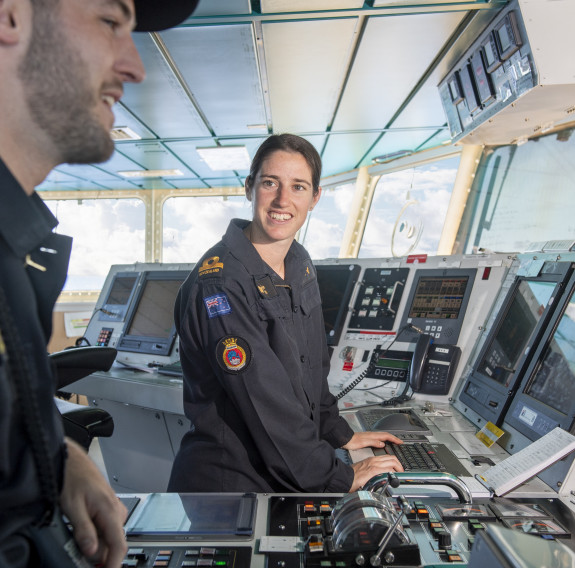 LT Cox loves exercise, although finding time can be hard.
"There are gyms on board ship and usually PT sessions twice a day. I'm a passionate runner – marathons and ultra-marathons – and the command team are supportive of my training. The ship is very good at balancing work and morale, organising activities while we're at sea."
LT Cox is now finishing the coursework she couldn't miss – her Bridge Warfare course.
"That's the last course needed to become a fully qualified bridge watchkeeper in any environment. It's essentially being able to navigate, control and operate a ship in peace or a wartime situation. After this, I can go on to become a navigator, then eventually Principal Warfare Officer and one day Executive Officer or Commanding Officer of a ship."
She would suggest that some extra maturity could help in the job.
"I found it quite hard taking charge of people who could be 30 years older than me at times. Perhaps taking six months to get some life experience first might have been good, but I have still done quite well. Not many people can say that they drive a multi-million dollar ship while operating aircraft and sea boats and being paid to travel."