Aroha for Her Majesty The Late Queen Elizabeth II in Burnham
Burnham Military Camp has a special connection with Her Majesty The Late Queen Elizabeth II. The camp had the honour of hosting the then Queen, once during the Coronation Tour in 1954 and then again during the Golden Jubilee Tour in 2002.
23 September, 2022
When you walk around camp there are small reminders of times when she was in camp. Outside the main entrance to the camp is a cairn with two plaques, one recording that "this cairn was erected by all ranks 2nd/1st Battalion, Royal New Zealand Infantry Regiment to celebrate the Silver Jubilee of our Sovereign and Colonel-in-Chief Her Majesty Queen Elizabeth II, 1977", and the second commemorating her visit during her Golden Jubilee Tour in 2002.
Outside the Camp cinema building, two plaques marking the times the then Queen and His Royal Highness the Duke of Edinburgh visited flank the front doors. There are two scarlet oak trees close to the All Saints Chapel – one planted for her Coronation in June 1953 and another planted on January 1954 when Her Late Majesty first visited Burnham. Close to 70 years later, they stand tall as a reminder of when the young royal visited. Step into the Officers' Mess and you will see reminders of Her Late Majesty's visit too; photos, a thank you letter, and the signatures of the Queen and Prince Philip in 1954 and 2002.
For the 2002 visit, meticulous planning took place over a six month period, with a lot of preparation and discussions well in advance of the visit. On 22 January 2002 The Queen was welcomed to Burnham through the main gates with a 100-man Royal Guard of Honour.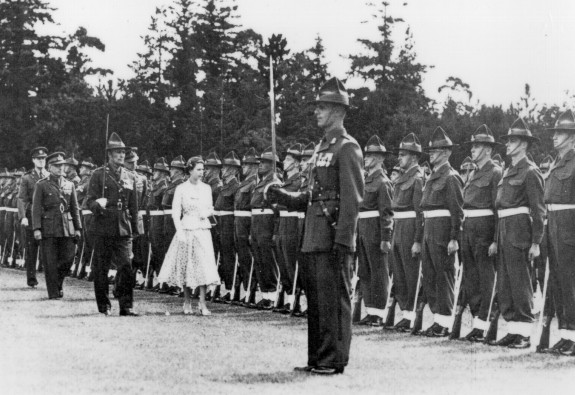 Lieutenant Colonel (LTCOL) Martin Dransfield, then Colonel and Commander 3rd Land Force Group, said it went without saying there was a wonderful sense of community in Burnham over this time.
"At the centre of that spirit was the Māori Culture Group and the Burnham School. Accordingly, it was wonderful to commence Her Majesty's visit with Major General Jerry Mateparae introducing our Kaumatua, the late Eric Henry and Sergeant Stephen Bishop, our Cultural Advisor, who briefed her on the Māori welcome.
"I can still hear the karanga, sung by the late Katarina Henry and Lyndah Pascoe, which has special significance, not only in connecting the living and spiritual worlds, but is also steeped in tikanga and epitomises the mana wāhine, the power of women.
"Next came the welcome powhiri sung by the Burnham School and Burnham Māori Cultural Group, which you could see Her Majesty loved."
LTCOL Dransfield had the honour of escorting the Queen on this day and has so many fond memories.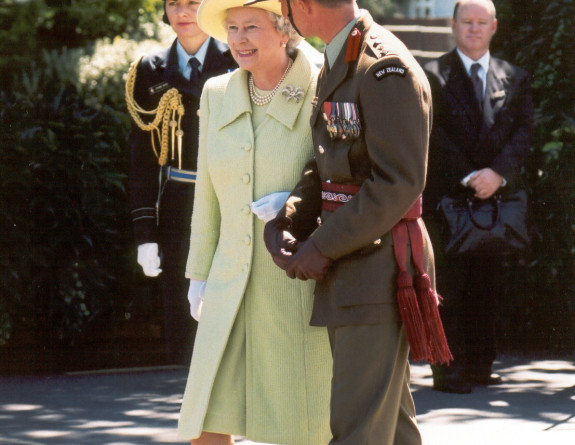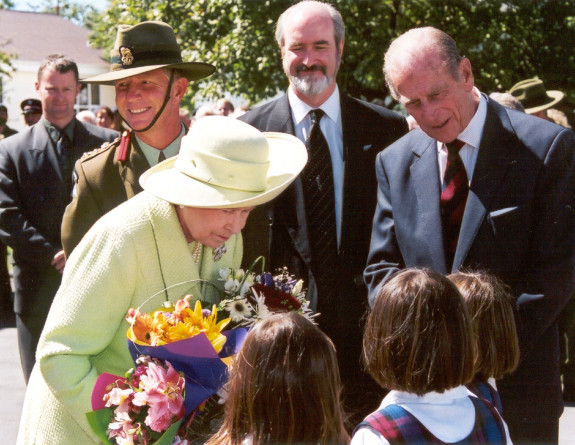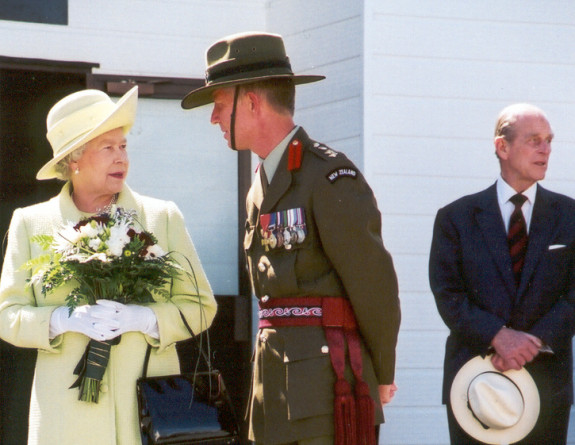 "I was escorting the Queen to the saluting dais for the Royal Guard, and I distantly remember looking back to see the Duke of Edinburgh deep in conversation with then Major General Mateparae. I turned to the Queen and asking her if we should wait for the remainder of the Royal Party.
"Her Majesty responded with a firm 'No' and mounted the saluting dais."
Burnham was a hive of activity over this time, in the thick of preparing soldiers for NZBATT rotations to East Timor. NZBATT5 was already deployed from Burnham, and NZBATT6 was getting ready to deploy.
"The Royal Guard was commanded by then Major Brett Wellington, who was one of the Company Commanders for NZBATT6, and the soldiers were from the battalion about to deploy to East Timor.
He said it was a real morale booster for our troops having the Queen visit.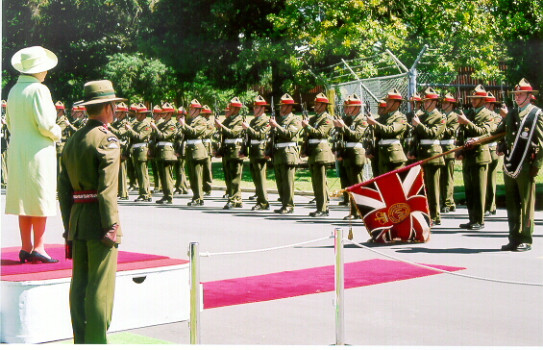 "The visit was an opportunity to involve the whole community in the programme, and it also provided the opportunity for Her Majesty to meet the soldiers about to deploy on operations.
"All the battalion elements put on a static display and she had a good 45 minutes talking to each of the groups of soldiers. It included a wide range of personnel including medical staff, logistics specialists, engineers and infantry men and women about to deploy to East Timor.
"It was a really special moment for them having the opportunity to speak with the Queen," said LTCOL Dransfield.
The Queen enjoyed a luncheon prepared by our Army Chefs - Kahlua tiramisu being prepared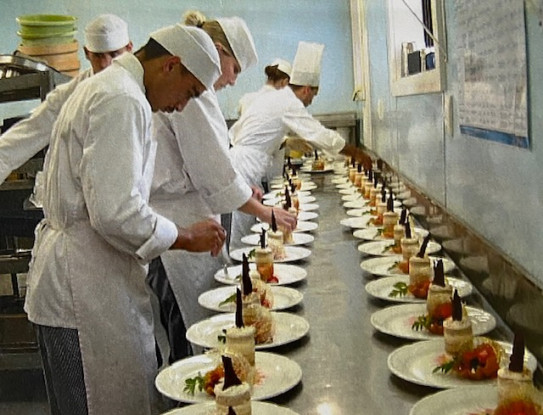 The Queen enjoyed a luncheon prepared by our Army Chefs and dined on poached salmon, stuffed chicken breast and Kahlua tiramisu with a selection of top notch Canterbury wines.
LTCOL Dransfield said her ability to talk at any level was her strength.
"Sitting next to her at lunch was one of the highlights of my life, and my career. I can recall almost word for word my conversations with her. Our conversations were mainly regarding family, and of course we spoke about rugby and horses."
"She was incredibly easy to talk to, genuinely interested in our topics of conversation. It was the intimacy and her ability to converse in a natural way that impressed me, there was no sort of hierarchy around the table, that included Air Marshal Bruce Ferguson, the then Chief of Defence Force, LTCOL Dean Baigent, Commanding Officer NZBATT6, our wives and Jen Hayward, whose husband Lofty was commanding NZBATT5 in East Timor, it was just a very comfortable occasion.
"It was incredible to be able to share some of her intimate family reflections. I was taken by her obvious love for her sister Princess Margaret, who had only recently passed away. She would have been going through a period of mourning, but here she was her usual incredibly beautiful and engaging self.
"Amusingly, she described how Princess Margaret was the Colonel-In-Chief of the Royal Highland Fusiliers, who were based in Glasgow, and whose soldiers were tough, small and soccer players, but had recently recruited a company of Fijian's and were now the British Army Rugby champions.
"On the topic of horses she noted that whilst Princes Anne was an incredible horsewomen, having represented Great Britain at the Olympics, her daughter Zara was even more talented, if not as dedicated. However, Zara then went on to win a Silver medal at the London Olympics, proving how observant Her Majesty was."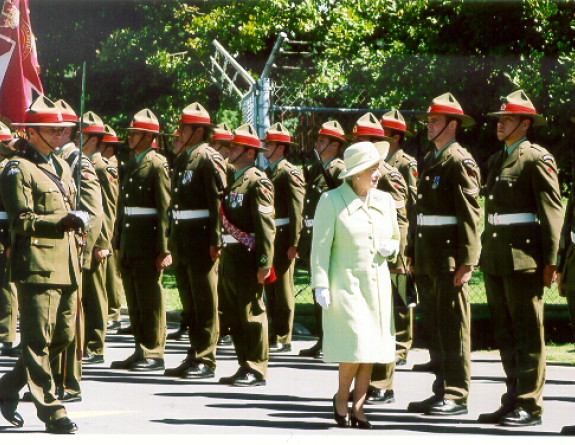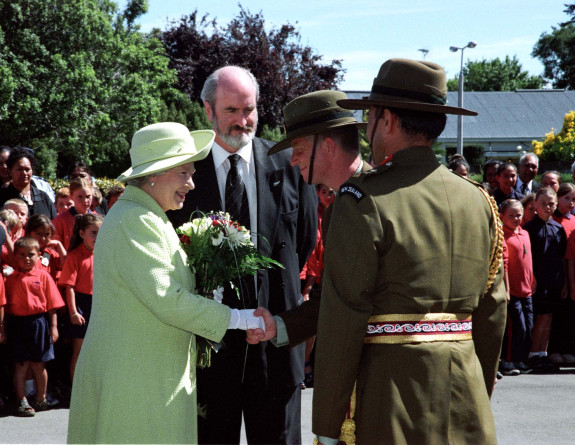 After lunch, Her Majesty visited soldiers in the Camp cinema who were about to deploy, as well as some Rannderdale veterans who were in attendance. This included Warrant Officer Class One (Rtd) Cecil Max 'Doc' Shwass, MBE, and his wife Nell. He was a veteran from World War II and the Malayan campaign, who was part of the Coronation contingent to England in 1953, which is recorded in his book 'A Soldier's Life'.
At the same time, the Duke of Edinburgh visited the Limited Services Volunteers, Youth Life Skills, Army Adventure Training Centre and students from the Ashburton branch of the IHC New Zealand.
"We thought as part of the programme that the Duke of Edinburgh would enjoy visiting the Limited Service Volunteers and Youth Life Skills. It was great because they were both able to get a cross section and diverse look at Burnham and the New Zealand Defence Force, including our bi-cultural elements, right through to what we do as a military which wasn't just about focusing on operations in East Timor, but was also support to youth and support to those who don't have the same advantages as many of us," said LTCOL Dransfield.
The day concluded with the Queen being presented with a merino shawl and the Duke of Edinburgh a merino scarf, and Ebony Murray, a pupil from the Burnham School giving Her Majesty a bouquet, accompanied by the Burnham School singing a waiata as the Royal party left.
LTCOL Dransfield later received a thank you letter, which extended the royal couple's thanks, not only to all those involved in the visit, but also for the merino gifts that "they would most certainly use in the cold English weather".
LTCOL Dransfield said the Queen's visit to Burnham was an incredibly proud day for everyone in camp.
"If you reflect, the Queen and the Duke would have touched the lives of so many people when they visited and it was so beautiful the way she just listened to everyone and enjoyed her time in Burnham.
"That was the beauty of Burnham, and she would have left with the impression that we were a tight-knit community."