Father and son deploy together
Two soldiers who deployed to Niue recently as part of a New Zealand Army engineer team have more in common than most – they are father and son.
02 September, 2022
Reservists Staff Sergeant John McGrail and his son, Sapper Lachie McGrail were part of the team that travelled to Niue to carry out a number of construction tasks for the local high school as part of Exercise Tropic Twilight. They are both members of 2nd Field Squadron, 2nd Engineer Regiment, and are Reservist combat engineers.
John McGrail is a police officer in civilian life, while Lachie is a third-year building apprentice. Deploying is nothing new to John who has been a Reservist for 38 years, and has deployed six times with the Army, and four times with the police. Niue was Lachie's first deployment, and the first time he had travelled out of New Zealand. Aged 20, he became a Reservist as soon as he could, and has served for about three years.
One of six siblings, he went to Anzac Day parades as a kid, and constantly followed what his dad was doing.
"I was inspired by dad to join. Going away and serving is a better feeling than going away on holiday. It's fruitful for yourself, and also the people you have helped. And going with the Army you're making stronger connections with the people you are away with."
He was selected to deploy due to his experience as a partly qualified carpenter.
Now it's pretty cool because I don't have to hear about the stories when he gets back. We're creating them together.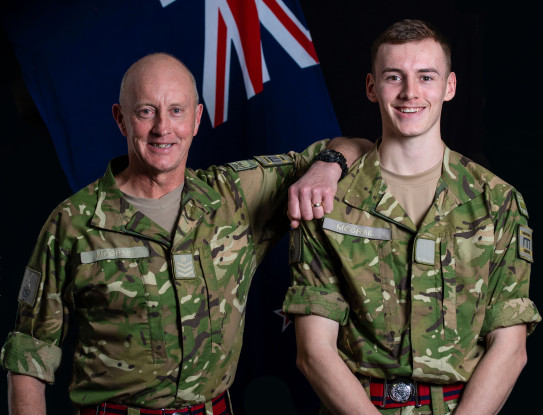 John McGrail says serving alongside his son was awesome. "The opportunity to serve with him and experience a deployment when you're doing humanitarian work for another country is great. I get to see him in action, using all the skills he's learnt from his building trade."
Lachie says he grew up experiencing his dad going away on deployment for months at a time.
"Now it's pretty cool because I don't have to hear about the stories when he gets back. We're creating them together."
Funded by the Ministry of Foreign Affairs and Trade, Exercise Tropic Twilight usually occurs annually in the South Pacific, however it was postponed in 2020 and 2021 due to the COVID-19 pandemic.
The 30-person team from 2nd Engineer Regiment upgraded the Niue High School ablution blocks and replaced electrical points, lights and the switchboard in the school science lab. Read more about the deployment here.