NZDF to march at Queen's Platinum Jubilee Pageant in London
New Zealand Defence Force personnel are readying themselves to take part in one of the world's biggest celebrations – Queen Elizabeth II's Platinum Jubilee Pageant to mark her 70 years of service on the throne.
25 May, 2022
The 42-strong contingent, drawn from the three Services, will be New Zealand's contribution to what the British government has promised will be a "once-in-a-generation" show, centred on Buckingham Palace and surrounding areas on 5 June.
About 11,000 people will take part in the pageant, including 2000 military personnel from around the world. It is estimated there will be 1 million spectators and a television audience of 1 billion.
The contingent is putting itself through its marching paces at Devonport Naval Base before heading to England at the end of the week for further preparations.
A taua (warrior) element will act as a symbolic guard as the contingent, along with other militaries, marches 3.2km through the streets of London in the first of four acts that will play out on the day.
"This is an enormous honour to represent New Zealand at the Pageant and to celebrate Her Majesty's lifetime of public service alongside our Commonwealth colleagues," said contingent commander, the Navy's Commander Kerry Tutty.
We have a special relationship with Her Majesty as she is Head of New Zealand's Armed Forces and she holds a number of colonelcies in regiments and units. We have all sworn allegiance to her and hope to emulate her dedication to service.
"This also continues a rich tradition of our participation in jubilees. A contingent was sent to Queen Victoria's Diamond Jubilee in 1897 and we are proud to continue the story."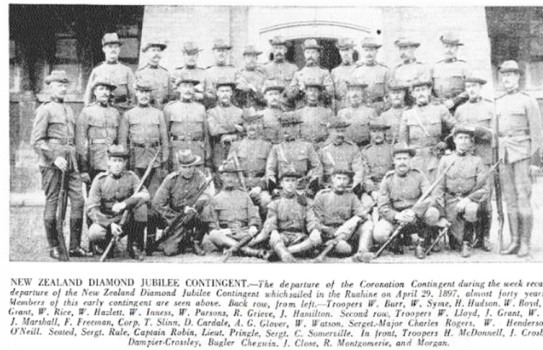 The New Zealand flag will be carried by NZ Army Second Lieutenant Elese Russell, who was the recipient of the Sword of Honour at the Officer Cadet School last year.
"This is an incredible honour. To carry the New Zealand flag at such a significant event for the NZDF will be a highlight of my military career," she said.
Flying Officer Matthew Howley was looking forward to the march through central London streets and representing New Zealand and the NZDF.
"Queen Elizabeth presented the Queen's Colour to the Royal New Zealand Air Force when she visited New Zealand in 1953, and it's amazing to think we are celebrating her service seven decades later."
While in England, the contingent will also play a role in the Service of Thanksgiving at St Paul's Cathedral prior to the pageant and attend services at the Brockenhurst and Brookwood cemeteries, where New Zealand service people are buried.