Feet on the ground
We shine the spotlight on the Safety and Surface trade, in particular, the technical training. It's the first in a series highlighting our ground crews – the backbone of the Air Force.
24 December, 2021
Safety and Surface incorporates a range of skills and this month a group of six will have mastered the final one before being posted into one of the roles. They have been studying the craft of aircraft painting, which is a highly technical skill, vital for the upkeep of our aircraft fleets.
"We teach them about removing coatings, inspecting and preparing surfaces and then applying protective coatings. Jobs can vary from small components to whole aircraft," Safety and Surface instructor Sergeant (SGT) Scott Ackroyd said.
"It's a far more in-depth and technical process than most people think. It's painting to specifications, so coatings need to be applied at a certain thickness and to certain gloss levels. It comes down to an understanding of those principles and how paint helps prevent corrosion.
"The main aim is to keep aircraft in the air as long as possible by preventing corrosion. The second aim is to have well-presented aircraft marked with our unique markings, such as the RNZAF kiwi roundel.
The course had been challenging, with the latest Covid lockdowns extending it by a month, SGT Ackroyd said.
"We've got students from Auckland and they can't go home and see their partners or family and that's been challenging."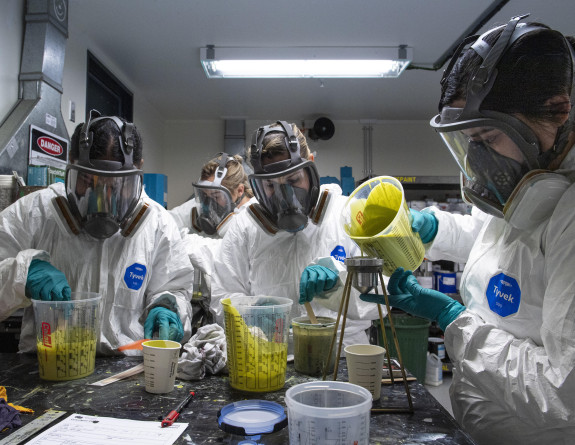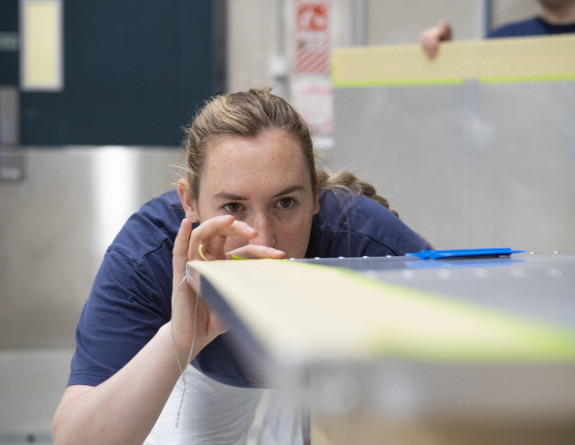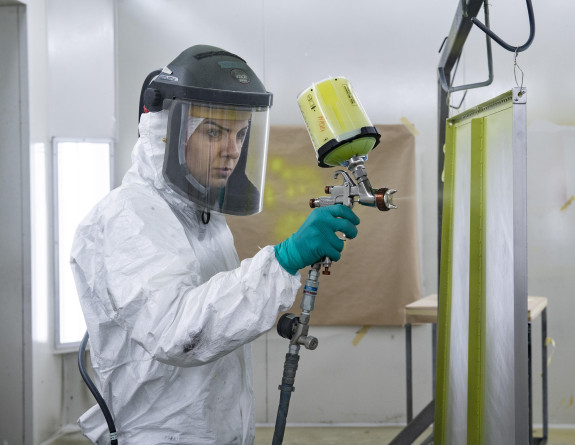 Following graduation of the course, the team will be posted to the paint shops, safety equipment or parachute sections, where they will work on their craft and master it.
"What's next on the cards is they will go from Aircraftman to Leading Aircraftman and looked at as experienced technicians," SGT Ackroyd said.
Aircraftman (AC) Lucy Regan said she was drawn to the diversity of the trade.
"You could be packing a parachute one day or packing a life raft, or sewing, you could be painting an aircraft – it's a lot of different things.
"It's been interesting learning the different techniques in painting. We're painting, but we're also paint stripping, we're putting decals on. It's not as easy as I thought," she said.
"Next, I'll be posted back into the paint shop as soon as we finish the course. I'm able to work fewer hours so I can spend time with my two daughters.
This is a great advantage as it allows me to balance both being a mum and spending quality time with my girls - and it enables me to achieve my career goals and ambitions."
AC Donna Martin had felt the effects of the Covid lockdown, unable to visit her partner or sister in Auckland. "My partner works at No. 40 Squadron and he did come down for work, but we weren't even allowed to give each other a hug because of the restrictions."
She was encouraged to join the trade because of the diversity of its personnel.
"I feel like the people make the job easier. I felt comfortable with who I was working with, so I felt like I was starting to grow in the work department as well. I was comfortable to ask questions and push myself more knowing I had a good team behind me. Definitely the people drew me to the trade," she said.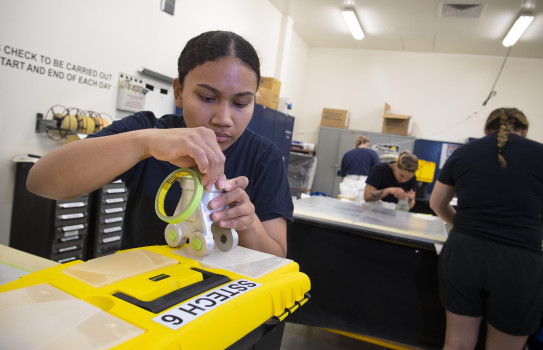 After graduating, AC Martin will be posted to Auckland into the parachute bay.
"So I'll be packing parachutes – which I enjoy. It's really physical. I'm looking forward to settling in there and getting to understand my bay that I've been posted to."
AC Nani Koro was nervous at the start of the course, because she had no knowledge of what the process was regarding aircraft painting.
"But it's been good having an instructor who really knows what he's talking about and people who work in the environment also help us if they see us struggling. So it's comforting to know there are people we can ask.
"There are a lot of variables we need to think of in terms of safety, it's not just slapping on paint. We've got to think about the temperature of the paint before it's mixed. Have we mixed up the paint with the right ratios, have we tested to make sure it's not too runny or thick."
AC Koro is being posted to the paint shop after graduation.
"I'm looking forward to consolidating what I've learned and putting into practice what I've learned throughout the course and just get better at my job every day."
"I came to the base and a family member took me around to the trades. At Safety and Surface I saw people who were the same age, gender and ethnicity as me. When I went to Auckland and saw the trade, it was the exact same thing wherever I went. I wasn't by myself, I wasn't the only girl or the only Māori girl anywhere I went."