Three Defence Force personnel recognised in King's Birthday honours
A daring rescue to save lives, making tough decisions during the pandemic and leadership through New Zealand's response to Ukraine have all been recognised in this year's King's Birthday and Coronation Honours List. 

05 June, 2023
Squadron Leader George McInnes and Group Captain Glenn Gowthorpe from the Royal New Zealand Air Force, along with Lieutenant Colonel Vanessa Ropitini from the New Zealand Army, have today received the New Zealand Distinguished Service Decoration (DSD).
Chief of Defence Force Air Marshal Kevin Short said their efforts were outstanding and he was incredibly proud of what the trio had achieved.
"It is always wonderful when our people are formally recognised for the exceptional work they do on a daily basis. These three represent the finest of our personnel, all of whom have regularly answered the call to respond on behalf of our country, often at short notice," he said.
"Their commitment to service, their skill and leadership, and the sacrifices they and their families make in order to help others are wholly appreciated. I congratulate them on their achievements."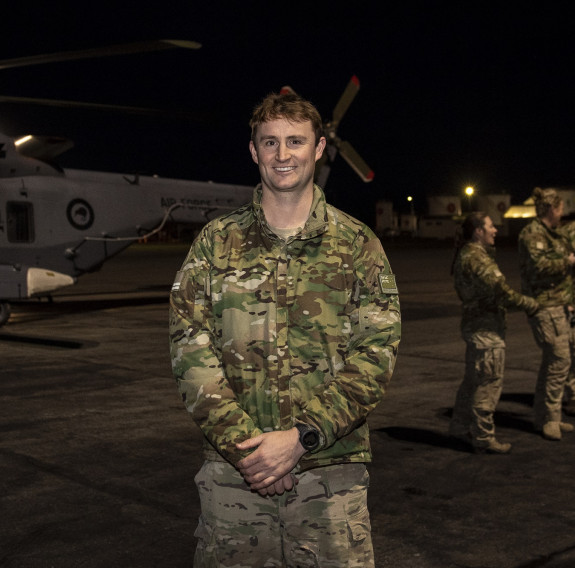 Squadron Leader George McInnes
NH90 helicopter pilot Squadron Leader George McInnes, who helped to save the lives of three people from raging flood waters during a major weather event in Canterbury in May 2021, has been recognised for his flying skills in extremely difficult conditions.
It was pretty humbling to receive the award, he said.
"I certainly didn't expect it."
Squadron Leader McInnes and the NH90 aircrew were deployed to assist the New Zealand Police Search and Rescue team during the widespread flooding of the Canterbury plains.
He responded to a request to rescue multiple people who were trapped and endangered by rapidly rising floodwaters.
The conditions were extremely difficult for the helicopter aircrew, in complete darkness late at night, with heavy rain, very strong and gusty winds, and a low cloud base.
The local civilian rescue helicopter could not attempt the rescues due to conditions exceeding operating limits.
After an initial rescue attempt by a swift water rescue crew, a motorist leapt into the flowing waters only to be trapped by another tree.
Squadron Leader McInnes expertly manoeuvred the aircraft to attempt another rescue.
Battling against the extreme conditions, Squadron Leader McInnes decided, without hesitation, to lower a loadmaster by winch down to the debris and branches to successfully rescue the trapped motorist. The NH90 then carried him and the winch person, underslung, to the water's edge where police and medical staff were waiting.
Squadron Leader McInnes was then called upon to rescue another two motorists who were trapped in their vehicle, and in similar challenging conditions successfully extracted the two motorists before they could be swept away by the raging waters.
"It was definitely a very complex rescue, there were a lot of moving parts and relatively high stakes throughout the whole night. I think the key point was that I had such a great crew to work with," Squadron Leader McInnes said.
Looking back on the rescues, he said he couldn't help but think of all the things that could have gone wrong, but didn't.
"Luck was certainly on our side. The loadmaster risked his life when I sent him down the winch – so that plays on my mind the most. He was able to hold onto the man while hanging upside down at the end of the wire. If he didn't have that sheer strength and tenacity the man would have probably died."
The team was highly trained in rescue scenarios and the crew was experienced, but there was no way to train fully for swift water rescues at night in horrendous conditions, Squadron Leader McInnes said.
"I was lucky to have the right crew in the right helicopter in the right place at the right time. It was a combination of everything going the right way for the people in the water."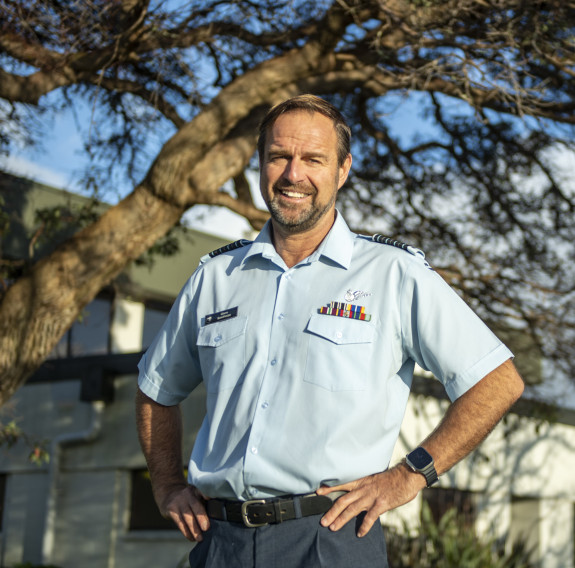 Group Captain Glenn Gowthorpe
Group Captain Glenn Gowthorpe has received a Distinguished Service Decoration in the King's Birthday Honours List for commanding the New Zealand Defence Force's Operation Protect Joint Task Force during the Covid-19 pandemic.
The recognition was a reflection of the work accomplished by the whole Defence team, he said.
"The outcome that our people achieved is what the award stands for."
The Defence Force was tasked with supporting the Managed Isolation and Quarantine Facilities (MIQ) and about 1200 Defence Force personnel were rotated through the facilities at any one time. Their tasks included assisting with daily operations, management, logistics, security and planning.
"The role was a highlight in a way. It truly was a joint operation, working with the three services (Army, Navy and Air Force), with leaders from all the services. The people component of the job was the best part."
The Defence Force was the best organisation to take on the Operation Protect role because of its leadership structure, flexibility and discipline, he said.
During his 34 years of service with the Defence Force, Group Captain Gowthorpe has served in a range of command and leadership positions, including 20 months from October 2020 commanding the Joint Task Force.
His ability to engage with internal and external agencies such as the Ministry of Health, District Health Boards, Aviation Security, New Zealand Police, New Zealand Customs Service and Ministry of Business, Innovation and Employment were critical in the Joint Task Force achieving its objectives.
The risks faced by New Zealanders were constantly evolving with the Delta outbreak in August 2021 and the Omicron outbreak in early 2022.
Group Captain Gowthorpe's leadership necessitated difficult decisions impacting the freedoms of not only his Joint Task Force staff but also the majority of New Zealand citizens.
These decisions weighed heavily on his mind but contributed significantly to New Zealand being able to reduce restrictions and open borders.
"I had to make some really tough calls that I didn't want to have to make. When Covid got into the community and we needed to staff facilities with the community cases, which were the most challenging, I was asking my staff to go to places they did not want to go to," Group Captain Gowthorpe said.
"When the cases got really bad I was worried that we weren't going to be able to stump up with enough people to staff the facilities, because we were catching Covid as well, I had to confine my staff to hotels when they weren't working. That was a really tough decision to have to make, but at that time it was the right one to make.
"I look back on the experience and it was such an interesting and rewarding job. I will wear my DSD with pride and I will never forget the genesis of it."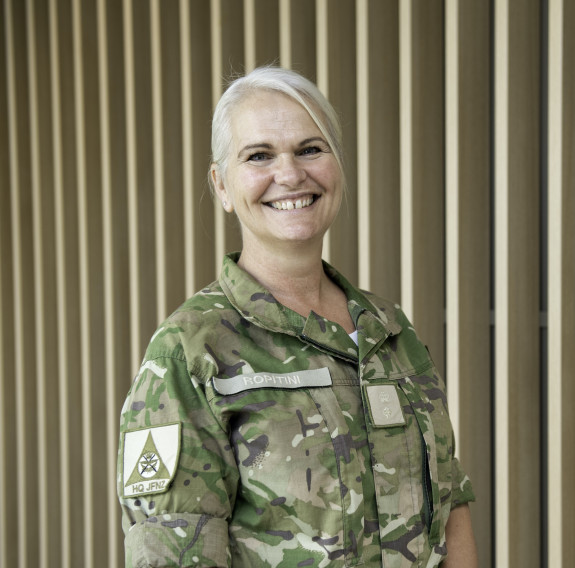 Lieutenant Colonel Vanessa Ropitini
Lieutenant Colonel Vanessa Ropitini had just two weeks' notice that she was deploying to Europe to support the New Zealand Government's contribution to the international response to the Russian invasion of Ukraine.
Her outstanding efforts as the Logistic Task Group Commander with the International Donor Coordination Centre (IDCC) in Germany have now been recognised, an honour she thought was "the sort of thing that happens to other people".
During the early stages of the IDCC, she assisted in assessing and prioritising the Government of Ukraine's equipment and capability demand against the offers of donated capability and support by many nations.
"As you go through your military career you go through peaks and troughs, and this came at a good time for me. It reinforced why I stay in the military, it gave me a sense of purpose, I was engaging with such a highly diverse group of people and it was just an amazing opportunity," she said.
With more than 30 years' experience in the Army, Lieutenant Colonel Ropitini was a key member of the small command team which designed the future structures of the Headquarters.
Her diplomatic skills in capturing and channelling the international response was key in advancing the IDCC from a bilateral organisation to a cohesive international team from 26 nations.
"When it was confirmed we were going on the deployment we had between 10 to 14 days from when it was confirmed to when we got on the plane, so this feels like a little bit of a reward for just ditching the family at that short notice and it makes everything all worthwhile on reflection."
While deployed, Lieutenant Colonel Ropitini addressed shortcomings, ensuring donations could be transferred to the Ukraine Armed Forces as a complete capability, such as matching donations of equipment with training expertise in that equipment offered by different countries.
"It's a weird feeling, seeing someone else's perception of what your performance has been," she said.
"We are underestimated as a small Army on what we can actually bring to the party."