Things that go beep in the estuary
A five-person hydrographic team from Royal New Zealand Navy's HMNZS Matataua has combined the first-time trial of new capability with a museum's quest to discover parts of a 19th century shipwreck.
30 May, 2022
Last year the Mercury Bay Museum in Whitianga, Coromandel, in collaboration with the HMS Buffalo Re-examination Project, contacted the Navy to request help in finding cannons and anchors from doomed Royal Navy vessel HMS Buffalo, which was driven ashore at Whitianga during a cyclone in 1840. The museum believes the ship's cannons and a remaining anchor were thrown overboard in a last-ditch attempt to save the ship.
The Buffalo wreck still exists as a protected archaeological site, but the museum hoped to locate the ditched items. They asked the Navy if a team would be willing to collaborate on a magnetic and sonar survey of a large area where the debris could lie.
HMNZS Matataua were keen for the training opportunity, possessing new side-scan sonar technology and having recently acquired a magnetometer.
Petty Officer Hydrographic Survey Technician (POHST) Luke Morris and his team—Able Hydrographic Systems Operator Katie de Jong, AHSO Ana- Marie Conroy, AHSO Thomas Sullivan and Ordinary Hydrographic Systems Operator Hailey Brown—spent three weeks in March surveying a strip four kilometres long and 500 metres wide, a target set by the museum as the likely 'wrecking event' area, with a lot of extra metres built-in for error. And while they haven't confirmed anything yet, they achieved some readings that the museum will dive on for further investigation.
POHST Morris says the brand-new kit worked well. Matataua also operate the larger REMUS 100 Autonomous Underwater Vehicles, also with side-scan sonar, to scan the seafloor for objects that sit above it. Each REMUS can be programmed to scan a set area by itself before returning. That sounds ideal, but it produces hours of data to process.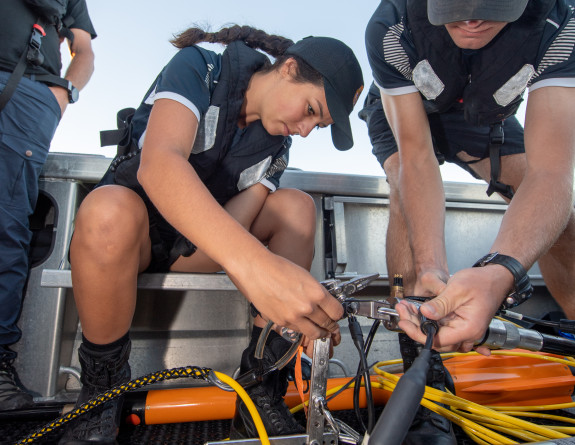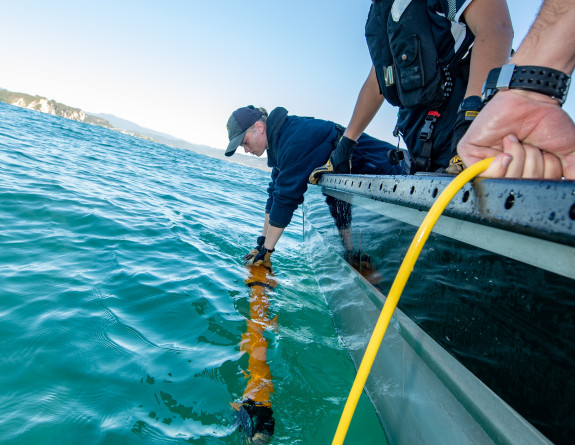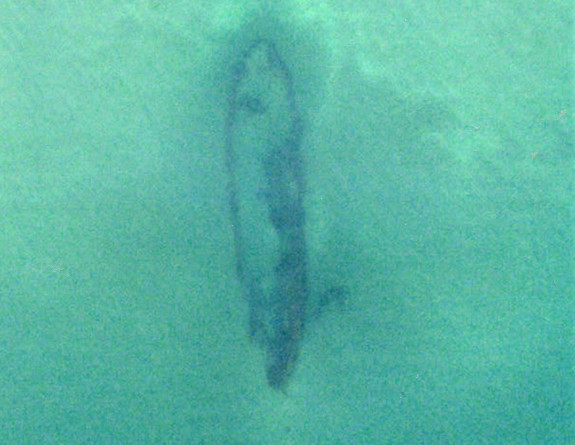 The smaller device is simply towed behind a boat, with the images coming through as a live feed to the operators on-board. Combined with a towed magnetometer, the operators can see shapes of submerged objects and determine whether they have a metallic signature—all ideal when searching for historic anchors or cannons.
"It was a great way to get used to the kit," says POHST Morris. "We were out there from 8am to 3pm, weather dependent. We can use the gear for mine countermeasures, rapid environmental assessment surveys, and it can go places where our REMUS can't go, like a fast-flowing river. The devices can be hull-mounted on our workboats, which is something we're looking at doing."
He says they did pick up some big magnetic spikes. "In the decades since the Buffalo went down, there's been a lot of movement in the bay." He concedes it could just be magnetic rock, but the signals are strong enough to be hopeful for museum director Rebecca Cox and maritime archaeologists Dr Kurt Bennett and Matthew Gainsford.
Ms Cox said it was fantastic to work with the Navy, and she was impressed by how young the team were.
"We thought of asking the Navy for help because it's a Navy ship, and the Navy were here for the ship's 175th anniversary."
She says it is largely sand in the estuary and the wreck of the Buffalo is in a surge zone where it keeps getting uncovered and covered. "In the 1960s the wreck was completely covered. In 2014–15, it was pretty much uncovered and last year it was really exposed. Then a storm came and covered it back up."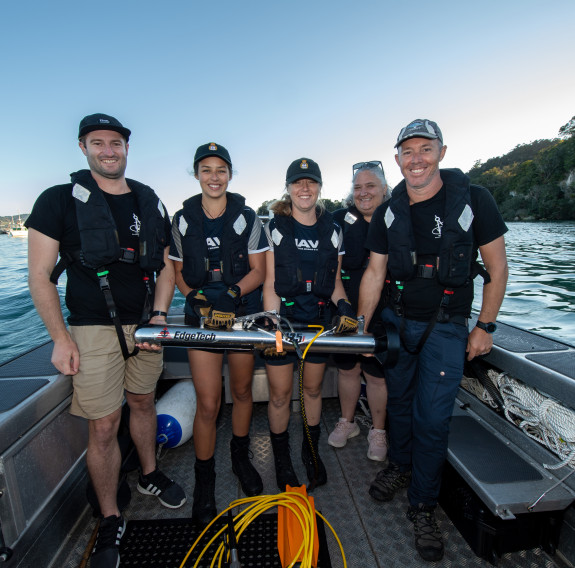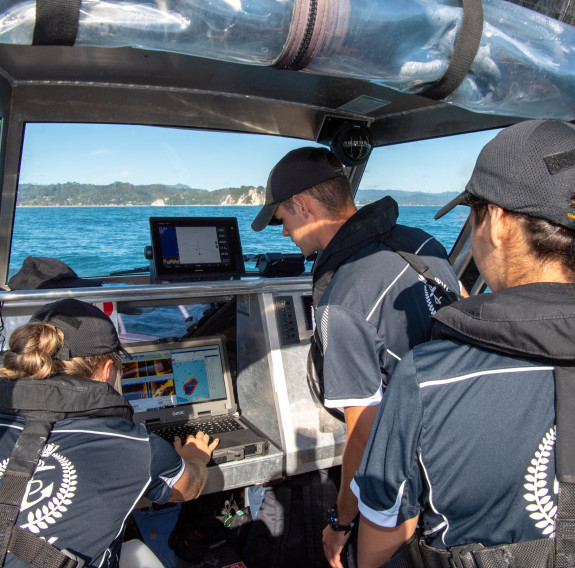 All of which makes finding random items rather complex. "We asked them to survey the anchorage of HMS Endeavour—Cook's ship—because we know Buffalo tried to use Cook's anchorage at first. We know they lost rigging, the keel, and anchors in the storm. When we get big easterly storms we get washed-up timbers of teak, sometimes three metres long, delivered to the museum."
It was a worthwhile project, she says. "Matt and Kurt will process the Navy's data and work out where those anomalies are. They will dive those sites and survey what's there."
Lieutenant Jordan Markham, Officer in Charge, says POHST Morris and his team made themselves subject matter experts of a brand-new piece of hardware in those three weeks. "It's a great capability increase for the Navy," he says. "The museum reaching out for support creates a nice precedent for civilian-related taskings, where we can be used as hydrographers who benefit from the surveying practice, and civilian agencies benefit from our expertise and technology."