Teaching law of war at West Point
We sit down with Commander (CDR) Prema McIntosh, who is currently posted as an Assistant Professor of Law at the United States Military Academy at West Point, USA.
02 November, 2022
When it comes to teaching law, CDR McIntosh is on the front line. In front of her daily are engaged US Army cadets, eager to learn how military law works in the real world.
In June, CDR McIntosh started a two-year posting to the United States Military Academy (USMA) at West Point, New York, and is teaching Law of War for Commanders to undergraduate cadets.
West Point, she says, is an amazing place to be. "Impressive, beautiful and intimidating! The level of knowledge here is incredible – even lunchtime chats end up broadening my knowledge."
As an Assistant Professor in the Law Faculty, CDR McIntosh will teach the course up to the end of semester in December, then teach the same course again in spring up to the summer break. "I also have the opportunity to lecture other courses, and will be covering some parts of the International Law course as well. Recently I was able to take some sessions of Law of the Sea, which I very much enjoyed, even if the cadets had never really considered it before."
Working with the cadets is incredibly humbling, she says. "The calibre of the cadets is what makes West Point special. They are very smart, very engaged. The process for acceptance is arduous, and includes high grades, athletic and community achievements, as well as a nominations, which could be from Army personnel, a senator, congressman/congresswoman, the Vice-President or the President. The class size is around 1,000 per year, so the whole USCC (United States Corps of Cadets) is over 4,000."
In her view, she teaches one of the most important courses at USMA. "This material will have direct relevance to these cadets when they join the wider US Army as Second Lieutenants – some of them in less than a year. Most will be looking at the combat arms, such as infantry and artillery, which means they immediately put into practice what they learn in the classroom this year. They have great questions and we can get into some good discussions in class about current events and what it means to practice military and operational law in the real world."
She is also attached to the Lieber Institute for Law and Warfare. "It is USMA's - and by extension the US Army's – 'think tank' on issues related to the law of armed conflict. In particular it seeks to utilise the military and academic expertise concentrated here at West Point, to examine the role of Law of Armed Conflict in the current conflict climate. I attend and take part in various workshops and conferences, and contribute to the work being done by the institute. This may include contributing an article to the blog 'Articles of War' – which most recently ran a well-received Symposium examining the issues arising out of the Ukraine/Russia conflict."
In addition, CDR McIntosh will complete an LLM (Master of Laws) by distance through the University of Reading. Her intention there is to focus on issues closer to home, in particular international law solutions to the climate crisis.
She acknowledges that she is something of a novelty at USMA. "I'm fairly sure I'm the only Navy faculty member here – and certainly the only one from New Zealand - but within the law department there is a Major from the Dutch Air Force, and one from the British Army."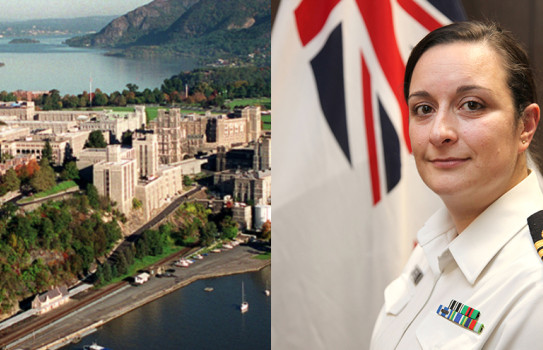 The cadets call her "ma'am" and salute, but she can tell they are still trying to figure out her uniform. "Timing with salutes is key; you're trying to walk past thousands of cadets as they transition between classes or are dashing to lunch – it can lead to a fairly tired arm!"
They have plenty of questions for her. "About New Zealand, but also about my experience as a legal officer and what it means to be one. Most of my cadets are law majors, and many have aspirations to later attend law school and join the JAG (Judge Advocate General) Corps."
Are there any big culture differences? "So, so many. New Zealanders have exposure to US pop culture, but there are so many little things – traditions, routines, and much of it is the scale of everything, from the food, roads and vehicles. The intensity with which they follow sports, in particular Army Football, is new to me, and I have really begun to get into it, attending tailgates and home games where I can. There is also so much pride in what they do in the service. We are proud members of the Royal New Zealand Navy, but we don't have bumper stickers, posters and T-shirts about it. And they should be proud – it is hard and important work that they will do."
Being Navy has inevitably led to many jokes. "The Army/Navy rivalry is very high, and wherever you look there will be a sign saying 'Go Army, Beat Navy'. I have been assured a number of times that they don't mean me. It's mainly the US Naval Academy at Annapolis. The Army/Navy Football game is the most anticipated event of the year."
It sounds intense, but it was surprisingly easy to make the transition to teaching at USMA, she says. She is accommodated on post, so commuting to her office, which has a Hudson River view, is straightforward - something she will glad of when the snow arrives. Mahan Hall, where she teaches, is directly opposite. She joined with eight other new professors, so there was a solid induction.
In her spare time, she's been exploring. New York City is an easy two-hour train ride. "I've also made the slightly longer trip over to Newport, Rhode Island, where the Naval War College is. I've been further north, and explored the beautiful Hudson Valley, and once autumn comes it will be even more so. I was also able to visit Washington DC and catch up with those assigned to the Embassy, as well as indulge my interest in history with a visit to Philadelphia."
The tempo is slower to her previous role in New Zealand. "It's good to slow down a little and spend time preparing classes and do the academic work. It's a really good change to think big thoughts and be less reactive. Cadets come to my classes and want to engage in a topic that is interesting and relevant to them, and can be applied to wider events. They will be great assets to the US Army when they graduate, and I am grateful to have been even a small part of that."