NZDF Artillery Team to Train Ukrainians alongside UK
A New Zealand Defence Force Artillery Training Team is due to start training Ukrainian soldiers in using the 105mm L119 Light Gun.
31 May, 2022
The training team, of up to 30 personnel, has been deployed for up to two months, and will instruct members of the Armed Forces of Ukraine in the United Kingdom. NZDF personnel will not be entering Ukraine.
The NZDF is also providing approximately 40 dial sights to Ukraine, along with a small quantity of ammunition for training purposes.
The NZDF training team will be part of a wider UK team instructing in use of the Light Gun.
The NZDF team will be primarily focused on training orientation of the Light Guns and use of dial sites for the weapons system.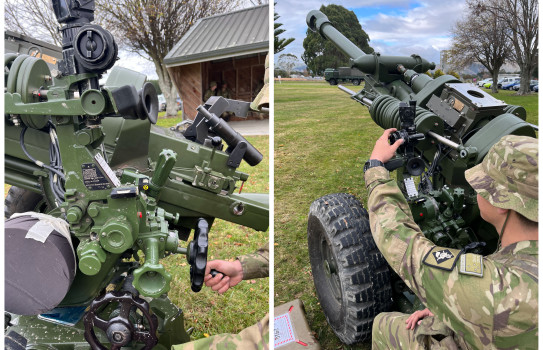 The Artillery Training Team joins more than 60 other NZDF personnel deployed to the UK and Europe where they are working with international partners in support of Ukraine's self-defence.
The Government previously approved the deployment of a Royal New Zealand Air Force C-130H Hercules aircraft and NZDF personnel to Europe to provide intelligence, liaison, transportation and logistics support to the international community's efforts to support Ukraine's self-defence.
The NZDF's New Zealand-based open-source intelligence capability has also been used, and military equipment has been donated to Ukraine.
The Hercules and personnel have been continuing to fly missions around Europe transporting donated military aid.
Our deployed personnel include a logistics team based in Germany who are continuing to assist international efforts to cohere and coordinate the movement of donated military aid. They are working to ensure equipment donations are in accordance with Ukraine's operational priorities, and are coordinating the logistics for donations and matching transport to aid consignments.
Click here to read more on our support to Ukraine.