Five brothers, over 150 years of service
Family members, inspired by stories of service life, often follow their siblings or relatives into the New Zealand Defence Force. That was the case for the Stokes brothers, the largest set of siblings to have ever joined the Royal New Zealand Navy.
02 October, 2022
With a combined service of over 150 years, the five brothers recently reunited at the Napier RSA to see Master at Arms (rtd) Shane Stokes being presented with his tally board - a framed representation of all the ships and shore establishments he'd served in. On hand to conduct the presentation was Chief of Navy, Rear Admiral David Proctor. Lyle, Wayne, Brian and Glen had previously received their boards.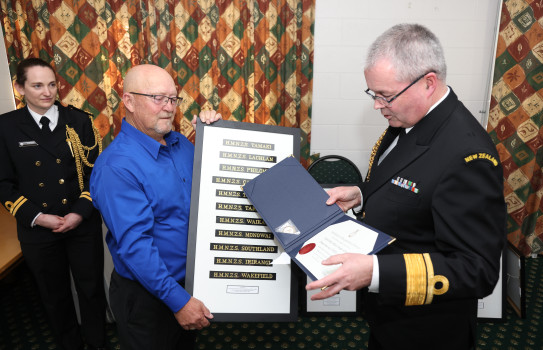 For consecutive years, from 1971 to 1975, a Stokes brother would arrive at HMNZS Tamaki, the naval training establishment then located at Narrow Neck on the North Shore, Auckland, to start training. "We lived in a state house in Napier. Dad was a Navy man," says Glen. "It was a case of, what is there in Napier to do? We finished high school, we had no plans to go to university. And older brothers were coming home, talking about their sea time. Each year, as we got to 16, we all 'abandoned ship' and joined."
At the presentation, Lieutenant Commander Brian Stokes told Stuff News they all had different reasons for joining. "I'd seen my three older brothers sign up and how it changed their lives for the better."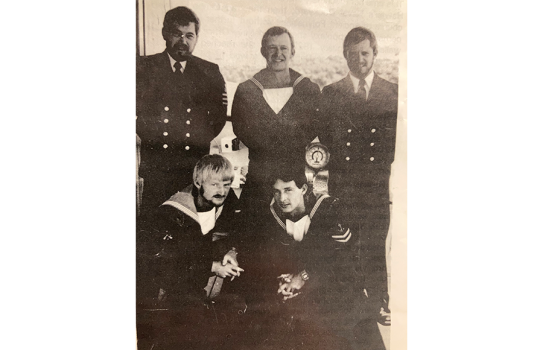 Lyle joined the RNZN in January of 1971, inspired by his father's service. He joined as a medic as his father had been a nurse at Napier Hospital. Lyle completed his Diploma of Medicine and also served in the RNZAF until leaving in 2006.
Highlights of his career were many, including being crew on HMNZS Canterbury in 1985/85 when the ship attended the 75th anniversaries of Canada, Malaysia and Australia. Lyle was also on the commissioning crew of HMNZS Te Kaha. He served in East Timor twice, in 2000 and 2001 as well as being part of the United Nations Team that entered Iraq searching for weapons of mass destruction. Lyle is now retired.
Wayne joined in May 1972. He was keen to give the Navy life a go and wanted to join as a chef, having worked in a bakery. That didn't happen but he stayed anyway, eventually leaving the Navy in 2001. Highlights for him were spending some time in Recruiting where he managed to influence a number of young men and women to join, notably with the Navy Mobile Display Unit which travelled the country highlighting career opportunities in every town it visited.
Wayne was on HMNZS Monowai when she assisted in the recovery of an Australian F111 aircraft which crashed in the Hauraki Gulf. He also notes being a Patrol Platoon Commander in Bougainville as a highlight, as this was one of the few times Navy personnel got to do land missions – something a lot more common today. Wayne has also recently retired.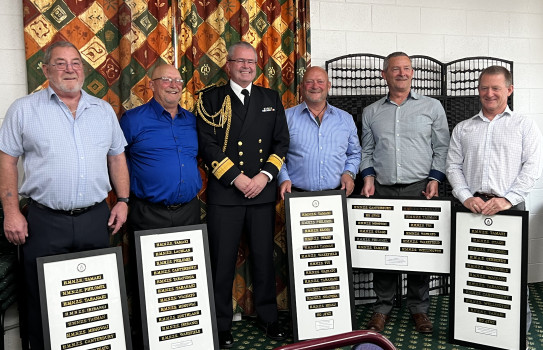 Shane is Wayne's twin brother and he joined in January 1973. Shane joined the Navy as he liked what he saw from his two brother's service to date and gave it a go. Shane left the Navy in 1993, but did join the Army Territorials for a further period of time. A highlight he noted was assisting youth with life skills. Other interesting times for Shane in his career were sharing his 21st birthday at sea with his twin brother on HMNZS Waikato, being part of the team that assisted with the refloating of the Rainbow Warrior, arranging a family reunion on HMNZS Monowai, and a RIMPAC trip in 1974. Shane continues to work today.
Brian joined in January 1974 because he also saw the positive effect the Navy had on his older brothers. Brian left the Navy in 2011 but returned this year and currently works in Defence Public Affairs. Brian highlights circumnavigating Australia on HMNZS Tui as a career highlight, along with being part of the crew of HMNZS Monowai for the Pacific Rescues in 1994. Other high points of his career included Indian Ocean patrols, commissioning crew of frigate HMNZS Wellington, Exercise Longlook and serving in the Middle East as a United Nations Military Observer.
Last but not least to join was Glen in January 1975. Glen was working as fisherman out of Napier and had also experienced cadets with the Air Training Corps, and these gave him the desire to follow his siblings into the Navy. The Air Force was an option but he didn't think that would go down well with the brothers. Glen left the Navy having served the longest of the boys in 2019. He has many highlights during his career and includes also being part of the effort to refloat the Rainbow Warrior, and serving as a United Nations Military Observer in East Timor. Another high point for Glen was returning the Unknown Warrior from France to be interned at Pukeahu, the National War Memorial in Wellington. Glen also noted acting as Master of Ceremonies at Gallipoli as a highlight. Glen still works for Defence as the Manager Honours and Awards.
Thank you for your service:
Chief Petty Officer Lyle Stokes (rtd)
Warrant Officer Wayne Stokes (rtd)
Master At Arms Shane Stokes (rtd)
Lieutenant Commander Brian Stokes
Commander Glen Stokes (rtd)