Warrant Officer Class One Wiremu Moffitt
The Sergeant Major of Army is often referred to as the senior soldier in our Army. The Sergeant Major of Army is an advisor to the Chief of Army on matters affecting the training, management and welfare of our soldiers.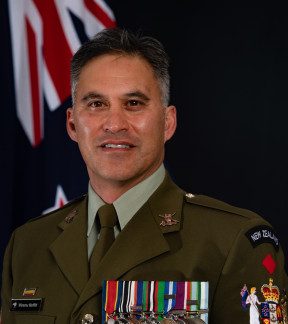 Sergeant Major of the New Zealand Army Warrant Officer Class One (WO1) Wiremu Moffitt enlisted into the New Zealand Army in 1990 as a Regular Force Cadet.
Upon graduation, he conducted an instructor tour at the Waiouru Training Depot before posting to 1st Battalion, Royal New Zealand Infantry Regiment as a rifleman.
He completed tours with prominent dismounted and mounted infantry companies, additionally serving in Support Company's Signals and revered Reconnaissance platoons.
In 1994, WO1 Moffitt successfully passed New Zealand Special Air Service (NZSAS) selection course, entering the 1st NZSAS Group as a special forces operator in September 1995.
Over a 20 year period, he conducted numerous Troop, Squadron and later, Regimental level appointments.
During this period he performed a wide range of operator roles in the counter-terrorism and special reconnaissance fields, after which he fulfilled a number of team-leader appointments in training, liaison and operational roles.
WO1 Moffitt graduated from the New Zealand Warrant Officer Promotion Course in 2007, and is alumni of the Joint Special Operations Forces Senior Enlisted Advisor program in Tampa, Florida, graduating on the Commanders List.
On return to the Regiment, he undertook the role of the units' senior Training Sergeant Major and subsequently stewardship as Regimental Sergeant Major, 1 NZSAS Regiment.
In 2017, WO1 Moffitt was appointed into the foundational role of Command Sergeant Major - Special Operations Command, and was later appointed as Warrant Officer - Joint Forces at HQ Joint Forces New Zealand at Trentham, Wellington.
WO1 Moffitt was designated the 16th Sergeant Major of the NZ Army in July 2019, and appointed to the current role with effect 31 March 2020.
WO1 Moffitt's Joint Professional Development includes the NZ Joint Warrant Officer Advanced Course (JWOAC) and the National Defense University – Joint Forces Keystone program, and is a member of the 2018 Lead Organisation cohort.
Among other places, WO1 Moffitt has undertaken operational service in Bougainville, Solomon Islands, Timor Leste (East Timor), and Afghanistan.