Whanganui Air Force Firefighter relishes Guam experience
Whanganui's Te Waiora Pirikahu knows his Royal New Zealand Air Force firefighter teammates are up there with the big guns after training alongside their United States Air Force (USAF) counterparts in a large-scale exercise on the US territory of Guam.
28 July, 2023
Leading Aircraftman Pirikahu has just returned from Exercise Mobility Guardian, which involved around 3000 personnel and 70 aircraft. Led by the USAF Air Mobility Command, it was based at Andersen Air Force Base, and involved military forces from Australia, Canada, France, Japan, New Zealand and the United Kingdom.
It was the first time 22-year-old Leading Aircraftman Pirikahu had taken part in such a large-scale international exercise.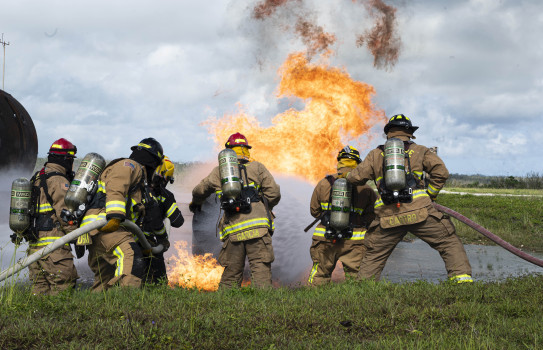 "Our crew shadowed USAF personnel at Andersen Base Fire Station. We dealt with in-flight emergencies, car accidents and provided extra personnel on shift. Up-skilling myself and learning the why and how behind our response to the scenarios was great."
Leading Aircraftman Pirikahu said he was impressed by the similarities in emergency procedures between the USAF and the New Zealand Defence Force (NZDF). It showed firefighting was an international trade, he said.
"Another similarity is the culture of the team here, we participated in team outings, table tennis tournaments and gym circuits just like at home. The main difference was the size of the teams.
"In New Zealand we have fewer than 100 personnel in the trade whereas the USAF has more than 9000."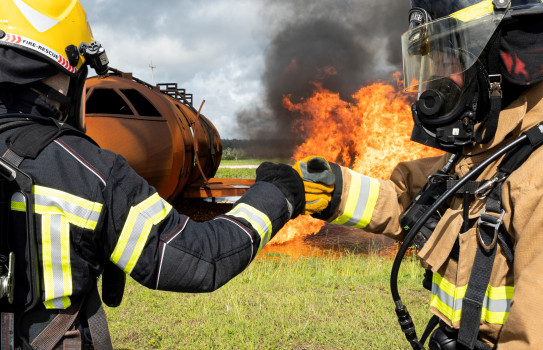 Although RNZAF firefighters already operate at international standard, Leading Aircraftman Pirikahu said the value of strengthening collaboration with other nations was priceless.
It was also valuable experience to bring back to RNZAF Base Auckland, Whenuapai, where he leads a team of firefighters which responds to all on-base emergencies.
New Zealand detachment commander, Squadron Leader Ravinder Phagura, said the exercise served as a crucial platform for personnel to sharpen their skills.
"By engaging in realistic scenarios and practicing essential manoeuvres, we are reinforcing our readiness and ensuring operational effectiveness for future missions," she said.
Also deployed on Exercise Mobility Guardian were RNZAF personnel from the fields of aeromedical evacuation, refuelling, planning and communications.
The New Zealand Army deployed soldiers from 5 Movements Company to support the exercise with rigging and the inspection of air drop bundles.