Air Force matches best practice in the world
Our Air Force has introduced a new military aviation system, bringing the rules which govern military aviation engineering safety and airworthiness, and RNZAF operational procedures into line with international military best practice.
07 March, 2023
The new system is based on New Zealand Defence Aviation Rules (DARs) developed from European Military Aviation Requirements, and includes a framework of new and reshaped internal organisations. It aligns military aviation airworthiness more closely with civilian requirements, and will improve performance and interoperability with defence partners.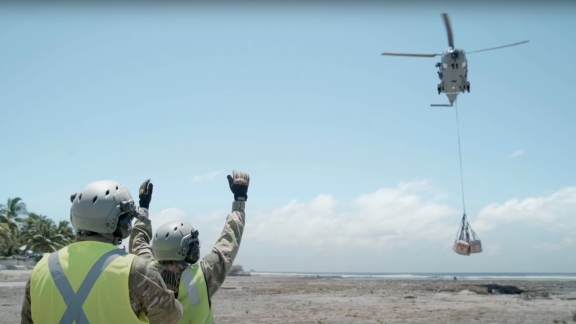 Royal New Zealand Air Force: Defence Aviation Rules (DARs)
Deputy Chief of Air Force Air Commodore Ian Mower said the new system was a significant step forward for the Air Force.
"Like many of our partners, what we've had until now is a uniquely bespoke aviation safety system with its origins in our earliest flying experiences. But in the same way that after many years aircraft fleets such as the P-3K2 Orions and C-130H Hercules come to the end of their service, and new fleets such as the P-8A Poseidons arrive, bringing new and improved capabilities, so too has our safety framework needed to be refined and streamlined to meet modern 'best practice' and position us to make the best use of modern aircraft.
"There are many other benefits, such as better alignment with our international partners and the New Zealand aviation industry and, ultimately, continuing to be an employer of choice to the New Zealand aviation sector.
"This is the start line on a path which will enhance operational outputs and position us for further gains through adopting best practice and continuous improvement," he said.
Programme Manager, Wing Commander Hilton Baker, said the change was both philosophical and cultural.
"Our system until now was safe and effective in meeting the high standards the RNZAF sets, but was unique and therefore difficult to benchmark; unnecessarily complex, because of evolving bit-by-bit over the years; and based on a regulator-driven adherence model.
Our new DARs are not additional rules or compliance requirements; they simply bring what we do up to date by the creation of a realigned and complete system of regulation.
"In practice, how actual tasks are carried out does not change, but amongst other benefits we will have a common language to describe airworthiness and safety standards across trades and aircraft types. For example, we will now be using a globally recognised numbering and lettering system to identify specific rule sets, thus aligning us to the widely recognised system used by dozens of Air Forces.
"In summary, this system replaces the typical military 'top down' approach with a modern 'bottom up' system to ensure airworthiness, safety, and aircraft availability, and provides for continuous improvement, rather than purely focusing on regulatory requirements," he said.