COVID-19 response
In 2020 when the global COVID-19 pandemic swept around the world, we were on the frontline of the NEw Zealand Government response. What resulted was one of the largest domestic deployments of our personnel.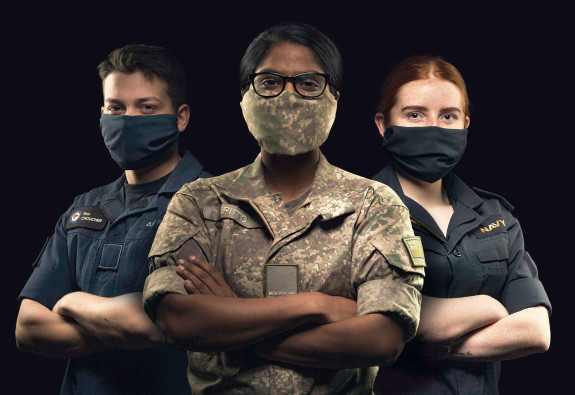 Prepared to help
As a Force for New Zealand, the New Zealand Defence Force (NZDF) have supported the All of Government COVID-19 response since 2020. Operation Protect took significant priority for our Defence Force for around 21 months.
Regardless of the alert level, we continue to play our part in the All of Government response while maintaining our usual responsibilities and operational commitments.
We are structured, equipped and trained for a range of crisis contingencies. This preparedness that has seen us fill a wide range of roles nationwide as part of the COVID-19 response.
Isolation and Quarantine
Our personnel worked in the Managed Isolation and Quarantine Facilities (MIQF) from August 2020 until May 2022 and held a range of duties throughout this time. Key roles within the MIQF system included providing information to returnees, co-ordination between facility and other agency staff, assisting with security, and oversight and guidance on procedures within the facility.
Members of our Defence staff were seconded to lead the strategic operations of the MIQ system as part of the All of Government COVID-19 National response. Air Commodore Digby Webb was first to be seconded as the Head of MIQ in August 2020, followed by Brigadier Jim Bliss, Brigadier Rose King, and Commodore Melissa Ross. Each leadership secondment lasted around 6 months.
Following the Government's decision to decommission MIQ facilities, the NZDF quickly started drawing down its resourcing requirements for Operation Protect and the MIQ system.
From March 2022, NZDF personnel gradually returned to their usual duties at camps and bases. 13 May 2022 marked the official withdrawal from Operation Protect and any remaining NZDF personnel ceased contribution to the Operation.
In 2020, the Director-General of Health has authorised enforcement officer powers under the COVID-19 Public Health Response Act 2020 to members of the Armed Forces working within Managed Isolation and Quarantine Facilities. This meant members of the Armed Forces, during their time in MIQF, were able to give legally enforceable directions, and to request a person to provide identifying information. Examples of directions given may be for a person to stay in their room, and an information request could include a request for someone to provide their name.
We were just one part of the team working in each Managed Isolation and Quarantine Facility. Each team had representatives from Ministry of Business, Innovation, and Employment, Ministry of Health (health and wellbeing), Defence (leadership, admin and logistics), Police and Aviation Security (security) and Ministry of Social Development (welfare). Some facilities also have contracted security guards provided by private firms.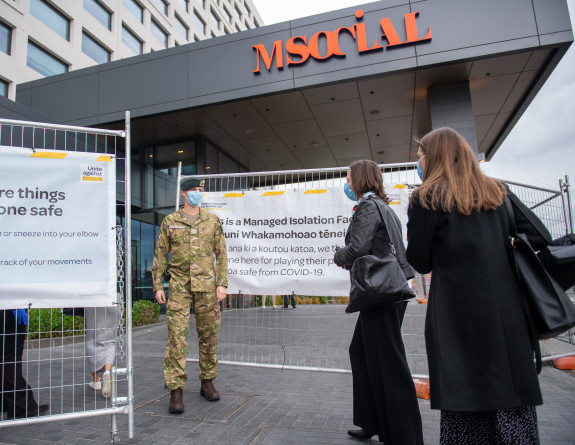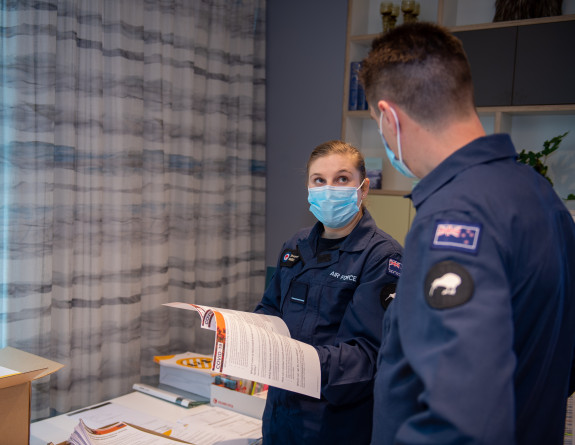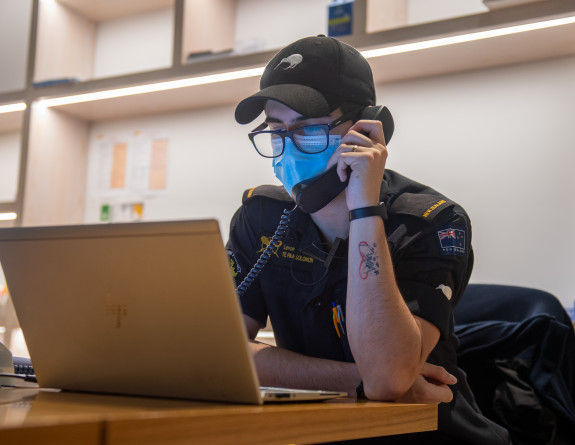 Operational outputs
The level of commitment provided for Operation Protect was significant for the NZDF and required continuous reviews to ensure we could meet our obligations under Operation Protect while also maintaining our training, force generation activities, mandated operational deployments and ability to respond to requests for aid to the civil power.
Due to the broader impacts of COVID-19, like other organisations, there have understandably been some requirements to postpone or cancel activities. However, priority continues to be placed on maintaining activities which directly contribute to operational readiness.
While our support to our operational deployments continue, additional considerations have been added to our planning cycles to ensure we are prepared for any contingencies related to COVID-19, and its impact on our ability to move our personnel internationally in a safe manner.
Protecting our personnel
We are actively protecting our personnel so we can continue to protect New Zealand.
We have an active strategy to protect our personnel throughout the full range of alert levels. Protective measures are in line with Ministry of Health Guidelines and cover both individuals and workplaces. The roll-out of the COVID-19 vaccine provides an additional level of protection, but does not replace or remove the need to remain vigilant and follow Ministry of Health guidelines.
COVID-19 information for our personnel and their families can be found on the Force4Families website.
Vaccination
The Ministry of Health is undertaking a COVID-19 immunisation programme. The programme started in late February with the first recipients being border and MIQF workers, including NZDF personnel on duty in the facilities.
As of 9 June, 99% of NZDF's uniformed population have received the primary course of vaccination, and 94% are fully immunised (primary course and booster dose).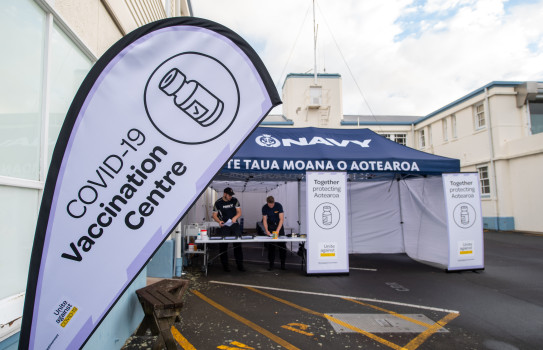 Previous Contributions
The NZDF has been contributing to the All of Government response to COVID-19 since April 2020. Previous contributions have included:
| | |
| --- | --- |
| 3 September 2021 | 25 personnel supported NZ Police with vehicle checkpoints at the Northern border when Northland moved to Alert Level 3 leaving only Auckland at Alert Level 4. |
| 1 September 2021 | 25 personnel supported NZ Police with vehicle checkpoints at the southern border while Auckland and Northland remained at Alert Level 4 and the rest of the country went to Alert Level 3. |
| September 2021 | 10 medical personnel supported vaccinations in Wellington. |
| 12 July - 6 August 2021 | HMNZS Wellington took part in Operation Pacific Vaccinate, delivering vaccinations to Tokelau and northern Cook Islands. |
| 28 February – 2 March 2021 | 50 personnel supported the NZ Police with vehicle checkpoints established as the Auckland region moved to Alert Level 3. |
| 14 – 17 February 2021 | 50 personnel supported the NZ Police with vehicle checkpoints established as the Auckland region moved to Alert Level 3. |
| 25 September – 31 December 2020 | 31 December 2020: Navy maritime patrol and response assets on standby to support the NZ Customs service during small boat season. |
| 18 August – 9 November 2020 | 80 personnel supported the NZ Customs Service conducting maritime security and border monitoring at ports throughout the country. |
| 12 – 30 August 2020 | 50 personnel supported the NZ Police with vehicle checkpoints established as the Auckland region moved to Alert Level 3. |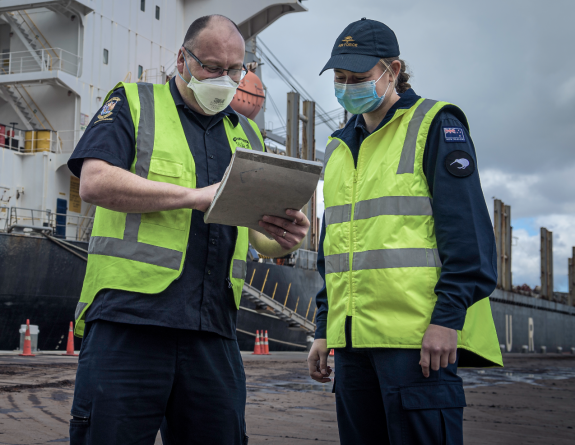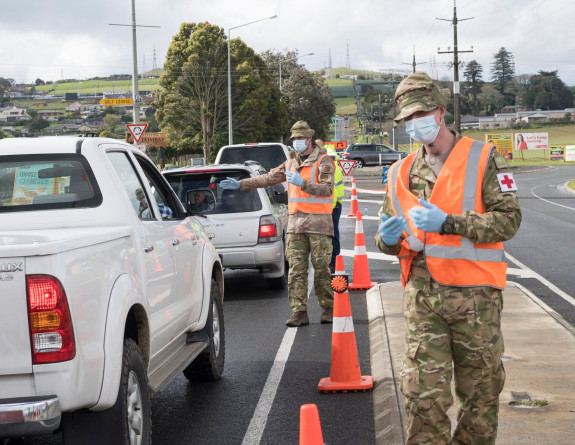 Behind the patch
Patches are an important part of military culture. When worn by our personnel, they identify a trade, task, or rank relating to that person. Those in our Defence Force who were tasked to Managed Isolation and Quarantine (MIQ) facilities, and helped to protect Aotearoa against COVID-19, will wear the Operation Protect patch. The Op Protect patch is full of meaning:
The Manuka flower has long been valued by Māori for its healing benefits. This medicinal legacy of the flower is why we chose it to represent our role in protecting the health of Kiwis.
The honeycomb is created by many bees working together toward a common goal. It symbolises our belief that by working together we can overcome the epidemic.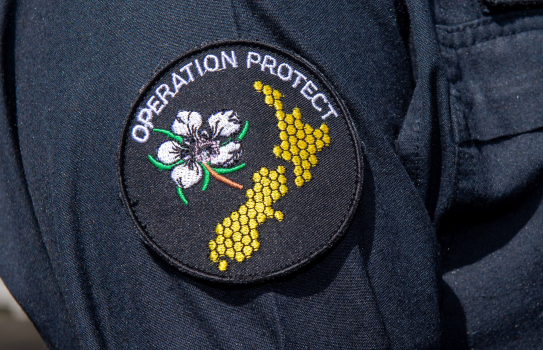 Contact us
Media enquiries about our past involvement in the response to COVID-19 can be directed to the MIQ team at media@mbie.govt.nz
For all other media enquiries, please call Defence Public Affairs on 021 487 980 or media@nzdf.mil.nz