Programme
School to Skies
on the road
Our Royal New Zealand Air Force is committed to cultivating curiosity and confidence in Science, Technology, Engineering & Maths (STEM) in children of all ages.
The aim of our programme is to introduce age-appropriate aviation science and engineering to children in order to foster their curiosity and instil confidence in STEM subjects. This programme will provide context to future careers by having real life role models and hopefully influence subject choice during their school journey.
What does the programme involve?
Our team provides fun and interactive aviation-themed resources using online learning content and, where possible, visits to local schools with our Grumman Aircraft to provide a day full of hands-on, experiential learning.
During our school visits, students will reinforce their understanding of basic principles of flight, participate in hands-on aircraft maintenance and complete teamwork activities which harness essential 21st century skills such as critical thinking, communication and collaboration.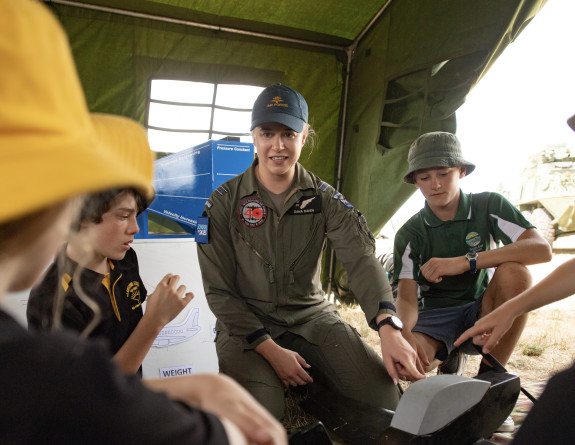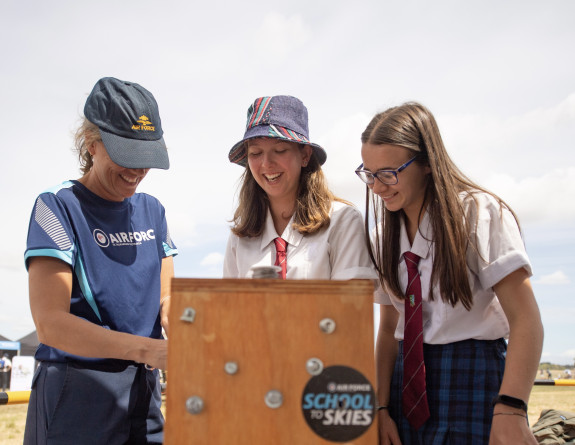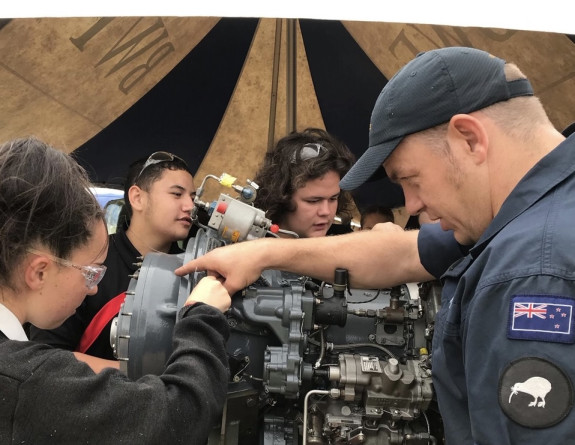 How it works
Our team are fully mobile and have a range of resources and Air Force personnel to engage, educate and foster excitement for all things aviation.
Although our team and assets are based out of Auckland, our online learning content is available nationwide and we can tailor aviation STEM based resources by request. For schools outside of the Auckland region, we aim to collate and plan several school visits over several days or co-ordinate visits around other events we are attending in the region, maximising our reach while on the road.
The programme is structured in three modules. The first two are delivered online, and the third one experientially in schools.
Module One: Pre-learning

Module One introduces the Principles of Flight; the basics of how an aircraft flies and the axes of control on an aircraft. This module exposes the students to new concepts and will enable them to start using the correct terminology, hopefully generating enthusiasm for the lessons which follow!

Module Two: Principles of Flight

The Module Two learning package builds on the new concepts and terminology explored in Module One.

Lift – how does an aircraft take off?

Four forces – what and how are the four forces acting upon an aircraft in flight?

Axes of control - what are the axes of control, how do the control surfaces on an aircraft relate to them and how are these used to fly an aircraft?

Module Three: Hands on learning

Module Three sees our team visit your school with our Grumman aircraft and other activities. The students will all participate in a 'round robin' of activities which can include:

Practical learning of maintenance skills including tool control and maintenance on the Grumman aircraft, as well as learning on our custom made hand skills dexterity box.

Reinforce principles of flight knowledge, giving students the opportunity to sit in the cockpit and use the flight controls, as well as see the control surfaces in action.

Complete 21st century skills teamwork activities to enable students to think critically while working together to achieve a common goal.
Who is this programme for?
The programme has been designed for Years 7-8, but if scheduling allows, we can also work with primary schools to provide positive role models and introductory STEM experiments (with an aviation focus) using many of the same resources but in a more age appropriate way.
The reason we focus on these ages is because studies show that the jobs children are interested in at primary and intermediate school will influence their careers throughout their lives – and as part of the wider industry, we are committed to making STEM a part of that. We want to help the next generation to have their best chance to succeed and we would love to see them serving alongside us in the future, in the New Zealand Defence Force.