Our operations and engagements
Our Defence Force is actively engaged in operations and activities in Aotearoa New Zealand and across the globe. On average, the NZDF has around 200-250 personnel deployed on overseas operations each year.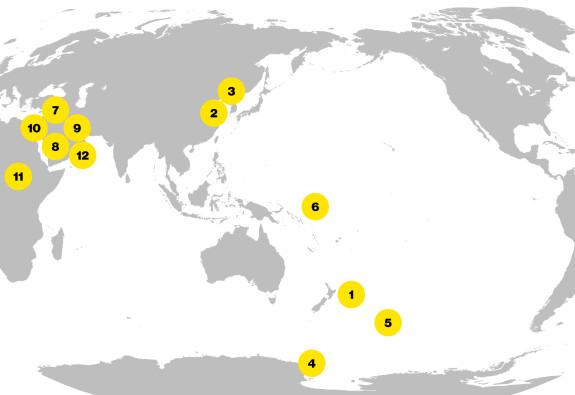 Locations of current operations and engagements are indicated on the above map. The corresponding activities are described below.
Additionally, information on our Ukraine Response can be found here, Tonga Response can be found here and information on Operation Solomon Islands Assistance can be found here.
Domestic Operations and Engagements
We support New Zealand's community well-being and resilience. Our Defence Force promotes a safe, secure, and resilient New Zealand, and contributes to maintaining New Zealand's prosperity. Our domestic operations are part of an all-of-government approach, working with partner agencies in a range of ways.
Operation Protect - 1
Aotearoa New Zealand
Operation Protect was one of the single largest commitments of personnel made to a response in more than 50 years, with over 6,200 involved. Support included providing personnel to operational planning of Managed Isolation and Quarantine Facilities (MIQF), day-to-day running and management of MIQF, providing a security element for MIQF, and providing a team that was responsible for allocating personnel around the different areas in New Zealand.
Regional Operations and Engagements
We conduct a broad range of operations in the South Pacific, including leading operations where appropriate, to protect and promote regional peace, security and resilience. Our Defence Force makes a credible contribution in support of peace and security in the wider region, including in support of regional security arrangements.
United Nations Command and its Military Armistice Commission - 2
North East Asia
The NZDF deploys personnel to the United Nations Command (UNC) in the Republic of Korea. NZDF personnel are deployed to the UNC headquarters and to the United Nations Command Military Armistice Commission (UNCMAC), representing New Zealand's commitment to the maintenance of security and stability on the Korean Peninsula. The UNC is a multinational body established in 1950 to defend the Republic of Korea. The UNCMAC is responsible for administering the terms of the Armistice Agreement signed at the end of the Korean War in 1953.
United Nations Security Council (UNSC) sanctions on North Korea - 3
North East Asia
The NZDF has regularly deployed a Royal New Zealand Air Force P-3K2 Orion maritime patrol aircraft in support of United Nations Security Council sanctions against North Korea. The sanctions are intended to persuade North Korea to denuclearise and abandon its ballistic missile capabilities. When deployed, the aircraft is based in Japan.
Operation Antarctica - 4
Antarctica
We have a long-standing commitment to supporting scientific and environmental programmes in Antarctica and our personnel play an integral part of operations there. We provide Hercules and Boeing flights as well as support air movements operations at Harewood Terminal in Christchurch and at McMurdo in Antarctica. Our personnel can fill a range of roles in support of Antarctica programmes. Scott Base support roles include cargo handling, communications, and light engineering teams.
From the Southern Ocean to the Pacific - 5
The NZDF deploys aircraft and ships on patrols in New Zealand waters, the Pacific and the Southern Ocean to detect and deter illegal, unreported and unregulated (IUU) fishing.
Southern Ocean patrols are part of New Zealand's support to the Commission for the Conservation of Antarctic Marine Living Resources (CCAMLR).
The NZDF routinely supports patrols on operations led by the Pacific Island Forum Fisheries Agency (FFA) to detect and deter IUU in the exclusive economic zones of FFA member nations and on the high seas, and in support of Pacific nations as requested.
Mutual Assistance Programme - 6
South Pacific and South East Asia
The Mutual Assistance Programme (MAP) is an integral component of Aotearoa's contribution to peace and security in the region. Our activities include the provision of training, technical and other support to South Pacific and Southeast Asian security and defence forces.
Global Operations and Engagements
We make credible contributions to international peace and security and the rules-based international order through deployments of importance to New Zealand, working with our partners to achieve common goals.
United Nations Truce Supervision Organisation (UNTSO) - 7
Israel / Lebanon / Syria
We support the United Nations Truce Supervision Organisation (UNTSO), the United Nations' oldest peacekeeping operation, which monitors truce agreements between Israel and its neighbours. The NZDF has contributed personnel to UNTSO since 1954. The NZDF has military observers based in the Golan Heights and Lebanon. Their tasks include patrolling and monitoring ceasefires and military activity within the region.
Multinational Force and Observers (MFO) - 8
Sinai Peninsula, Egypt
The NZDF has deployed personnel to the Multinational Force and Observers (MFO) since it was established in 1982. The MFO ensures compliance with the commitments of the 1979 Treaty of Peace between Egypt and Israel. Roles include drivers, trainers, engineers, and a command team. The current MFO Force Commander is NZ Army officer Major General Evan Williams, who has been confirmed in the role from December 2019 to March 2022.
Defeat-ISIS Coalition - 9
Iraq/Kuwait/Qatar
NZDF personnel have held a variety of roles in coalition headquarters, support or intelligence roles, since first being deployed as part of the Defeat-ISIS Coalition in 2015.
The majority of NZDF personnel were deployed to the Building Partner Capacity mission at Taji Military Complex, Iraq. That deployment ended in 2020.
The NZDF has maintained a contribution to the Defeat-ISIS Coalition. Personnel are deployed to the US Central Command forward headquarters in Qatar and to the Combined Joint Task Force Operation Inherent Resolve Headquarters in Kuwait and Iraq.
Operation Gallant Phoenix - 10
Jordan
NZDF personnel are deployed to the multinational sharing and intelligence mission, Operation Gallant Phoenix.
Based in Jordan, Operation Gallant Phoenix comprises a large number of countries and includes a variety of agencies, including law enforcement, military and civilian personnel.
United Nations Mission in South Sudan - 11
South Sudan
The United Nations Mission in South Sudan (UNMISS) is involved with monitoring peace agreements, protecting civilian sites and supporting the delivery of humanitarian assistance. The NZDF deployment includes military liaison officers.
Combined Maritime Forces - 12
Bahrain
Our Defence Force makes an important contribution to the Combined Maritime Forces, which exists to promote security, stability and prosperity across approximately 3.2 million square miles of international waters, encompassing some of the world's most important shipping lanes. Our support includes participation in multinational counter-piracy and maritime security operations.
Until early 2022, the NZDF has command of the Combined Task Force 150, a multi-national task force conducting security operations outside the Arabian Gulf.
The CTF-150 aims to prevent criminal and terrorist organisations from carrying out operations and moving people, weapons, and income-generating narcotics.