Kia Matahuhua me te Whai Wāhi
Valuing Diversity and Inclusion
Our people are our priority and our greatest asset. Diversity in our people brings diversity in experiences, perspectives and insights that are fundamental to our success, working together as one for the good of New Zealand.
The New Zealand Defence Force's active commitment to building a diverse and inclusive workplace is part of our drive to keep our people well, included, respected, enabled and safe so they can do their job to the best of their ability, have a fulfilling career and ultimately, contribute to a high performing Defence Force.
The benefits of increasing the diversity of our workforce and inclusion of all people include ensuring we can:
compete to attract and keep New Zealand's most talented people from the widest talent pool possible
seize the 'cognitive edge' through our agile thinking and innovative problem solving (leading to greater operational effectiveness)
ensure support from the people we work amongst nationally and internationally to work closely and professionally together as one force.
Our commitments
Inclusive and diverse Force
All of our people are responsible for creating a more inclusive Defence Force through their behaviours and we are committed to this journey. By bringing our values of Tū Kaha (courage), Tū Tika (commitment), Tū Tira (comradeship) and Tū Maia (comradeship) to life, we help to support and enable others and strengthen our teams.
Rainbow Tick Accreditation
In 2019 we were awarded the Rainbow Tick, becoming what is believed to be the first military in the world to have received a robust independent accreditation for lesbian, gay, bisexual and transgender (LGBTTIQ+) inclusion.
The improved processes and practices made to increase inclusion for LGBTTIQ+ people benefit all our Defence people because they are about our Defence Force becoming a more modern, flexible, people-focussed organisation.
Whether in peacetime or on operations, our strength is teamwork, and that means living our values and treating each other with decency and respect.
A significant milestone in our journey to attract and retain a diverse array of talented New Zealanders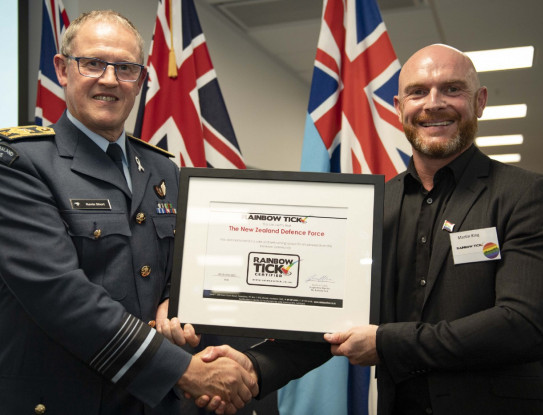 United Nations Women's Empowerment Principles (UN WEPs)
In March 2020, the NZDF adopted the UN WEPs. The NZDF is committed to gender equality and has a vision of being an organisation where all genders can thrive and gender equality is a priority. NZDF aims to be an international leader for gender equality, and have a workforce where women and diverse genders (including Māori, Pacific and women of other ethnic groups) are valued, included, safe and empowered.
Alignment with Te Kawa Mataaho/Public Service Commission
In addition to our programmes, the NZDF seeks to align with Te Kawa Mataaho/Public Service Commission, specifically their work in relation to addressing the gender and ethnic pay gaps as well as the Papa Pounamu diversity and inclusion work programme .

See our Gender Pay Gap action plan.
Wāhine Toa
Enhancing the participation of women
Wāhine Toa is one of our key diversity and inclusion programmes and focuses on the enhancement of the participation of women across NZDF. Wāhine Toa also has a brother programme, Tāne Toa.
The Wāhine Toa work programme broadly covers four main areas of Attract, Recruit, Retain and Advance, with each of those contributing initiatives that are progressing towards gender equality and equity within NZDF. Wāhine Toa's vision is to influence NZDF's culture to be one where our wāhine feel valued, included, safe and empowered. The work of Wāhine Toa is supported and championed by our NZDF senior leadership, with Chief of Navy, Rear Admiral David Proctor, appointed as our key NZDF Gender Sponsor.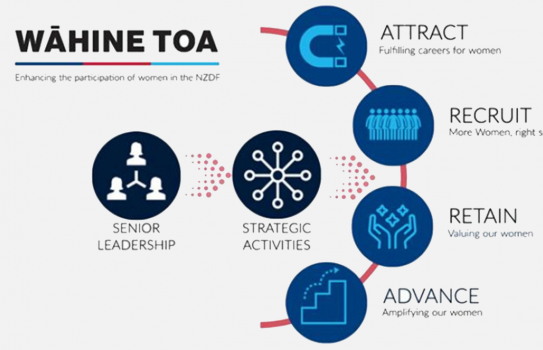 Accompanying the support of our NZDF senior leadership, the Wāhine Toa Programme of work has a number of overarching strategic commitments that shape and influence its focus, such as the United Nations Women's Empowerment Principles (UN WEPs), which NZDF formally adopted and signed up to in 2020 – becoming the first military in the world to adopt the UN WEPs. We also have a close partnership and engagement with the work being done internationally through NZDF's Women, Peace and Security work programme.
Whilst much of the Wāhine Toa work is oriented around broader organisational initiatives to enhance the participation of women across NZDF, there are a number of ways the voices of our wāhine, as well as gender champions, can be heard through the Wāhine Toa programme. One of these ways is through participation in our Gender Equality Networks (GENs) and Gender Champions.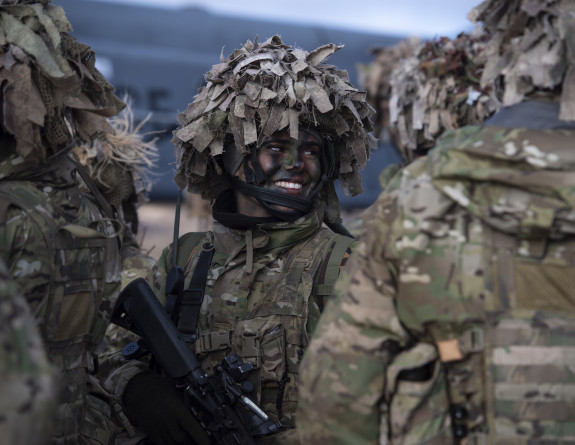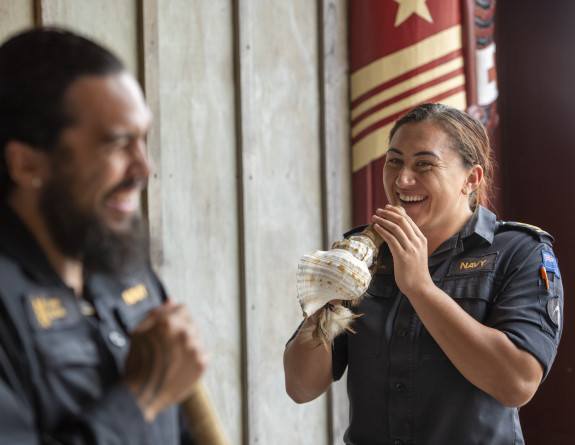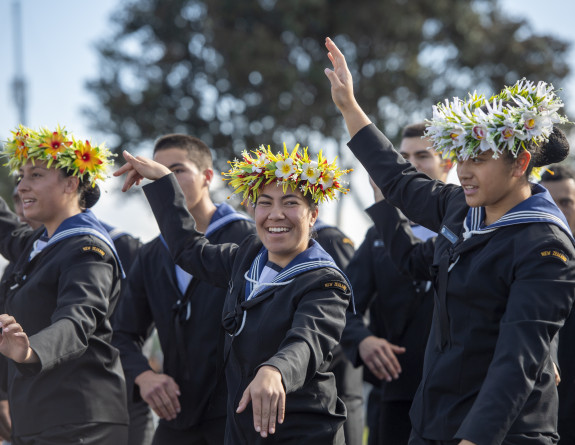 Gender Equality Networks (GENs)
Our GENs are a network of both NZDF men and women, from across our whole organisation, who believe in gender equality and work to develop and promote initiatives that foster gender equality within NZDF. The GENs also provide a platform to raise awareness of initiatives being undertaken across our organisation supporting gender equality, raise issues and provide input into initiatives, as well as a place to promote and establish connections and relationships. The GENs are supported by a GEN Steering Group (GEN-SG) which seeks provide kaitiakitanga (guardianship), advocacy and accountability for the GENs and provide linkage to our NZDF senior leadership for the voices of our GENs.
NZDF Gender Champions
NZDF Gender Champions are members of our organisation who believe in, support and actualise gender equality. Gender Champions can be both men and women who advocate for and support the enhancement of participation of women in NZDF. A number of initiatives under the Wāhine Toa Programme also seek to support our NZDF gender champions.
Tāne Toa
Valuing our men in an inclusive NZDF
Tāne Toa is one of our key diversity and inclusion programmes and focuses on valuing our men in an inclusive NZDF. Tāne Toa also has a sister programme, Wāhine Toa.
The Tāne Toa programme of work within NZDF is part of the overall work programme aimed at achieving gender equality for all our people. Gender equality is not a zero sum game – it concerns both men and women.
Engaging, valuing and educating men acknowledges that the contributions of men are integral to NZDF's journey towards gender equality. Tāne Toa operates in parallel with and complements the Wāhine Toa programme of work.
The aim of the programme is to support and promote inclusive practices for men within NZDF. Tāne Toa is a relatively new programme within NZDF. Some of the current initiatives include NZDF-wide support of Movember, acknowledging significant days/events, normalising flexible working for males, and research to understand how to support and include men at work.
Pacific Connections
Increasing our cultural competency
The NZDF Pacific Programme exists in collaboration with other programmes to strengthen and support the New Zealand Defence Force to be a culturally competent organisation that values individual and collective contributions.
The Programme is inclusive and focuses on positive mutual experiences for all members of the NZDF when actively supporting and engaging with Pasifika personnel, communities, and operating within the Pacific region.
The Programme positions the NZDF to better advance Pacific Partnerships, in support of the New Zealand Government's Pacific Reset, (a shift to a 'relationship built on understanding, friendship, mutual benefit, and a collective ambition to achieve sustainable results in collaboration with Pacific neighbours').
The NZDF Pacific People's Strategy 2020 - 2025 was co-designed with NZDF Pasifika personnel and aims to support the attraction, recruitment, retention and advancement of Pasifika (with a focus on retention and advancement).
The strategy also describes the need to actively and deliberately lean in, to understand and to connect with Pasifika and their cultures, to include Pasifika in decisions that impact them, and to grow the talent of Pasifika and non-Pasifika personnel which in turn will contribute to greater operational effectiveness.
Support and guidance to all NZDF staff and key external stakeholders include talanoa (dialogue) and cultural competence workshops and training.
The Programme is led by NZDF's Pacific Cultural Advisor, supported by an internal NZDF Pacific Steering Group and the Director of Diversity and Inclusion.
Considering
a career the values diversity?
A career in the Defence Force is unlike anything out there. You'll be working as part of a tight-knit team, protecting your family, friends, the environment and your country from harm and representing the New Zealand way of life where you go. It's an incredibly rewarding job that gives you a real sense of purpose.
Defence Careers