Underwater escape training prepares 3CSSB soldiers for flood situations
Soldiers from 3rd Combat Service Support Battalion (3CSSB) recently found themselves trapped underwater during a recent training exercise designed to develop their skills and knowledge to escape a submerged vehicle.
10 December, 2021
After a morning spent in the classroom, the soldiers put everything into practice in a controlled environment at the Jellie Park Sport & Recreation Centre, Christchurch. The soldiers boarded a helicopter simulator, which was suspended by a 10-metre crane over the pool. They were assessed on various escape techniques, which saw the simulator drop into the pool, recreating various scenarios including exiting a vehicle that has been submerged upright and upside down with varying levels of visibility.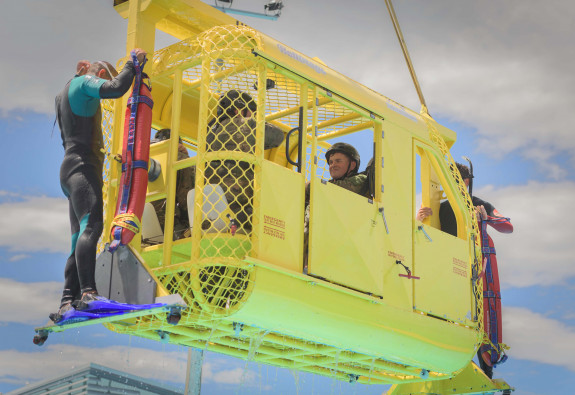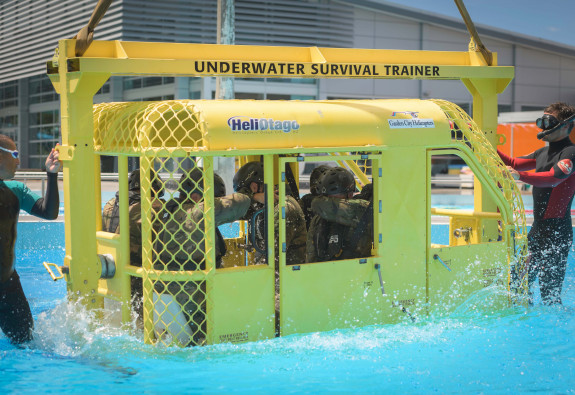 While the name of the training may suggest it is for situations where a helicopter is submerged in water, Staff Sergeant Eli Blackmore explained that there are other situations that require underwater escape skills.
"In July, when our soldiers were deployed to the Buller district on the West Coast following severe flooding they braved treacherous driving conditions. It was unprecedented, in some cases they were driving Unimogs and HX60's through deep water," he said.
"It was difficult to see the road, or determine the depth of the water, there was a risk of these vehicles turning or being submerged in the water. We need our drivers and other personnel equipped with underwater escape skills should we be faced with this sort of scenario in the future," he added.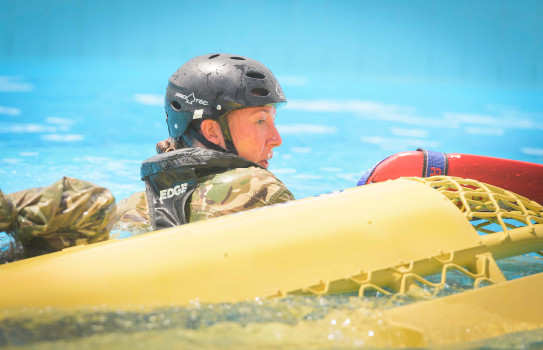 Working alongside other agencies, 20 soldiers assisted with the evacuation of more than 800 properties and 2,000 residents in the area. They also assisted on the ground with the clean-up required after the damage and devastation that resulted from the flooding.
Combat Driver Lance Corporal Alexi Austin was one of the soldiers who was deployed to Westport in July 2021. She said the training was definitely needed after driving through flood water that was above waist height.
"I'm not going to lie, I was nervous about this training, but once we got into it, it was fine. When I was in Westport, there was no way of knowing what the roads were like, sometimes we were just guessing if what we were driving on was a road. This has given me the confidence to tackle these types of situations in the future," she said.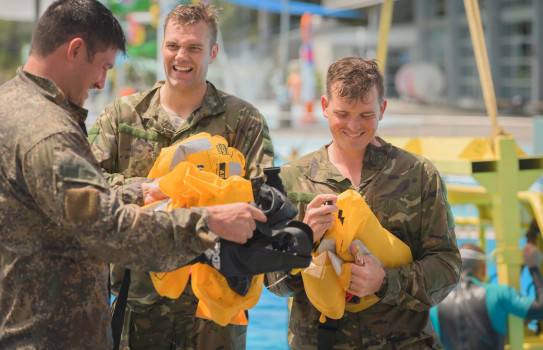 Vehicle Mechanic Lance Corporal Dale Gilbertson wasn't nervous about the prospect of being trapped underwater.
"The training was definitely enjoyable, it's not something I've done before so it was good to learn a new skill. We expected to be challenged but once we were taught the procedures to follow whether you're getting out of a helicopter or a vehicle, it was fine."
~ Lance Corporal Dale Gilbertson
This is only the second time that 3CSSB has run this course independently, however after assessing there was more of a need following the Westport and Mid-Canterbury floods in 2021 they have increased student numbers. Originally only needed for operating with HMNZS Canterbury, 3CSSB has found this training to be invaluable during SRTG callouts and will continue to be a standard course into the future.