Three NZDF personnel recognised in New Year Honours List
Leadership displayed by three New Zealand Defence Force (NZDF) personnel in the face of uncertain times has been recognised in the New Year Honours List.
31 December, 2021
Air Commodore Darryn Webb has been made a member of the New Zealand Order of Merit (MNZM) for his role as Head of Managed Isolation and Quarantine within the all-of-Government response to COVID-19.
In addition, Lieutenant Colonel Ant Blythen and Wing Commander Richard Deihl have both been awarded the New Zealand Distinguished Service Decoration (DSD) for their committed service during a tumultuous few years.
Chief of Defence Force Air Marshal Kevin Short said the recognition of the three dedicated personnel reflected not only on their leadership, but the work of many across the Defence Force.
"I am incredibly gratified to see these three recognised in such a fitting way for the sacrifice, commitment and guidance they have provided through very testing times," he said.
"They can each be proud of the achievements they have gained through their hard work, with the support and diligence of so many other teams within our Defence Force."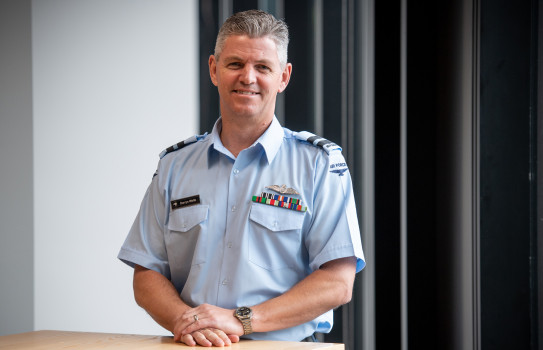 Air Commodore Darryn Webb
Air Commodore Webb said he was humbled when was told of his MNZM, and that it immediately took him back to some "very busy times".
Having served with the NZDF for 31 years, in a range of command and leadership positions, Air Commodore Webb spent eight months in 2020 seconded to the All of Government (AoG) effort to protect New Zealand from the COVID-19 global pandemic.
Along with becoming a key public face of MIQ leadership, he built a framework and multi-disciplinary teams that led to a world-leading, end-to-end system that provided New Zealanders with confidence.
"Keeping COVID out of our communities is certainly the most demanding role I have ever had, but there are probably two things that stand out above all others. Firstly, trying to keep up with the pace of change. The whole country was learning and our team was no different, so attempting to both stay ahead of the virus as well as fix the things that went wrong consumed more time than was available.
"Secondly, fronting up on a daily basis to describe events that posed risk and the things that needed improvement was definitely hard, and that also took a toll on my family."
Air Commodore Webb said the medal represented the efforts of thousands of extremely dedicated people across the spectrum of MIQ.
"I am definitely proud of what we achieved together and I'm conscious that the work isn't over yet. Despite the challenges it was an absolute privilege to be a part of such a dedicated team and this recognition certainly reflects their commitment and sacrifice.
"Friends who also provided a short word of encouragement probably don't know how important that was, and I do want to acknowledge my family; I didn't see too much of them for large periods but they were hugely supportive throughout.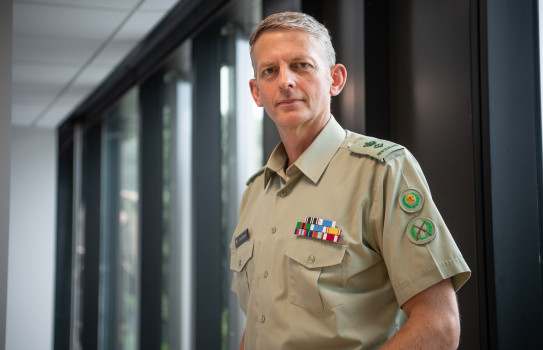 Lieutenant Colonel Ant Blythen
When Lieutenant Colonel Blythen was informed of his DSD honour, he originally mistook it for something quite different.
"It was a complete surprise. When I first saw the email in my inbox at work I thought it was a request by another government agency for support, which is a bit ironic given what the honour is for. It was wholly unexpected."
Lieutenant Colonel Blythen has been recognised for his role as the Deputy Director Strategic Commitments - Domestic which he has held since 2018.
During his tenure, he oversaw an unprecedented number of significant and complex domestic emergencies including the COVID-19 pandemic, the March 2019 Christchurch terror attack, the Whakaari/White Island eruption, bushfires in New Zealand and Australia, droughts and floods.
He was also involved in a number of proactive commitments for NZDF, and at short notice, he led the establishment of a NZDF strategic COVID-19 response cell that operated seven days a week to ensure the NZDF was responsive and effective in supporting the national Level 4 lockdown.
Lieutenant Colonel Blythen was praised for his professionalism and industriousness in covering a near-continuous series of challenging national emergencies, and said he felt proud and privileged to be nominated.
"I am grateful to receive the honour and I would like to thank those that did nominate me. However, due to the work that I know is put in by many personnel across the NZDF, I do feel somewhat like a player being praised by the coach, when the team has won the championship."
He recognised efforts of that wider team across the Defence Force and other agencies in getting the job done; including staff at Headquarters Joint Forces New Zealand to command and control operations, and the men and women of the operational units to execute the plans.
"I have also benefited from leaders that have provided both necessary guidance and freedom of action to carry out my role. I would like to acknowledge my wife, Deborah, and my children who have supported me throughout; including during many evenings, weekends, and holidays when duty has called."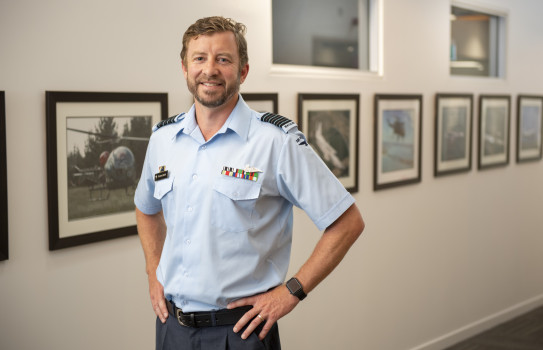 Wing Commander Richard Deihl
With an eight-week old baby at home, Wing Commander Deihl answered the call to duty when he was seconded to lead the Auckland Regional Isolation and Quarantine Command Centre for the AoG response to the COVID-19 global pandemic.
He led a multi­agency team for the safe and effective management of returnees arriving in New Zealand through the Auckland-based MIQ Facilities. He managed the delivery of 17 isolation facilities and the Jet Park quarantine facility, encompassing approximately 3,000 staff.
"I was working extremely long hours, which put a huge strain on my wife, but she was supported by her parents – without that it would have been very difficult for both my wife and I."
Wing Commander Richard Deihl said he was very humbled to be receiving a DSD for his service in 2020.
"I did feel some guilt as the team's success was a result of the collective efforts everyone put in," he said.
"I was fortunate to step into a role where the team was already established and had gained some valuable experience developing the MIQ system. I was an absolute fish out of water, with no knowledge or experience of MIQ, so I relied heavily on the advice of the rest of the team on how best to establish effective systems and processes going forward. Without exception, everyone worked extremely hard to prevent the virus from entering New Zealand."
Wing Commander Richard Deihl, who has recently been promoted to the rank of Group Captain, said he felt the recognition is reward for a job well done by all those involved in the Auckland regional MIQ over that period.