Pandemic management while in US posting earns top safety award
The Air Attache at the New Zealand Embassy in Washington, Wing Commander Graham Streatfield, has been named New Zealand Defence Force (NZDF) Safety Person of the Year.
16 November, 2021
The award recognises Wing Commander Streatfield's contribution to the health and safety of all NZDF personnel and their families in the United States during the COVID-19 pandemic.
When the pandemic began, NZDF staff were spread across 11 states, with varying levels of community transmission and differing responses from state and local officials to contend with. The pandemic necessitated a coordinated emergency plan, which needed to be enacted rapidly – a plan which also needed to be responsive to the rapidly changing nature of the virus and the corresponding impact on the community.
Wing Commander Streatfield was able to distil a great deal of information into believable communication, plan strategies, and provide advice and decisions based on science and data. The knowledge and advice he provided directly influenced the NZDF tools that were put in place to ensure the safety and wellbeing of personnel. His commitment throughout was unwavering, the citation said.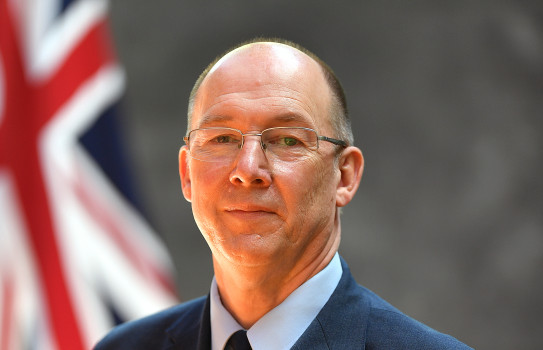 "COVID-19 swept across America in waves, starting in New York in April 2020, reaching Florida in June 2020, then the Midwest by September, followed by a massive wave of infection after Thanksgiving in November," Wing Commander Streatfield said.
"Very early on it became apparent that communicating advice to NZDF personnel and their families was going to be paramount. The situation was complicated by the sheer number of agencies across the country involved in managing the response – Federal, State, county and city bodies all had responsibilities, and of course the guidance from NZDF also applied.
"When it came to the vaccine, we couldn't get it from home because of the difficulty in acquiring and transporting it, so we had to source it locally. Between February and April of this year, we went from being at the bottom of the list for access to the vaccine to it being easily available at almost any pharmacy. As the circumstances changed I was able to keep our people abreast of their options; where to go, what vaccine type to get, how to travel safely, and so on."
Aside from regular reporting up and down the command chain, Wing Commander Streatfield developed and oversaw travel risk management, sourced and distributed PPE when in short supply, and influenced temporary changes to policy. He took a proactive approach that enabled a needs-based response. Crucially, he delivered surety during challenging times.
The Judging Panel noted he went above and beyond what would normally have been expected of him during unique circumstances, while exemplifying the NZDF values of Courage, Commitment, Comradeship and Integrity.