Navy workhorse respects Queen's own mahi
After more than 40 years' mahi in the Royal New Zealand Navy, Lieutenant Poutu 'Tau' Taua will finally deploy for a role that will be purely ceremonial – recognising the 70 years of service by Queen Elizabeth II.
02 June, 2022
Lieutenant Taua, of Tainui and who calls Christchurch home, has served in Solomon Islands, East Timor, the Golan Heights and most recently on Operation Protect, the New Zealand Defence Force's contribution to the Government's COVID-19 response.
He is second-in-command of the 40-strong contingent that will march 3.2km through the streets of London as part of the Queen's Platinum Jubilee Pageant on 5 June.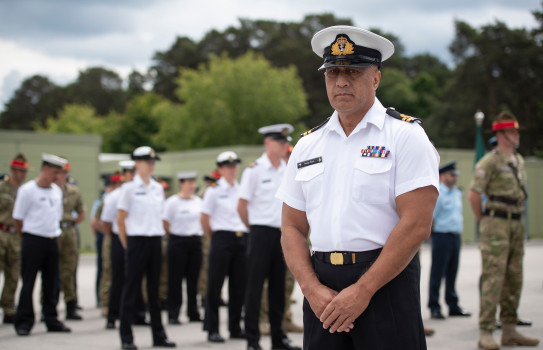 "I've been serving Her Majesty for more than 40 years. I have never done a purely ceremonial operation before, and feel very honoured to be selected for this auspicious occasion," he said as they rehearsed at a British Army camp in Surrey ahead of the event.
The Royal New Zealand Navy obviously has a significant relationship with Her Majesty. Her name is on all our ships and we have the crown in our crest. We wouldn't be the Royal New Zealand Navy without her.
While the pageant is a ceremonial event, Lieutenant Taua still calls it a job that he wants to do well so that the New Zealand Defence Force and New Zealand can pay tribute to her more than 70 years of public service, which includes service during World War II as a mechanic.
"I have the utmost respect for her. Her service with the British Army shows she was willing to step up and do her bit. Wouldn't be surprised if her head was stuck under the bonnet of a car after she'd been crowned."