In the heart of RIMPAC
A major international exercise involving more than two dozen nations and thousands of personnel has finished, with Group Captain Pete Gibson playing a key role in the United States based event.
26 August, 2022
Royal New Zealand Air Force's Group Captain (GPCAPT) Pete Gibson was the deputy commander of Combined Task Force (CTF) 172 for this year's Rim of the Pacific (RIMPAC) exercise. The CTF alone comprised of 18 maritime patrol aircraft and about 800 personnel.
Within the task force, American, Australian, British, Canadian, Indian, Japanese, Korean and New Zealand participants worked together to conduct maritime air patrols. RIMPAC is a multinational maritime exercise that takes place in and around the Hawaiian Islands and Southern California.
This year, 26 nations, 38 surface ships, three submarines, nine national land forces, more than 170 aircraft, and 25,000 personnel participated in the exercise.
"Strategic success is getting 26 nations on the island. It doesn't matter if it's one person or 10 aircraft the fact is you've got a flag here from that nation. Having eight nations as a part of CTF 172 here working together is just success full stop.
"There are so many different nations and their aircraft have different capabilities. Everyone has a slightly different way of doing things. But the fact that you can have an Australian aircraft being relieved by a Korean aircraft, being relieved by a US aircraft it all works just seamlessly. That's the real goal here and that's what RIMPAC's all about. If we have to go out and do this in the real world we've worked with these nations before, so we understand each other."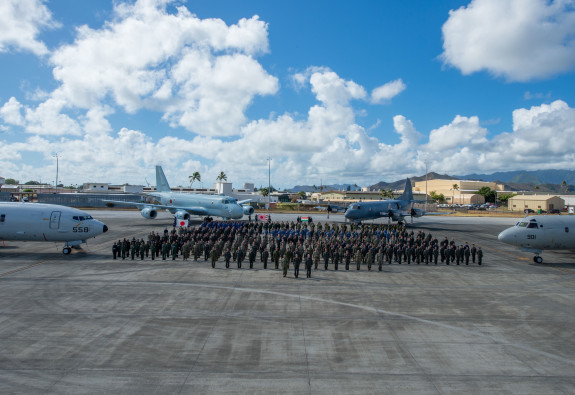 The plan is for the Air Force to return to RIMPAC in 2024 with a P-8A Poseidon. The exercise will be an important part of the transition plan for the aircraft, building on basic search and rescue capability to practise more advanced warfighting, GPCAPT Gibson said.
"Exercises such as RIMPAC will provide unique training opportunities for the P-8A crew. It's an environment where crews can test themselves against ships and submarines and working in a big organisation with lots of other aircraft and complex airspace."
This year there were more than 165 NZDF personnel participating in RIMPAC performing range of different roles, at sea and ashore, from all three Services. That included HMNZS Aotearoa at sea, a team from HMNZS Matataua – the Naval Littoral Warfare specialists in Southern California, Royal New Zealand Air Force personnel embedded in the Combined Air Operations Centre and the NZ Army Joint Fires Team that worked alongside the United States Marine Corps.
"Having individuals as augmentees embedded in the organisation, performing a range of roles across a number of trades and getting experience they never would have had, is important to developing partner interoperability," GPCAPT Gibson said.
"New Zealand is well regarded in RIMPAC and they know we've got people who can do this job well, that's really important and it sets us up for the future."