Heavy helpers ready and waiting
The Army will soon have three Heavy Recovery Vehicles (HRV) at its disposal.
11 March, 2022
The vehicles are a new capability ensuring that the largest vehicles in the NZDF fleet can be recovered on operations.
Linton will receive two vehicles and Burnham one vehicle by the middle of the year, however they will not be available for operational deployment until the end of the year.
The HRV are being purchased as the final piece of the Medium Heavy Operational Vehicle (MHOV) project, and with their interim operational release will enable MHOV to achieve full operational release now that they can be recovered on operations. The HRV project therefore has primarily been about ensuring the NZDF can self-administer in operational areas without relying on coalition partners, which may not always be present in future deployments.
Director Land Domain Colonel Ben Bagley takes delivery of the vehicles from Mr Marty Roelofs, RMMVA.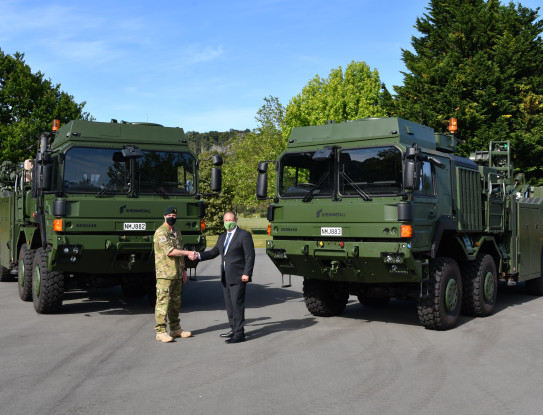 Operator and maintainer training takes place in May this year, with business as usual training being picked up at Trade Training School in Trentham. One of the benefits of the HRV is that much of the manual labour side of recovery operations will be drastically reduced due to the flexibility and power of the equipment on the vehicle.
While the vehicle itself will only require a Class 4 licence to drive, it will require a Class 5 licence to operate when towing another vehicle. The Defence Driving Permit (DDP) will also require a Bridge Engineering Self Supervision (BESS) certificate to operate the "Rotator" (the crane-like apparatus on top of the vehicle). For this reason only selected RNZALR personnel who will operate this equipment will undergo the specialist training.
Features of this vehicle include the large Rotator, a main winch that has a 25 ton pull, and an extremely high level of automation that allows most static functions of the vehicle to be controlled from a remoteable control box. This along with mostly new recovery equipment that is much lighter than previous generations makes the use of the HRV a step change for users who are trained in the older generation of equipment.
The new vehicles do not cover all the NZDF operational recovery needs. Due to their size they do not have the cross country ability to reach all likely vehicle casualties.
They do however have a better cross country performance than many of the largest NZDF vehicles. For this reason a separate project for a Light/Medium Recovery Vehicle is currently being scoped, and if agreed will start its definition this year.